In an effort to connect with constituents outside regular meetings and offer a sense of government transparency, members of the Terre Haute City and Vigo County councils fielded questions for two hours Saturday morning at the inaugural local government listening session.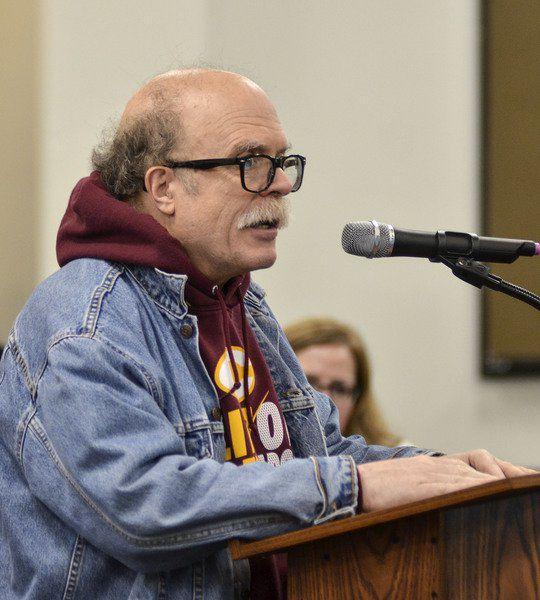 The dais at the Vigo County Public Library featured four city council members — Martha Crossen, Todd Nation, Curtis DeBaun IV and Tammy Boland — and two county council members — Jim Mann and Lisa Spence-Bunnett.
Crossen said being available to the community and answering for decisions made should be considered nothing more than basic civics
"This kind of gathering to me is civics 101," Crossen said. "... I think this is exactly the kind of thing we need more of in all aspects of our government and public discourse."
Boland said the session is the first step in changing public opinion on supposed closed-door politics and back-room deals.
"I believe we have the power to change the kinds of discussions we have," Boland said. "And I think it's evident this morning by seeing the county council and city council sitting here together and you all being here.
"I think we can change our culture here in Vigo County and the city of Terre Haute if we just get back down to the basics and start having a dialogue, conversations with each other."
To kick off the public question portion of the event, David Peter asked council members why it seems Terre Haute, seemingly suffers a crisis of leadership and what can be done about far too many being promises made, while few are ever delivered.
Spence-Bunnett said voters should raise their expectations for elected officials and ask them not only what they want to accomplish in office, but how they plan to do it.
"I think we need to do a better job of getting input and then evaluating that input for our planning," Spence-Bunnett said. "And I absolutely think we need to do a better job of collaborating between the city and county so that we can use our resources across both entities to do the most good."
DeBaun IV said it's not so much about lacking a leading figure as it is about not having a current comprehensive plan and seeming unwillingness to follow through on past plans.
The council members were later questioned on a plan the community does have, the Terre Haute Chamber of Commerce's See You in Terre Haute community plan.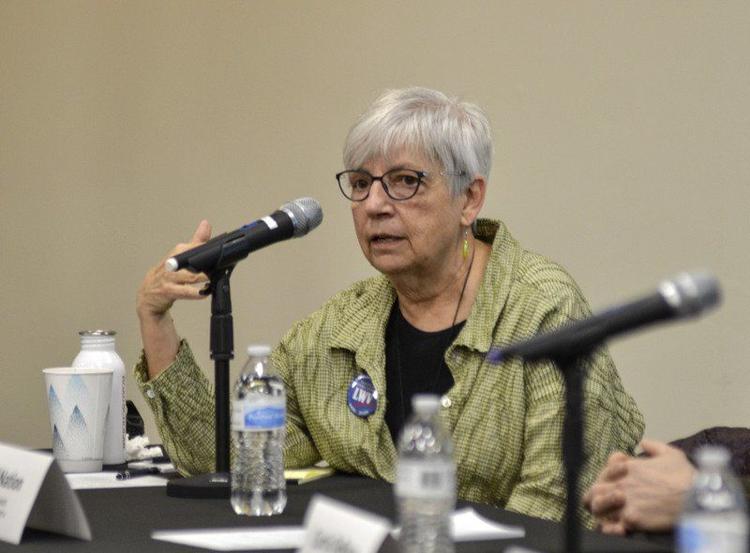 Sarah Dillon asked if the council members thought the plan puts too much emphasis on the county's tourism prospects and how they'd go about community planning differently.
Nation said the Chamber's planning effort is a laudable one, but offered that the community is much larger and diverse than the business owners served by the Chamber.
"The Chamber of Commerce can aspire to set goals and reach them for our community, but they are by definition a club, and one that advocated for business interests in town," Nation said. "Now don't get me wrong, that's an important voice and an important function, but our city is much broader than just what is good for business."
Bob Murray asked the council members their opinions on the ballot challenge levied against Pat Goodwin.
Goodwin filed to run in the Democrat primary for the District 2 seat on the Vigo County Board of Commissioners. His running in the Democrat primary comes just months after a failed bid for Terre Haute mayor in which he ran as an independent.
Terre Haute resident Hobert Roberts filed a 15-page challenge Friday, including exhibits of letters, social media posts and campaign advertising, and argues Goodwin had repeatedly dismissed party affiliation and touted his status as independent.
But because Goodwin pulled a Democrat ballot in the 2019 primary, state election law says he qualifies to run as a Democrat without the party chairman's consent.
All six council members Saturday, all of whom are elected Democrats, said they support Goodwin's right to run if it's found that all rules were followed.
"I think we spend way too much time in this community with various factions trying to inhibit civic involvement rather than encouragement," Crossen said. " ... I think it's a red herring, an attempt to cast negative attention on this candidate, and we should be better than that."
Reporter Alex Modesitt can be reached at 812-231-4232 or at alex.modesitt@tribstar.com. Follow him on Twitter @TribStarAlex.