No one wants to be a Gold Star Family. The title is reserved for families of United States military members from all branches of service who have died in the line of duty since World War I.
The family of Army Sgt. Kyle W. Childress honored his legacy of service during Operation Iraqi Freedom at a recent ceremony in Indianapolis for the dedication of the new Indiana Gold Star Families Memorial Monument.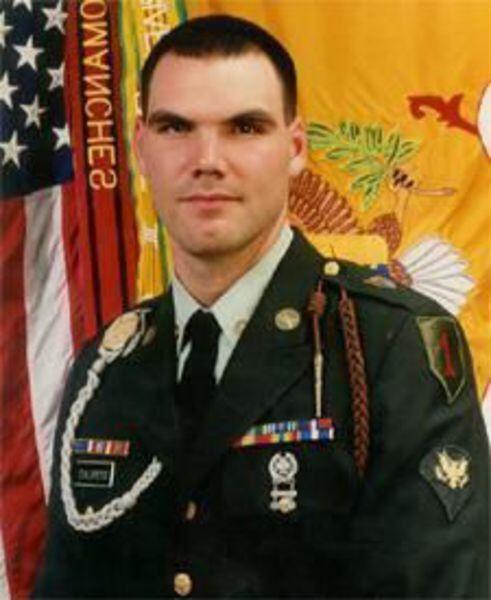 During WWI, military families displayed service flags featuring a blue star for every immediate family member serving in the Armed Forces. The star's color would be changed to gold if the family lost a loved one in the war, hence the term, "Gold Star Family."
Childress, a 1994 graduate of Terre Haute South Vigo High School, was 29 years old when he paid the ultimate sacrifice on Jan. 21, 2005 in Iraq. One month before he was scheduled to return home, his unit was attacked by enemy forces using small arms fire. Assigned to the 1st Squadron, 4th Cavalry, 1st Infantry Division, Schweinfurt, Germany, Childress was the 38th person from Indiana to have died after being sent to the Middle East since the buildup for the invasion of Iraq began in early 2003.
"He didn't go into the Army and try to go to the middle," said his sister, Gretta Childress during a 2005 Tribune-Star interview. "He went right to the front."
Located at the Indiana War Memorials property within the American Legion Mall at 760 N. Pennsylvania St., the black granite memorial features two sides. One side bears the words: Gold Star Families Memorial Monument, a tribute to those who made the ultimate sacrifice for our freedom and those they left behind. The other side tells a story through the four black granite panels: Homeland, Family, Patriot and Sacrifice. The scenes on each panel reflect Indiana images, military service and show respect to fallen heroes. At the center of this tribute is a silhouette cut-out of the missing loved one.
"The warrior fights, but the family serves also," said U.S. Air Force retired Brig. Gen. J. Stewart Goodwin, executive director of the Indiana War Memorials Commission, during opening comments at the ceremony.
The Hershel "Woody" Williams Medal of Honor Foundation partnered with Indiana nonprofit Welcome Home Vietnam Veterans/Indiana Gold Star, to build the memorial. Williams is the last surviving Medal of Honor recipient from World War II. He has spent his whole life serving veterans and their families, especially those who have sacrificed a loved one in the name of freedom. Williams, 97, was at the dedication ceremony to offer the keynote address and unveil the monument.
The Indiana War Memorial properties were established in 1920 to honor the 135,000 Hoosier veterans who served in WWI and the 3,709 who paid the ultimate price.
According to a Military Times article, 7,000 troops were killed in the Iraq and Afghanistan wars alone. There are also thousands of living Gold Star Family members who lost loved ones in WWI, WWII, the Korean War, the Vietnam War and other conflicts throughout the 20th and 21st centuries.
When asked about other Indiana Gold Star Families in the Wabash Valley, project leader Jill Fewell said there's so many families that it would be difficult to quantify. She said the Department of Defense only considers military members who were killed in the line of duty but that Gold Star Families looks beyond that definition.
"Gold Star Families includes military personnel who died as a direct result of their service," she said. "That includes victims of military suicide. It's so important to raise awareness for them and their families because these men and woman may not have committed suicide if they had not gone down the path of military service."
Fewell said Gold Star Families also include battle buddies who survived combat when their friends did not, "because they were, after all, family to each other."
Just two weeks before insurgents attacked Childress' unit, his mother said he seemed confident that he would be safe when they last spoke.
"He, in his own mind and heart, knew he was good at his job and trained well," his mother, Nancy Knight of Prairieton, told the Tribune-Star in 2005. "He was proud."
Michele Lawson can be reached 812-231-4232 or michele.lawson@tribstar.com. Follow her on Twitter @TribStarMichele.