It might sound corny, but all the stars aligned Tuesday at the Terre Haute Children's Museum for the kick-off of "To the Moon and Beyond" exhibit celebrating the 50th anniversary of the Apollo 11 landing on the moon.
Hundreds of children and adults made and launched rockets, tromped around on a moonscape, and handled real space rocks as part of a special exhibit and at displays around the museum.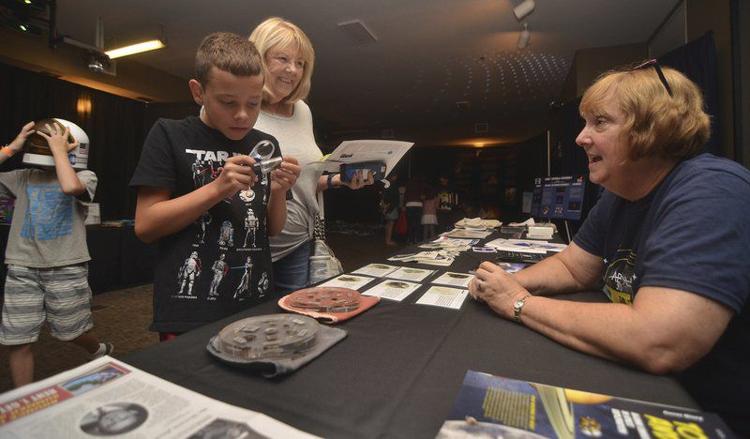 "I can't adequately express how excited we are to have this exhibit this summer," said Susan Turner, the museum's executive director. "It's such a big deal for us as a nation to be celebrating the anniversary of the Apollo 11 mission.
Fifty years ago Monday was the actual Rocket Launch Day. The lunar landing was on July 20, a day when Americans nationwide gathered around their televisions to watch the arrival of humans on our closest celestial neighbor.
"Fifty years later, to have moon rocks actually in Terre Haute to expose our children to the wonders of space, it's kind of incredible," Turner said. "I just think we're very fortunate."
Nine-year-old Colt Campbell of Greencastle checked out the moon rocks and some meteorites on display.
Campbell said he wants to be an astronaut, or a construction worker, when he grows up.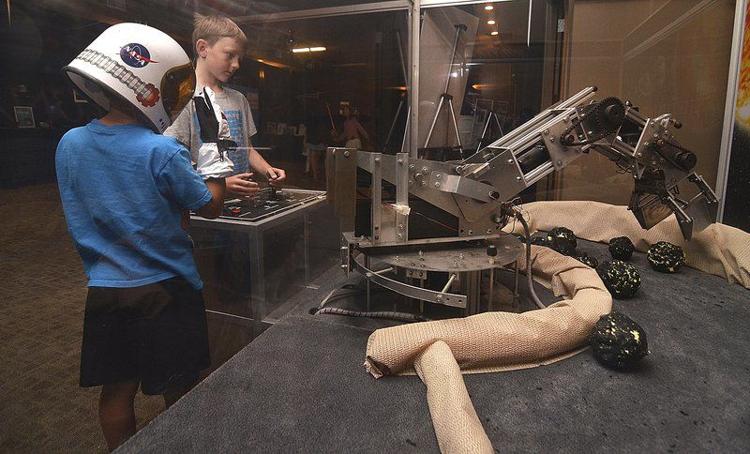 "This is really cool," he said, noting he has read about space travel in school.
His mother, Tara Grant, said she and a friend brought a group of children to the museum for the new exhibit.
Many of children and their adults talked to Diedre Adams, the custodian of various moon rocks on display as "national treasures."
Adams, a retired math and science teacher, received a prestigious Einstein Fellowship in 2008 and was chosen to work at NASA headquarters in Washington, D.C. She also became certified to carry and display the lunar samples.
Adams had a close-up view of the Apollo 11 launch in 1969.
Her uncle, Robert Hatfield, was a NASA engineer, so he obtained passes to go into the restricted areas of Kennedy Space Center to watch the launch.
Adams said she remembers the nine-hour traffic jam that followed the launch as vehicles clogged the highways of central Florida trying to return to Orlando and elsewhere.
"People got out of their cars and had picnics there on the highway," she said.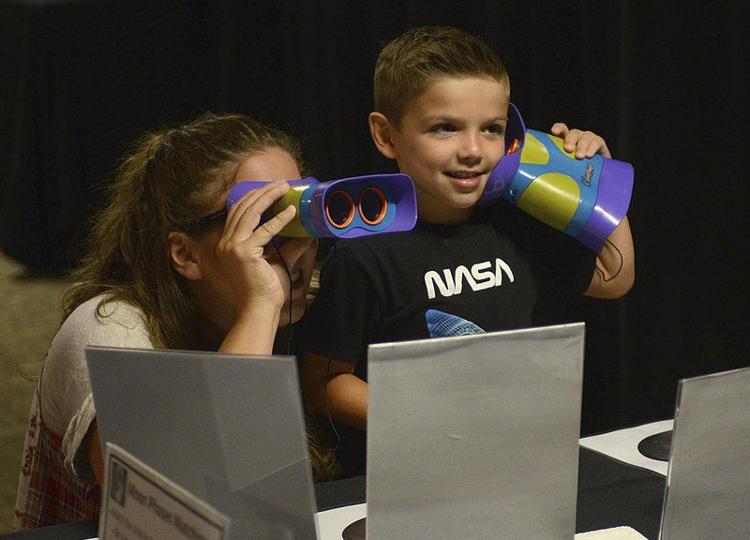 Adams said she was fortunate to meet famed astronaut Neil Armstrong and many of the Mercury astronauts when she worked at NASA during the 40th anniversary of the moon launch.
Adams will be at the museum each day during the special exhibit. She has a guard assigned to her to watch out for the valuable moon rocks, which are protected in an acrylic disc.
She also has a small meteorite she purchased that she allows people to handle so they can feel the weight of the small rock.
The museum's moon exhibit is open through July 28, Tuesdays through Saturdays from 11 a.m. to 3 p.m. and Sundays from 1 to 3 p.m. The museum is closed on Mondays.
For more information, go online to www.thchildrensmuseum.com.
Lisa Trigg can be reached at 812-231-4254 or at lisa.trigg@tribstar.com. Follow her on Twitter at TribStarLisa.