A long career well served as a member of the Terre Haute Police Department is being celebrated by more than a dozen officers who have chosen to retire in recent months, making way for new generations to police the city.
More than 400 years of on-the-job experience has exited THPD in the past two years due to retirements and job changes. And a few more retirements are coming later this year.
Police Chief Shawn Keen said he sees the change in personnel as not only a challenge, but an opportunity for the department.
"Our responsibility is always to try to improve," Keen said. "It's not that I think anyone has been doing anything wrong, it's just an opportunity to try to improve. And we should always be trying to do that."
Since the start of 2018, 16 officers have left THPD for various reasons. Three officers resigned to take other jobs, and the remaining 13 retired.
Keen himself became chief at the retirement of long-time chief John Plasse, who retired after 34 years of service with the city. Plasse was elected county sheriff.
What the retirements mean for THPD is younger officers moving up, and even younger officers patrolling the streets. This spring, Keen said, the patrol division will have 32 of the 62 patrol officers having three years or less experience on the job.
"It's something I started looking at last year, and honestly I thought it was unique to this department," the chief said.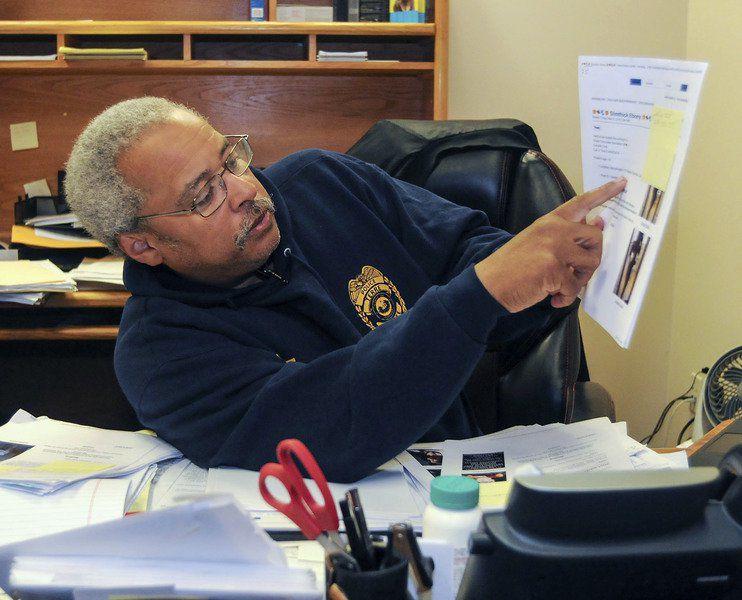 But after attending a recent statewide conference for police chiefs, Keen said, he found retirements are depleting police experience around the state as the tail end of the Baby Boomer generation enters retirement age.
"It's not just us. It's other departments, too," Keen said.
Keen joined the department in 1998 and has moved up through the ranks as a supervisor, detective and lead of the Criminal Investigations Division before moving into the chief's office.
He's finding it a new experience to be considered one of the senior members of the department.
"It's weird for me because I've worked with these people for over 20 years and to see them [retirees] not be part of the department anymore is really weird. It's different," Keen said.
Turning in their papers
Among those retiring in 2018 and 2019 were uniform division officers Patrolman Mark McCammon with 30 years experience, Sgt. Harold Seifers with 43 years, Patrolman Pete Horstman with 29 years, Sgt. Bill Sheldon with 40 years and Sgt. Pete Holvey with 34 years.
Patrolman John Hopper had 32 years of experience upon leaving the traffic unit/hit and run investigations.
Detective experience retired with Starla Neidigh and her 27 years on the job, Sgt. Denzil Lewis with 33 years, Cpl. Darren Long with 31 years, and Jeff Trotter with 33 years.
Capt. Dale Loudermilk retired from administration after 40 years with THPD.
Officers leaving to take other jobs were Patrolman Lucas Walker in 2018 after three years on the job, juvenile Detective Travis Chesshir with nine years, and Patrolman Grant Bogard with seven years.
Later this year, Detective Keith Mowbray and Captain Ed Tompkins, both long-time detectives, will be retiring. Patrolman Bryant Baker is moving to another police agency.
Dale Loudermilk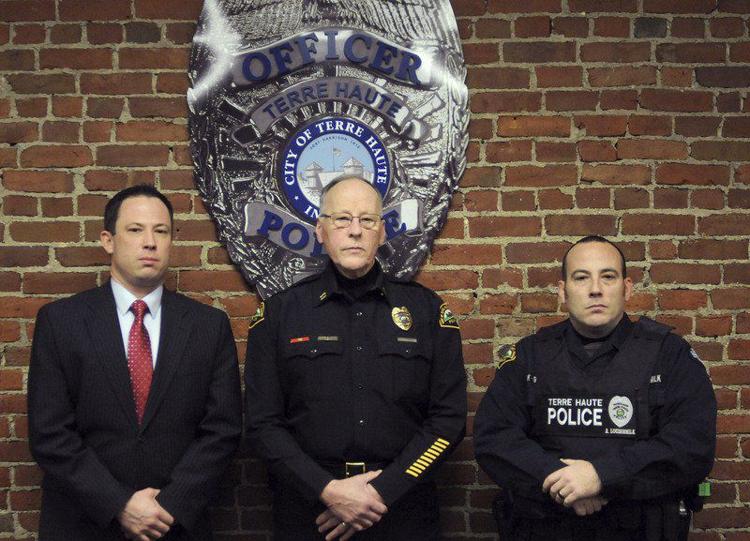 Loudermilk left THPD in the spring of 2019 at the mandatory retirement age of 65. But he knew he wasn't ready to stop working.
Like many retired officers around Vigo County, Loudermilk decided to put his experience to work as a school protection officer. He is usually assigned to the front lobby at Otter Creek Middle School on the county's northern side.
"This is where I met my wife," Loudermilk said of his own school days at Otter Creek in the 1960s, when it served students from first through ninth grades.
His own sons and daughter also attended Otter Creek, and the hallways and rooms he now patrols have a special meaning for him.
"I get to interact with kids at a different level," Loudermilk said Friday as students dealt with a two-hour delay due to weather. "I'm not just the police. They stop by to talk to me. I think it helps, especially in the grade schools when I go there. They like the police."
Loudermilk sometimes finds himself covering for other SPOs at Devaney or Sugar Grove or Oubache elementaries. The students may not realize that many of the SPOs are retired officers, he said, but he thinks the children do feel safer with security officers in the building.
During one passing period, students Maliyah Lowe and Neveah Hurtt stopped by to chat.
"I'm looking for candy," Lowe admitted, laughing.
Starla Neidigh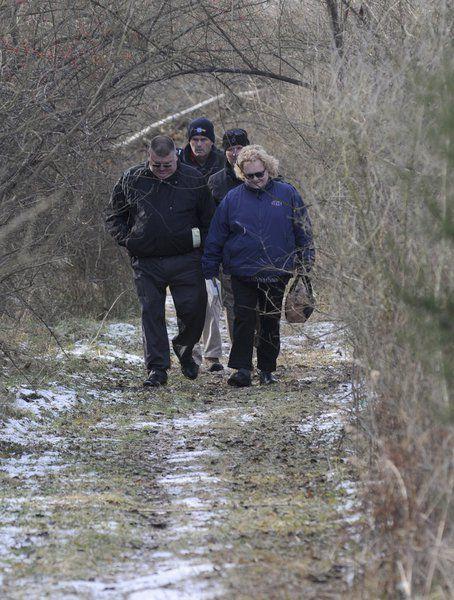 Detective Starla Neidigh has also found a post-retirement job that relates to her police training. She still works protecting the public, but in a behind-the-scenes way that she doesn't want publicized due to privacy concerns.
A native of Greene County, Neidigh studied criminology at Indiana State University in the 1980s with the goal of becoming a lawyer. But she started working for the ISU police and in 1992 joined THPD, leaving behind the attorney goal. She'd found she liked the active work of policing.
She is one of the few women to wear a THPD badge.
"The way I look at it, I never looked at myself as a woman in police work," she said. "The other officers saw me as one of the guys, I think."
She investigated some brutal homicides and sex crimes when she joined the violent crimes division.
In one case, she investigated a man who murdered his wife in Terre Haute, dumped her body in Ohio, abandoned his car in Pennsylvania, and was then found in the Carolinas.
More recently, she helped solve the killing of a Terre Haute landlord who went missing for a couple of months. The suspect fled the state and was later found in Nevada.
Neidigh received an award from the Indiana Prosecuting Attorneys Council for her work on a 2018 case, which involved "old school" detective work to track down a suspect who went "off the grid" living in campgrounds and not using cell phones or credit cards.
Ed Tompkins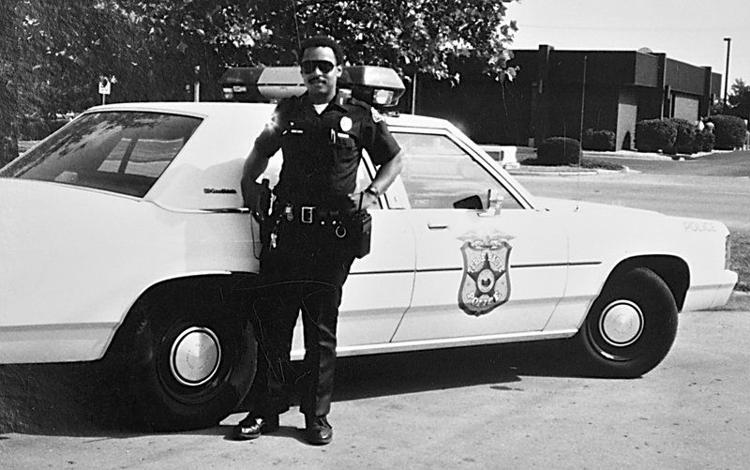 Another detective soon to retire – Capt. Ed Tompkins – said he is most pleased of his resolution of a 1980 cold case in which two women were killed.
The suspect left the state, and was later arrested in other violent crimes. Tompkins followed leads over time, stayed in touch with the victims' families, and was able to bring the case to a close in 2014 when the suspect pleaded guilty.
"I was able to solve that case without relying on DNA, or fingerprints, or none of the high tech stuff that cases seem to rely on these days," Tompkins said.
Police work requires a lot of teamwork, he said, and he has also found that treating people with respect results in good relationships with the public and tips in the future.
On more than one occasion, Tompkins said, he has received a tip from someone who he had arrested in the past, but who discretely passed on information to him because they respected the way he treated them during the arrest.
While experiences such as those gained by Loudermilk, Neidigh and Tompkins will be tough to replace in the department, Keen said the remaining officers are looking forward to continuing to serve the public.
"We are losing detectives who have been back there in investigations for years," Keen said. "People in the community trust them and will talk to them. You can't replace that all at once. That's something you've [got] to work at, and we will."
Training is key
To combat the loss of experience, Keen said, he started a leadership initiative to add an extra supervisor to each shift to act as a field training officer and to work on officer development and traffic.
Also, all supervisors are being trained in de-escalation tactics.
Keen and a dozen other supervisors attended recent trainings on de-escalation, and he hopes to host training in Terre Haute later this year to train the rest of the officers.
"The idea is that every supervisor is seen as a teacher and that will be the focus," Keen said.
As new officers on the job go through the final stage with their field training officer, they will be with a sergeant who is continuing assessments and training.
"That's one way we are combating the lack of experience we have," Keen said.
Eight new police officers soon will join the Terre Haute Police Department.
The process to attract and hire qualified candidates can take months, and those taking their oath later in February applied for the job last spring.
The department is now accepting applications for candidates interested in joining the department. More than 60 applications were submitted in the first five days of the hiring process, Keen said, and it could take months before new candidates are selected to fill current openings.
"Obviously, we are doing our best to recruit or let people know we have openings," Keen said of advertisements in publications and on social media.
Getting qualified applicants is important, because a written test and agility test are the first challenges for new applicants. Last year, about 250 applications were received, but only 80 people showed up to take those tests. After interviews, background checks and other tests, the field dropped to a few dozen.
Hiring, it's a process
The hiring process can be lengthy and sometimes complicated.
Keen said most people do not realize the police merit board actually interviews and selects qualified applicants who pass the initial written and agility tests and qualify in the state pension process.
A list is generated with qualified candidates ranked in order by the merit board, and that list is kept confidential. When Keen tells the merit board he has a certain number of openings, the merit board will give names from the list in the order they are ranked.
Sometimes, candidates have found work elsewhere before being offered a job at THPD, so refreshing the candidate list has become an annual need.
"It's mostly in the merit board's hands. The only level of control the department has in the hiring process is to try to advertise more and try to spread the message as wide as possible," Keen said of attracting candidates.
The nationwide trend is that fewer people are interested in entering law enforcement. Qualified female and minority applicants are also declining.
"It's challenging, but I don't know what we can do to make the job more appealing," Keen said. "In every department, I think the goal is to be more reflective of the community. But as the applicant pool shrinks, more departments are competing in a smaller [candidate] pool."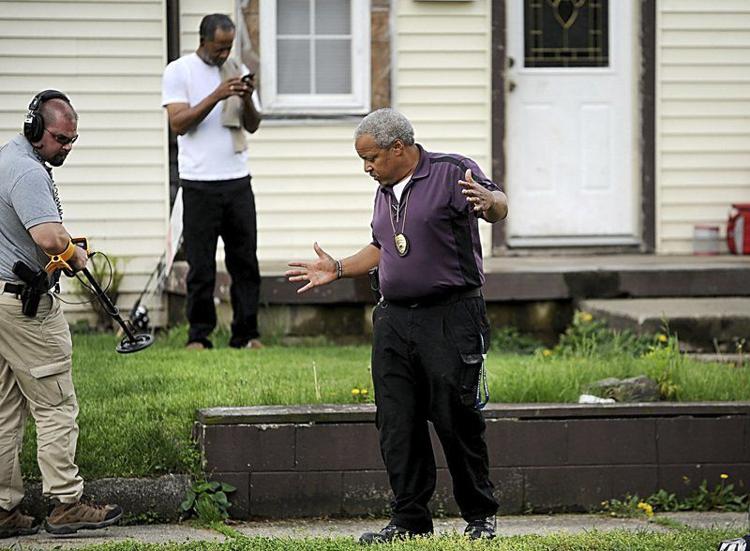 Please and thank you
Keen said the people who fill the supervisor and detective vacancies will likely come from the uniform division, and that results in experience lost in that area, too. But that is the natural process.
Another issue for the department is the increase in mandated courses for supervision and schools for detectives and positions in the lab. Training can take officers away from their duties for a few days, and the schools cost money.
Some of the new focuses for officer training will be on communications with the public.
"There's been a big change in how people communicate, how we address people," Keen said of society in general.
Younger generations tend to be way more casual in speaking – using terms such as "bud, hon or darling", which could be offensive to older people, he said, so officers will be directed to call people sir or ma'am if a proper name is not used.
"As police officers we serve all generations so we have to be mindful not to be offensive or start out a conversation with terms, such as nicknames, that may offend people" Keen said. "It may not be intentionally offensive, but officers have to learn about that."
That plays into de-escalation training, which shows an officer when it is helpful to find common ground in talking to the public, while also recognizing safety factors.
"In most cases, if there is not a direct threat, there can be an attempt to find common ground, take time to explain options to the situation they find themselves in, then a lot of the time you'll find compliance," Keen said of interactions with the public.
Every situation is different, however, so officers will also learn there are times when de-escalation is not appropriate, requiring immediate physical action such as handcuffing combative persons.
Training for the department will be across the experience spectrum.
"There are management functions and leadership functions, and we're going to emphasize more of the leadership functions going forward," Keen said of the training strategy.
"The initial focus is the newest officers. The uniform divisions is always going to end up with the least experienced personnel because that is the starting point for each agency," he said. "It's an opportunity right now – to try to change things around a little bit from what we're used to."
The near future
On top of the experience loss, the department is facing a physical relocation.
The city is negotiating the purchase of the former Tribune-Star office building on South Seventh Street as the new headquarters for THPD.
For many years, THPD has been housed in a deteriorating building of three 1890s-era structures cobbled together.
Keen said he hopes the department can move into its new home sometime this summer, adding 10,000 square feet and more usable spaces in general.
Change is a constant, no matter the job, Keen said. The public will see some new officers working out of a new location, but the department is up to the challenge and the opportunity, he said.
Lisa Trigg can be reached at 812-231-4254 or at lisa.trigg@tribstar.com. Follow her on Twitter at TribStarLisa.