For several years now, firefighters, police officers and Vigo County sheriff's deputies who died in the line of duty have been recognized with memorial ways.
The short stretches of streets bearing names of the fallen in red, blue or brown signs serve as a constant reminder of those who lost their lives protecting others.
But on Sunday, public safety agencies, city officials and some of the families left behind gathered for a more traditional memorial, the Terre Haute Fire Department's annual Fallen Heroes Day ceremony outside the Fire and Police Museum.
As each name was read a bell was rung until it rang 36 times — once for each public safety officer in Terre Haute and Vigo County who answered a call but didn't return.
The list of the fallen includes 13 city firefighters, 13 city police officers, seven sheriff's deputies and three volunteer firefighters.
"Even though we set this day aside, every day we should honor our fallen [and] honor the family members they left behind," said Terre Haute Fire Chief Jeff Fisher during the ceremony outside.
On Saturday, a stone recognizing fallen firefighters was placed at Memorial Stadium, Mayor Duke Bennett noted.
"We try to do as much as we possibly can to remember those who gave [their] all," he said. At the same time, the mayor recognized six new firefighters who officially joined the department on Friday.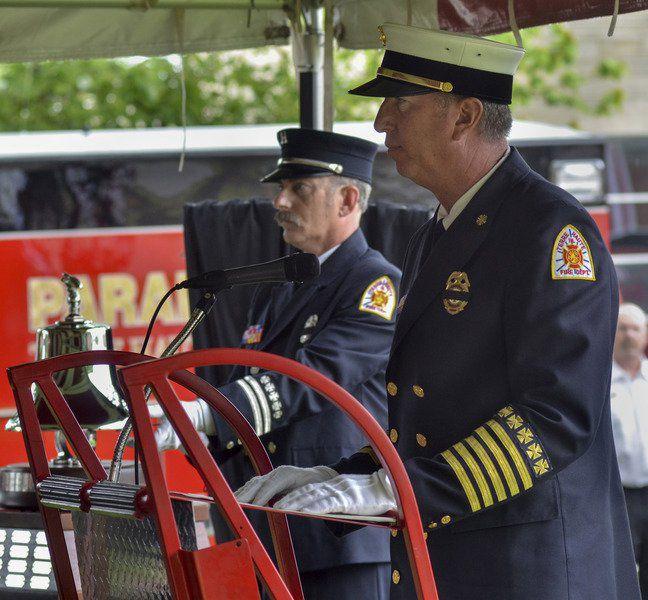 "Whether it's a police officer or a firefighter, when they decide to go down this road to serve the community, what a sacrifice that is," he said. "And I know it's a sacrifice for families because a lot of times your police officer or firefighter is doing their job — they're working and they miss a lot of family things."
When a police officer or firefighter dies it leaves a scar not only in the hearts of family members and friends but also in the heart of the department and community," said Rev. Gary Foust, chaplain with the Terre Haute Fire Department.
"Scars can be painful; they can remind us of tragedy and loss," he said. "But scars can also be beautiful and that's what I want to stress today."
Looking at the scars of local heroes, "you will see that they were full of courage," Foust said. "They were willing to join the fight in good vs. evil. They were willing to stand in the gap of life and death and make the ultimate sacrifice and they died doing what they loved."
Dave Taylor can be reached at 812-231-4299 or dave.taylor@tribstar.com. Follow him on Twitter @TribStarDave.