Laughter, tears and memories flowed Sunday afternoon during a celebration of life for Holocaust survivor and beloved Terre Haute resident Eva Mozes Kor, who died July 4 at age 85.
Remembered as a friend, advocate, educator, speaker and beloved troublemaker, a dozen speakers shared in the tribute in Tilson Auditorium of Indiana State University to remember Kor's work, life lessons, sense of humor and favorite memories.
Kor died of natural causes in Krakow, Poland, at the hotel where she was staying while leading an educational summer trip to the Auschwitz concentration camp with the CANDLES Holocaust Museum and Education Center.
An audience of more than 200 attended Sunday's celebration of life at Tilson, while others were able to view an online livestream of the event through the ISU website.
In an opening prayer, CANDLES board member Miles Abernethy said the prophet Isaiah summed up the essence of Eva's mission in life.
"The spirit of the Lord has sent me to heal the brokenhearted, to proclaim liberty to the captive and the opening of the prison to those who were bound," Abernethy quoted.
Kor's parents and older sisters died in Auschwitz during World War II. Kor and her twin sister Miriam were subjected to medical experiments by Nazi doctor Joseph Mengele.
Kor married and moved to Terre Haute in 1960, becoming a realtor and later graduating from ISU.
She founded CANDLES, or Children of Auschwitz Nazi Deadly Lab Experiments Survivors, in 1984. The museum opened in 1995, and is visited annually by thousands.
She was frequently invited to share her message of survival and forgiveness in lectures at ISU.
ISU Professor Kevin Bolinger uplifted Eva's sense of humor and toughness, likening her to World War II British leader Winston Churchill – a staunch fighter who never surrendered.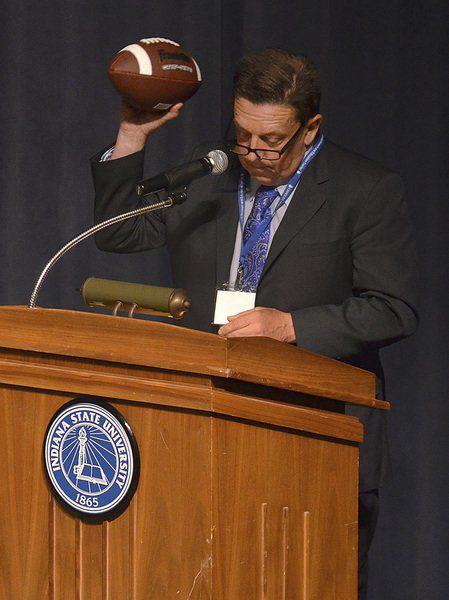 Bolinger called Eva a "world-class trouble maker" from her childhood acts of resistance through her many activities to raise awareness of Holocaust atrocities and spread forgiveness as healing.
ISU President Deborah Curtis said Kor was a realtor by profession, but the woman's true passion and calling was as an educator.
"Her mission was to prevent prejudice and hatred through education about the Holocaust," Curtis said.
The celebration was emceed by former local television journalist Patrick Fazio, who traveled to Auschwitz with Kor on an educational trip.
Fazio said Kor's efforts with state legislators resulted in Holocaust education being required in Indiana school curriculum.
In 1995, Kor chose to forgive the Nazis, after deciding that they should no longer have power over her life. She described forgiving the Nazis as an act of self-healing, self-liberation and self-empowerment.
U.S. Sen Todd Young said he met Kor in August 2017 and he was impressed by her tenacity and her message.
"She made forgiveness a gift to humanity," Young said.
He said he was impressed by her passion to share her story.
"I'm grateful for Eva Kor, the Romanian, the twin, the mother, the pusher, the survivor, the American, one of God's candles to light the way for all of us," Young said.
Steven D. Smith, director of the Shoah Foundation at the University of Southern California, said he came to appreciate Kor during the making of the "interactive Eva" project that allows the public to ask questions to her hologram and then hear responses about her life and experiences.
Kor answered thousand questions over five days, filming five hours every day in a studio with 113 cameras and 6,000 LED lights.
"It was a grueling week, but by the very end of it, a rewarding one, too," he said.
Smith said he was planning to see Kor again at the 75th commemoration of the liberation of Auschwitz on Jan. 27, 2020, in Poland.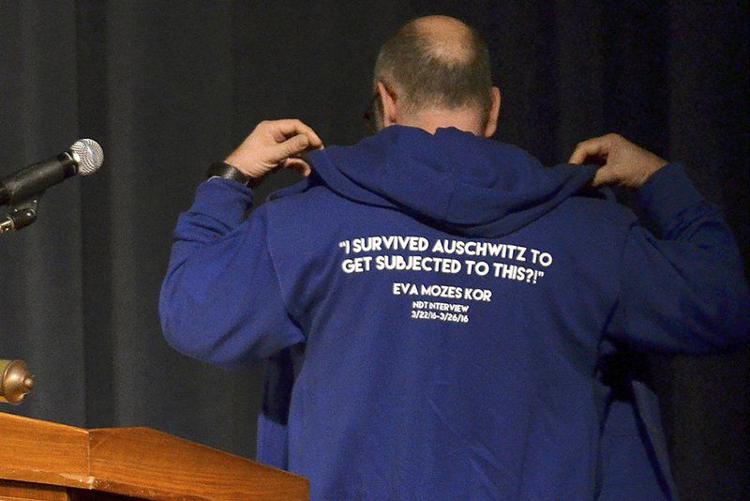 In anticipation of the trip, she sent him an advanced copy of the speech she intended to give. He shared that message, which included her memory of learning she and her sister had survived their ordeal in Auschwitz. And she concluded that such memories can be used to change the course of future generations by offering forgiveness, hope and healing.
Her former neighbor of 53 years, retired ISU professor Cathy Baker, said she watched Eva grow from a dear friend into a courageous woman brave enough to share her past while demanding action from institutions and governments, and while honoring the memory of her family and educating school children about the horrors of the Holocaust.
Kor became close to many people nationwide as she shared her story. Among those were Terre Haute native Mika Brown, who went on five Auschwitz trips with Kor.
"Today is kind of like opening a fresh wound," said Brown, the cinematographer on the award-winning documentary "Eva: A-7063." "It's been very difficult but it's so nice to see the community coming together to celebrate Eva's life,"
Don Dodson said he first heard Kor speak in 1969 when he was a fourth-grader at Thornton Elementary, where Kor's son Alex was a third-grader.
"It is amazing to have seen how much change there has been from her at that time to these past few years," Dodson said, recalling a woman who showed the children her internment camp tattoo. "She had a very tragic story to tell, and she was bitter," Dodson said.
Part of her bitterness was likely due to Kor not feeling accepted in the community for a while because of her accent, he said.
She transformed, however, as she focused more on her message of forgiveness, he said.
The celebration included a challenge by Kor's son Alex for everyone to continue to share Kor's message of forgiveness and peace.
"We have an obligation to carry on her work," Alex Kor said.
More information about CANDLES and Eva Kor can be found online at www.candlesholocaustmuseum.org.
Another celebration of life service is set for 2 p.m. Aug. 18, at Clowes Hall at Butler University in Indianapolis.
Lisa Trigg can be reached at 812-231-4254 or at lisa.trigg@tribstar.com. Follow her on Twitter at TribStarLisa.