If Carl Nicks learned anything from being a student-athlete at Indiana State University four decades ago, it was to be patient.
If circumstances didn't go his way at first, he just had to wait. They eventually would.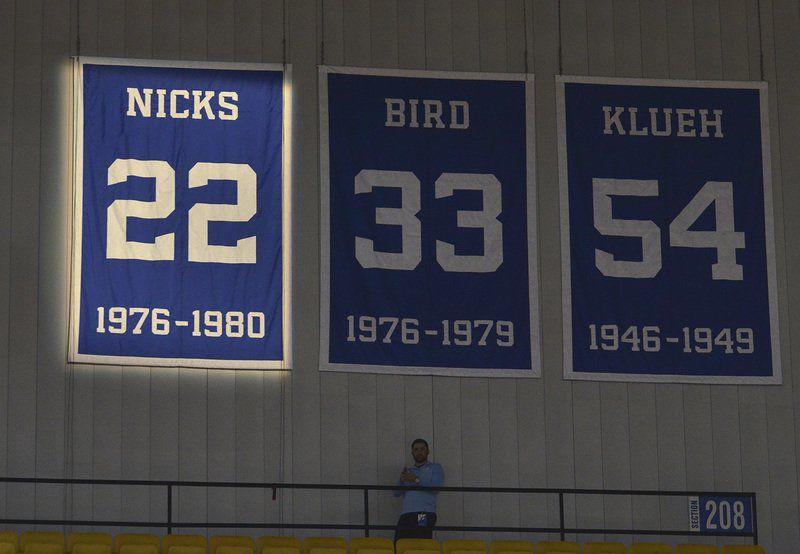 Late Saturday morning in Hulman Center, before the ISU men's official basketball game against Southern Illinois, Nicks' patience paid off again.
Thirty-nine years after his final game with the Sycamores, the university retired his No. 22 jersey — the same number worn by mid-2000s ISU women's legend Melanie Boeglin White, who was honored Friday night — during a ceremony that concluded with a short speech by Nicks and a standing ovation from fans in attendance.
Before his speech, spectators were treated to video highlights of Nicks' eventful three-year ISU career (1976-77, 1978-80) on the overhead big screen. Sometimes in color and sometimes in black and white, the 6-foot-1 "Mr. Intensity" could be seen diving for loose balls, breaking away for thunderous dunks and swishing left-handed jumpers from long range.
Nicks' No. 22 banner, blue with white lettering, was spotlighted directly left of the previously retired No. 33 (Larry Bird, 1976-79) and two spots left of No. 54 (Duane Klueh, 1946-49) along the upper-concourse wall. Nicks, Bird and Klueh are the only men's basketball players ever to see their numbers retired by ISU.
On the microphone, the 60-year-old Nicks — who still looks like he's in playing shape — opened by thanking God and his mother.
"I know she's looking down from heaven, smiling," he said.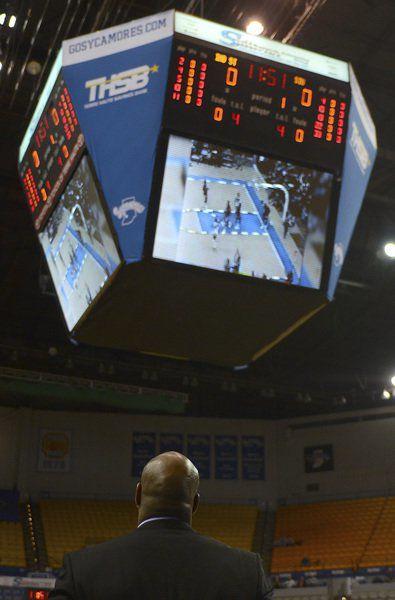 Nicks also expressed appreciation for his son, 30-year-old Olando; his wife of 34 years, Kelli; his extended family and friends who traveled from different parts of the country to Terre Haute this weekend; ISU for honoring him Saturday; ISU President Deborah Curtis; ISU director of athletics Sherard Clinkscales; current ISU coach Greg Lansing; his former ISU teammates, specifically naming Brad Miley ("the first guy who took me to a keg party") and Bird ("he made me a better player"); Terre Haute businessman Max Gibson and his family; and the fans who supported him.
After the ceremony, Miley said it was an honor to have Nicks as a teammate during the Sycamores' glory years, highlighted by the 1978-79 NCAA runner-up team that finished 33-1.
"I've been waiting for this day because I think he belongs up there," Miley said. "I told him when he came back to the stage, 'You've always been a legend in my mind. Now you're a legend with the school.' It was overdue and I think it was really nice of the school to recognize him."
"I thought it was long overdue," said Kelli Nicks. "But I didn't think it was ever going to happen [in recent years]. So I kind of let go of the dream. You know what I mean? Sometimes you have to accept things in life and push forward ... and keep a great attitude, if you can."
Then late last summer, Clinkscales called Carl Nicks at his Carmel home to confirm that his number would be retired Feb. 16, 2019.
"When he told me, he said, 'Man, I've waited all my life for this,'" Kelli said. "'Can you believe it's going to happen to me? I've waited all my life for this.'"
"I almost fell out of my chair, with joy and excitement," Carl said.
• • •
Carl Nicks' ISU journey didn't start like it would culminate with a jersey retirement.
A Chicago native and an Englewood High School graduate, he came to ISU as a freshman in 1976 and displayed plenty of talent as a guard coming off the bench. But the coaching staff could tell his game needed refinement and recommended he transfer to Gulf Coast Community College in Panama City, Florida, for his sophomore year in the fall of 1977.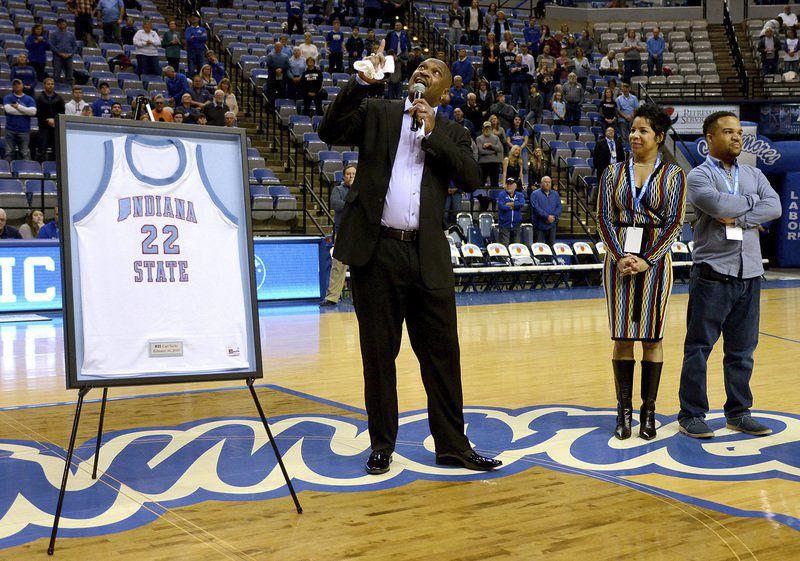 ISU fans didn't know if Nicks would ever return. Carl Nicks didn't know if he would ever return.
"They came up with a plan for me to go down to Gulf Coast Community College to get my game under control and to get my GPA [grade-point average] up," he said.
Nicks acknowledged that he wasn't crazy about the idea at first, but the humbling experience grew on him.
Remember, patience does pay off sometimes.
"I went down there with an attitude," he explained, "and it turned into a positive attitude.
"I started hitting the books a little bit harder. I grinded. I made it work."
Improved athletically and academically, Carl Nicks later decided he would return to Indiana State for his junior season, which would be Bird's senior season (1978-79).
"Larry started talking to me [on the phone] and convinced me to come back," he recalled. "He said we would have a pretty good team. He would say 'you're the piece we need' and things of that nature.
"Deep down inside, I knew this was the best place for me to come back to. One, it was a smaller school. Two, I knew I had a good chance of starting at the 2-guard. So I came back."
ISU fans were glad he did.
As a junior, Nicks averaged 19.3 points and 5.0 assists per game. As a senior in 1979-80, the season after Bird graduated and joined the NBA's Boston Celtics, Nicks picked up the scoring slack and tallied 26.7 ppg.
His 47-point explosion at West Texas State on Jan. 12, 1980, is still tied for the most in an ISU road game. To this day, that performance ranks as the third-best scoring performance in program history.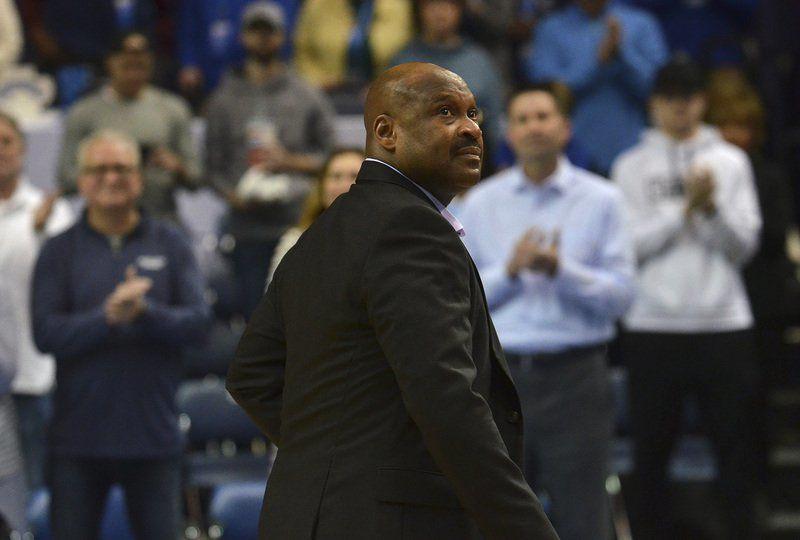 Nicks played so impressively in his final two seasons at Indiana State that the Denver Nuggets selected him in the first round of the 1980 NBA draft (23rd overall). His pro career included stints with the Nuggets, Utah Jazz, Cleveland Cavaliers and a few teams in the Continental Basketball Association and overseas.
Currently a scout for the Indiana Pacers, Nicks always carries fond memories of being a Sycamore.
"It all worked out for me," he said. "If someone had asked me back then if I would ever think about a jersey retirement, I would ask them if they were crazy. But moving forward, it happened ... and I'm just real grateful about it."
As for the game that followed the jersey retirement ceremony Saturday, ISU lost to Southern Illinois 79-57. That didn't stop the Nicks family from having a great time, however.
"With my work schedule, it's hard for me to get here," Carl Nicks said. "But I love to come to the games. I love to come to practices. And I'm a big supporter of Greg Lansing. I'd love to talk to the guys sometime, when I get a chance, and do a little mentoring.
"Oh yeah, I love it."
David Hughes can be reached at 812-231-4224 or at david.hughes@tribstar.com. Follow David on Twitter @ TribStarDavid.