On the inside, red cedar wood lines the circular walls and ceiling.
Beside a red cedar post queen bed is a small table, its top carved from a cedar tree stump.
The view from inside this unique cabin near the Parke County town of Bloomingdale is of a four-acre private pond.
It's the outside that's unlike most campground cabins.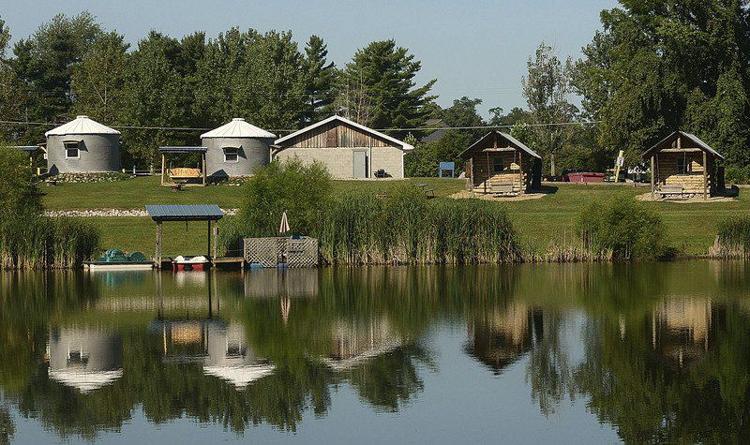 "I was able to get two old grain bins to convert into cabins," said Dave Blake, who along with his wife, Kathy, own Peaceful Waters Campground, located near Bloomingdale about 4 miles north of Rockville on U.S. 41 in Parke County.
"I saw a similar idea in a state park in Illinois, so I thought it was a pretty good idea."
The bins came from the Lee Farm, west of Rosedale. In fact, one of the bin cabins is named the J. Lee Cabin, after Johnny Lee, a friend of Blake. Each ran track and graduated from the former Rosedale High School, with Blake, now 65, graduating in 1972 and Lee in 1971.
His friend later died while in his 40s, but the bins where given to Blake from Johnny's younger sister, Laura.
The other cabin is named the J. Teague Cabin, after John Teague, on whose property Blake was able to harvest 20 red cedar trees for lumber to line the interior of the bin cabins. Blake took the logs to a mill, then he built a wood fired kiln on his property to dry the cedar boards. He also got some cedar trees, about to fall over, at nearby Bloomingdale Cemetery for use in the cabins.
Blake used a semi trailer used to haul logs to remove the bins from the farm, then used a flat-bed truck to haul the bins to the campground. It took several months to convert the bins last year into cabins for use this year. Blake plans to plant wild flowers around the bins and allow prairie grass to grow tall around the base of each bin cabin.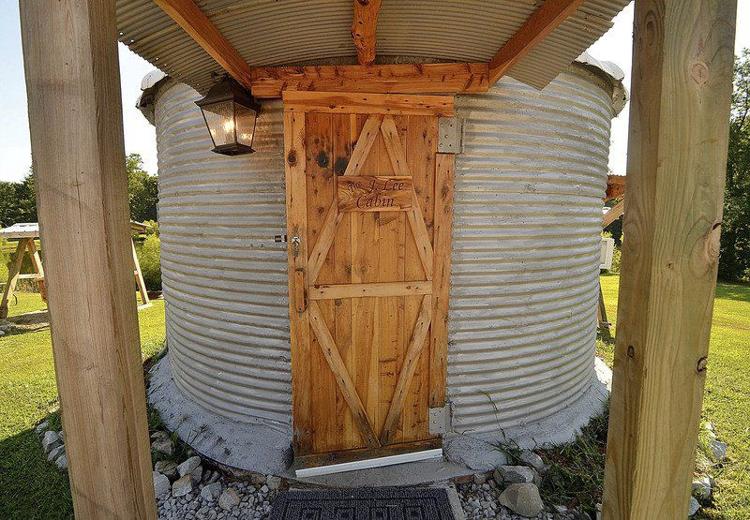 "I want to kinda of make it look like you are out on the prairie somewhere," he said.
He also built red cedar swings in front of each cabin. That forced him to make other swings (not cedar) for other existing cabins along the pond.
The bin cabins come with a small refrigerator, microwave, air conditioning and a bench table that also converts into a bed. They rent for $85 a night and can be rented per day, per week or even monthly.
"You have to enjoy the smell of cedar," Blake said.
Converting the bins was something Blake could easily handle. He had been a roofing contractor and general contractor, owning Blake Roofing, then Blake Construction. He also worked for Guaranteed Roofing in Terre Haute from 1985-1989. In addition, Blake has a tannery business, using elk, moose or deer hide, and shaves the animal hair into art, such as eagles, or mountain lions and elk. His favorite is a hide displaying two dogs chasing a raccoon up a tree.
The wild animals remind him of his home state of Montana, before moving to Terre Haute with his family at the age of 14. Blake and his sister, Pam Virostko, purchased the 46-acre site in 2005, then added a four-acre private pond. His sister named the campground.
"This used to be a flea market and all the electric was in and that is what gave us the idea of a campground," Blake said.
The home on the site, where he now lives, was in such bad shape "it was evaluated [assessed] at zero," he said. "We cleaned up two dump sites as the place had been abandoned for seven years."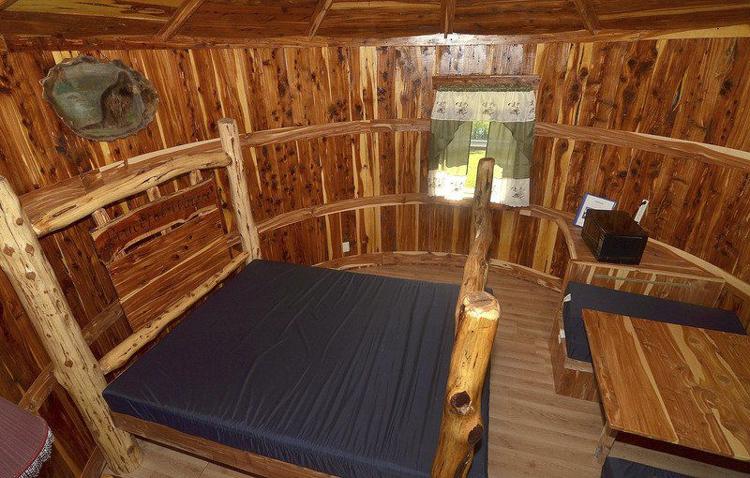 Blake and his wife bought out his sister's share last year and added the grain bin cabins. Blake has future visions for the property, storing up pine timbers on the property, with a goal of building a large lodge capable of holding hundreds of people in hopes of attracting camping or hunting associations or business groups for weekend or week-long events.
"I love doing this kind of stuff," Blake said.
For more information or to make reservations, visit www.peacefulwaterscampground.com.
Reporter Howard Greninger can be reached 812-231-4204 or howard.greninger@tribstar.com. Follow on Twitter@TribStarHoward.