It's fair to say that Tawnya Sheffield was not surprised to receive a breast cancer diagnosis. As the 17th person on her mother's side of her family to have breast cancer, Sheffield, 51, is no stranger to the disease. Yet even with the familiarity, her journey from diagnosis to survivor has been an emotional road, especially since she's seen so many people beat the disease and succumb to it.
"Two days before I was diagnosed, my cousin passed away from breast cancer," Sheffield said.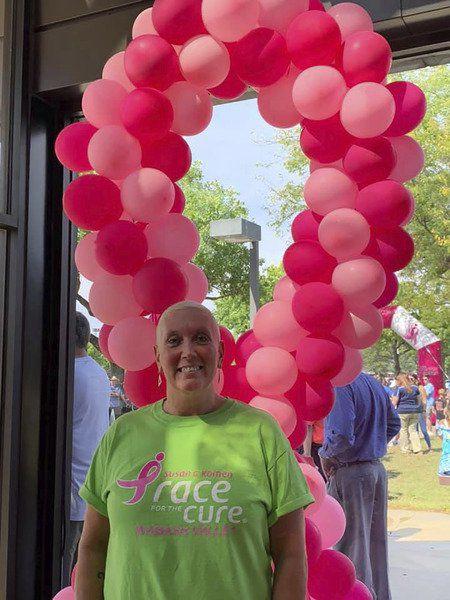 This Terre Haute native was diagnosed with Stage 2 Invasive Ductal Carcinoma in September 2013 when she was 45 years old. Her cancer was detected through the mammogram screening process, and she feels incredibly lucky it was caught early enough to respond to treatment.
At the time of her diagnosis, Sheffield did not have health insurance and was unsure how to pay for her yearly mammogram. She was informed that Clara Fairbanks Center for Women at Union Hospital, along with the Susan G. Komen Foundation, provided discounted mammography for those in financial need. That is how Sheffield was able to receive the mammogram that saved her life.
"Without people's donations, I wouldn't have gotten the mammogram and I may not be here today," she said.
Sheffield's treatment consisted of a chemotherapy pill and she elected to have a double mastectomy. She credits a positive attitude and a large support system of family, including her three children and five grandchildren, friends and medical professionals with helping her get through cancer treatment and the six years since diagnosis.
She tells people who are newly diagnosed to stay as upbeat as possible, even during the rough times. And having a support system allows that to happen.
"I believe in a positive attitude, and that mental health has just as much to do with [your treatment] as physical health," Sheffield said. "I tell people to find a support system. Even if you just need to call someone to vent. And if you don't have people to call on, then reach out to a local agency and ask for help. They will help you."
Sheffield is the ambassador of the year for the Wabash Valley chapter of the Susan G. Komen Foundation. But her involvement with Komen started before her own breast cancer diagnosis. She and her grandmother, mother, cousins and aunts have participated in Race for the Cure for nearly 20 years.
On Sept. 7, 2013, three days before her double mastectomy surgery, Sheffield and her husband got married at the Race for the Cure event. What was going to be a small ceremony in their team tent turned into a community-wide affair of 1,000 guests when Komen representatives offered the stage for their ceremony.
Sheffield said having her wedding at the event gave it an even more special meaning.
"When we found out I was diagnosed, we decided to move up our wedding because we didn't know what the future would bring," Sheffield said. "If something happened to me, I wanted us to have this memory, and for my family to have this memory. … It was a very emotional day, especially looking out at a sea of pink people and knowing that nearly everyone there is a survivor."
Sheffield's outlook on life has changed since she was diagnosed with breast cancer six years ago. "I used to sweat the small stuff and I don't do that anymore," she said. "It's not worth it. I don't let stuff affect me the way it used to."
She also uses her experience to help others who are struggling with breast cancer. She makes time to talk with individuals who need a sympathetic ear, and encourages women to seek help from the local organizations. Sheffield continues to espouse the benefits of having a positive attitude to help get through the difficult times.
"Some days will be awful, and you won't want to bother with anyone," said Sheffield. "But those are the days you need to get up and shower, and get dressed. You'll feel better." She also urges women to do self-exams, educate themselves, and get an annual mammogram.