Carolyn Mosby grew up with many strong female role models who fought for social justice, stood up for what they believed in and worked to make a difference.
During Monday's Black History Month kickoff at Indiana State University, Mosby challenged students to know their history and to leave their own legacy, one "that will make it better for generations to come."
Mosby, who grew up in Gary and received her bachelor's degree from ISU, is president and CEO of Mid-States Minority Supplier Development Council, which works with companies to find minority businesses to help them meet their diversity goals. She spoke at Hulman Memorial Student Union.
Indiana State University was the only higher education institution in Indiana that admitted an African American as early as 1870, according to Sumalayo Jackson, interim director of the Charles Brown African American Cultural Center. The Black History Month committee wanted to celebrate 150 years of African American achievement at ISU.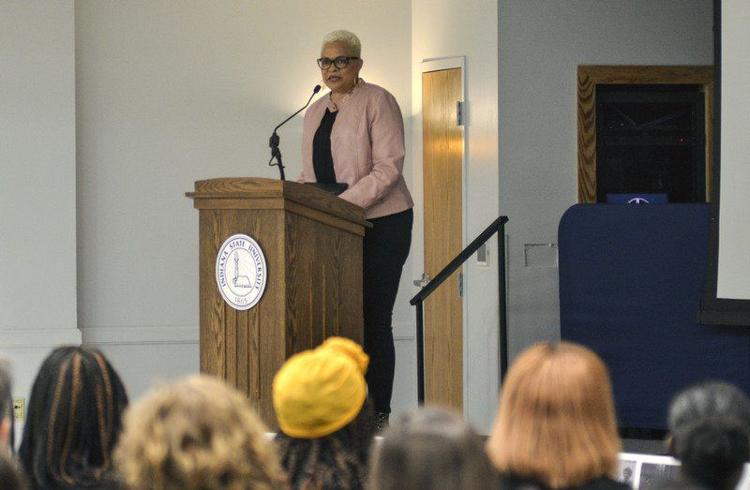 Mosby, the keynote speaker, made reference to 150 years of black student excellence at ISU.
"Everyone that came before us ... paved the way for all us to get our education here," she said.
She spoke of her own ancestors, including a great-great grandmother who was a slave, raped and impregnated by a slave master. After slavery ended, when her great-great grandmother decided to leave with the child [Mosby's great grandmother], the master tried to kill them, but they escaped.
Mosby's grandmother was active in Operation Push, now Rainbow Push, and had a passion for social justice and civil rights. As a youth, Mosby accompanied her grandmother to Saturday morning meetings and heard powerful civil rights leaders, including Jesse Jackson.
She left those sessions "always feeling really good about being black," she said. "That feeling was reinforced for me, every day, through experiences and people I came in contact with, both family and friends."
Her mom, the late Indiana State Sen. Carolyn Brown Mosby, authored several bills and was the original author for the state's casino gaming legislation, with Gary being the site of the first riverboat casino.
Through her family history, Mosby learned, "There is purpose in pain and strength in struggle."
Those stories and experiences her family shared "fortified me and gave me the strength to face what I thought were insurmountable obstacles," she said. She described how she lost her father in 1988, her grandmother in 1989 and her mom in 1990, all while a student at ISU. She lost "the three people who raised me."
What kept her going was her family legacy and a need to carry on that legacy.
"I felt a sense of responsibility to them for the sacrifices they made to give me a better life," Mosby said. "These strong women always encouraged me to have a voice and to stand for what I believe in with conviction and grace."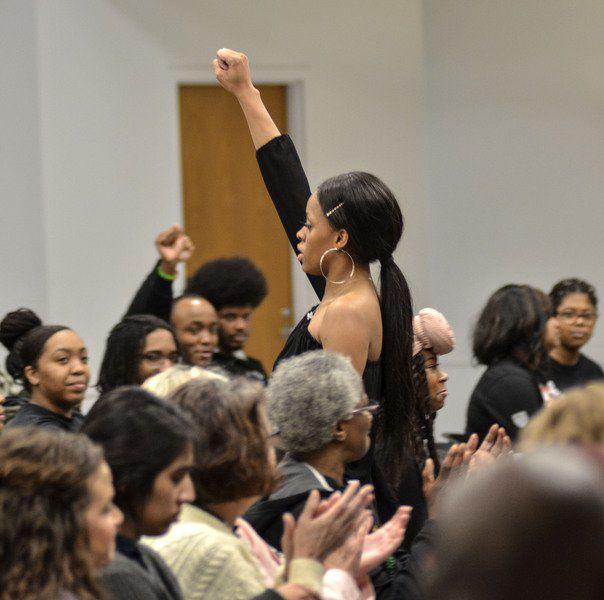 Mosby challenged the students to know their family history and leave their own legacy.
"We all have a story to tell and understanding where you come from helps you to know and understand where you are headed," she said.
ISU's first black students likely faced their own set of challenges and hardships in the late 1800s.
"We must ask ourselves, when will we fight? What bridges will we cross? ... When will we take a stand? What legacy are we leaving ... that will make it better for generations to come?"
In an interview, Mosby said, "Unfortunately, a lot of our history still isn't taught, so it's really important that families understand where they came from, and those stories are shared so we understand the importance we played in American history."
Among those attending the Black History Month kickoff was ISU senior Nijah Smith.
"Black History Month is such an important thing to me. It's a month to celebrate my history as well as my ancestors' history," Smith said. She praised the African American Cultural Center staff and "the love and the knowledge they give to me every day."
Smith is a political science/legal studies major who wants to go to law school, study criminal law and eventually work on wrongful convictions.
The program included an opening prayer; a soulful solo, "Calvary," sung by Danae Jackson; and performances by FullOwt Praise Dance Team and a Precision Step Team.
Sue Loughlin can be reached at 812-231-4235 or at sue.loughlin@tribstar.com Follow Sue on Twitter @TribStarSue.