For a group of seven Illinois women who have made a tradition of shopping in Terre Haute each Black Friday, their T-shirts said it all.
"Buckle up, Buttercup; Black Friday isn't for sissies."
The seven women, who are friends and family from Robinson, Palestine and nearby communities, got started the night prior at Walmart East (midnight); went to Denny's for breakfast; shopped at Kohl's (2 a.m.-ish); hit the new Menard's south of town around 6 a.m., where they stood in line in the rain; and enjoyed a caffeine boost at Starbucks.
They continued their shopping marathon at Shoe Carnival and Old Navy, and by 10 a.m. Friday, they were at JC Penney's at Honey Creek Mall, with no shortage of energy or enthusiasm.
"We do this every year," said Jennifer Kamplain of Robinson. "We left at 10 p.m. last night [Thanksgiving night] and arrived at 11 p.m. [Illinois time]."
How did they feel? "Great," was the group response, and they had found deals galore. What are they buying? "Everything … You should see our vehicles."
"The best part is spending the time together," Kamplain said. "The stories. The laughter. The memories." In fact, she carried one of the ladies piggyback as they walked through the festively decorated store.
"We get to laughing so hard we get tears in our eyes, our ribs hurt the next day, and our jaws hurt all day," said Carol Mehler of Palestine.
"We've traumatized a few store workers today," said another group member as all seven roared with laughter.
Oh, and after shopping, they planned on hitting Applebee's for $1 Margaritas.
'Tis the season
Jen Rolape, Penney's store manager, said the store opened at 2 p.m. Thanksgiving and was to remain open — nonstop — until 9 p.m. Friday. When it opened Thanksgiving, "We had a line around the building," she said. "We had 500 coupons and they were gone in 12 minutes. It was super exciting and really busy."
She went home for about five hours, and "I slept for about three," she laughed. Sales have been "really great." Popular items included fine jewelry, clothing, outerwear and items in the home department.
The store had time overnight to re-fill, replenish and "get ready for the next wave," Rolape said. Shopping "slowed down" between 2 a.m. and 4 a.m., "and we really started picking back up at 7 a.m."
While many people now turn to online shopping, many still enjoy in-person, especially on Black Friday. "We're sort of marrying the two together," Rolape said. "They can buy online and pick up in-store ... We kind of make that a seamless transition. But there's a lot of folks that express to us all the time they want to try it on; they want to touch it; they want to feel it."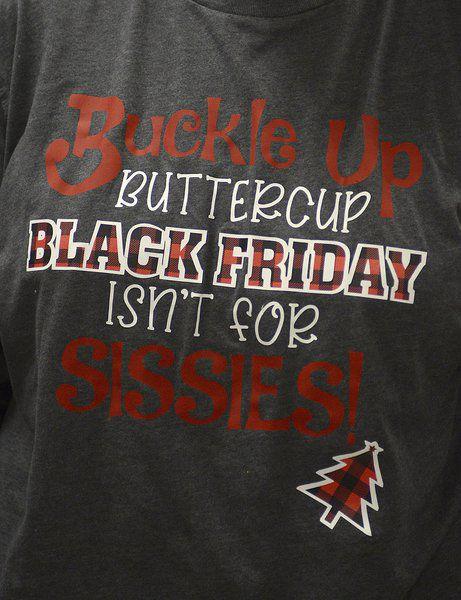 Elsewhere in the mall, Jeff Glik, president of Glik Stores headquartered in Granite City, Ill., had driven three hours to visit the Glik store at Honey Creek Mall. The store, which sells women's fashions, opened this past spring.
"For about 20 years we've wanted to come into Terre Haute and Honey Creek Mall," he said. "Finally, the opportunity became available. This is the first Black Friday here, so I drove three hours to see all the action."
Glik's has been in business since 1897 and has 70 stores in 11 states, including the Midwest.
The company president was in costume as Zoey the Turtle to promote the Simply Southern clothing line; Zoey is the Simply Southern official mascot.
Shopping and sales at the Honey Creek Mall store was "unbelievable. It's our first year so we don't have anything to compare it to," Glik said. "We opened at 6 a.m. and the store was neck and neck with the top store in the company, so we're pretty excited. "
Dog beds, fishing gear and kayaks
Meanwhile, Academy Sports had plenty of shoppers, while many others had made online orders and would pick up those items at the store.
Black Friday sales started Tuesday. "We've had great success with starting early," said Rob Crowley, store director. "We're looking for an awesome sales year." The store had well over 100 online orders to fill Friday morning.
Some of the popular items for shoppers included gun safes, apparel, Nike fleece and Under Armour fleece.
Among the store's shoppers were Brenda Stout and her two daughters, Marissa and Mariah; it was their second store after starting off at Joann Fabric.
They also had made the rounds Thanksgiving Day at several stores that were open, including Kohl's, which was "wrapped around one whole side of the building ... We got some really good sales," Brenda said. They also went to JC Penney and Old Navy on Thanksgiving.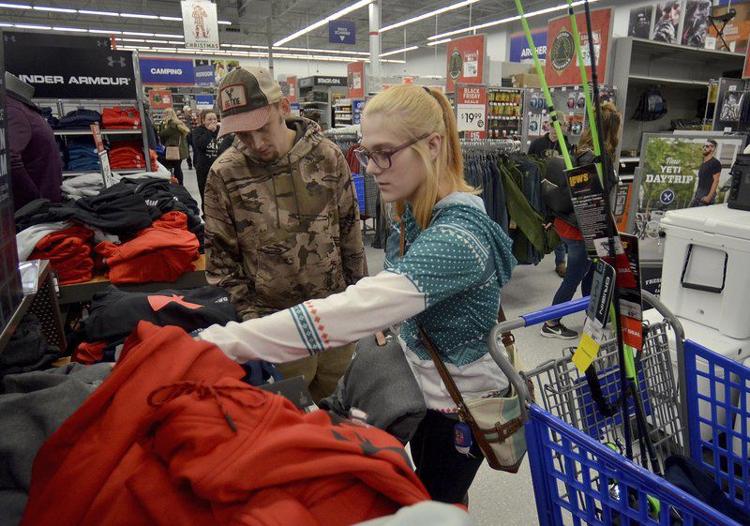 At Academy Sports, they shopped for workout attire and also found some good deals on dog beds.
Black Friday shopping "is a family thing. It's a tradition," Brenda Stout said. They enjoy it — the holiday crowds and the sales. Marissa does a lot of shopping online as well because her job responsibilities make it difficult for her to get to the stores.
"She's waiting for Cyber Monday," her mom said.
Also bargain shopping at Academy Sports were MacKenzie Thompson and Justin Goins of Dana, who found some good deals on fishing poles and other items. They started early at the Clinton Walmart before making their way to Terre Haute stores, including Kohl's, which was "packed," Goins said.
Melinda Randolph of Paris, Ill. was there with husband, Robert, and a family friend. The Randolphs, who had been price shopping, purchased two kayaks they plan to use on West Lake, where they live. One of the kayaks was more for fishing and the other more for "playing," she said.
Sue Loughlin can be reached at 812-231-4235 or at sue.loughlin@tribstar.com Follow Sue on Twitter @TribStarSue.