Being yourself, sharing your voice and solving problems are one framework for becoming a person of influence shared during a Terre Haute Leadership Conference.
Julia Winston shared that formula Thursday during the all-day Leadership Connect conference.
Now a resident of Huntsville, Alabama, Winston developed her BRAVE Leadership Consulting in 2012 when she lived in Terre Haute.
"We focus on the roadblocks that stop you," Winston said of her work to develop leadership skills. "We focus on the disconnect between where you are and where you want to go."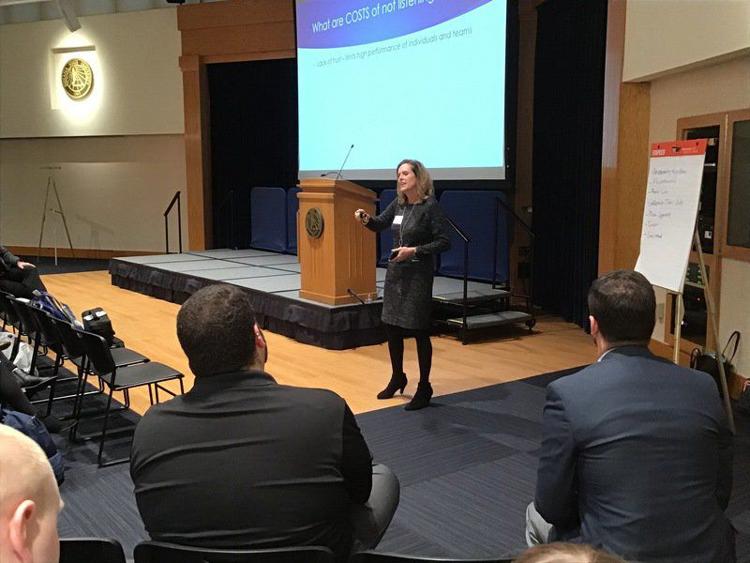 Society is moving into a place where personalization and individualization are important for young professional business leaders, she said. So coaching and consulting are good ways to identify personal goals and develop a plan for the future.
Danielle Isbell of Leadership Connect, formerly known as Terre Haute Young Leaders, said 160 people registered for the third annual event at the Hulman Memorial Student Union on the Indiana State University. That shows an interest in learning leadership skills.
"I think we all have potential to develop professionally and personally," Isbell said. "We can all learn something new, so we brought in a broad variety of leaders for this conference."
Lori Danielson of GoTime Consulting said she has found that listening skills are important in leaders, not only to hear feedback of existing issues, but to dream of future projects.
"We live in an age of self-expression, and connections and distractions," Danielson said. "I think one of the most important skills we can work on is listening."
Social media is a growing platform that gives everyone a voice, but that also means people have to learn how to listen better, she said.
"As leaders, we need to think long and hard about how we are creating space to listen to one another, and not just for content, but for meaning," Danielson said.
Many businesses are finding that organizational listening is growing as businesses and groups become open to listening to individuals in the organization.
For more information on leadership programs and professional development, go online to www.terrehauteyoungleaders.com.
Lisa Trigg can be reached at 812-231-4254 or at lisa.trigg@tribstar.com. Follow her on Twitter at TribStarLisa.