When Arshay Cooper stood on the banks of the Wabash River at Fairbanks Park for the first time, he was struck by the width of the river, the straight stretch of water and the beauty of the area.
"This is the most perfect rowing venue I've ever seen," said Cooper, an award-winning author and champion rower who visited Terre Haute this week to talk with students and adults about leadership.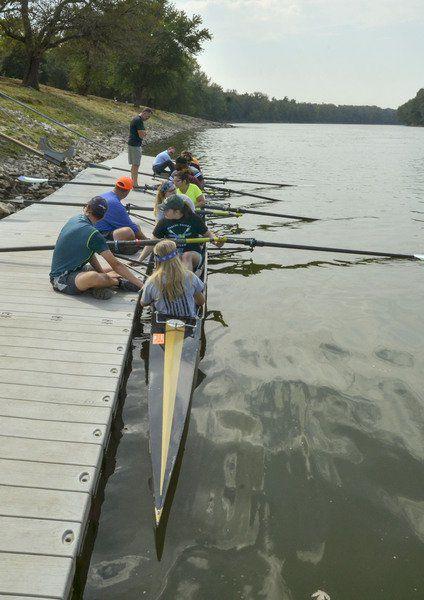 On Friday, Cooper joined members of the Wabash Valley Crew as they invited adults to try the sport of rowing.
Today, from 9 a.m. to noon, students in middle school and high school are invited to the park to experience rowing and learn about Wabash Valley Crew.
Jack Hill, chief operating officer at Union Health and a co-founder of Wabash Valley Crew, brought the sport to the Wabash River about three years ago. His son had competed in high school, and once Hill saw the Wabash River, he knew he wanted to bring the sport here.
"It looks like a different place when you're out on the river," Hill said of Terre Haute.
Hill was familiar with Cooper's story, told in the book "Suga Water."
The book is Cooper's memoir of life growing up in the west side of Chicago, where life included gang-violence and many ways fail. But Cooper became a member of the first all-black high school rowing team in the United States. The sport of rowing changed his life, and he has been traveling the country sharing his experience.
Cooper spoke to all five Vigo County middle schools this week, and he spoke to the leadership team of Union Health.
Cooper said he has found that after-school programs help young people survive and stay out of trouble by giving them focus, instruction, mentoring and a safe place to develop into young adults.
Hill said he accompanied Cooper to Honey Creek Middle School, and the students were excited about his story and his encouragement.
"His personal story is incredible, and he weaves it well into his presentation," Hill said.
Among the adults who met Cooper on Friday was Elbo Broomes of Terre Haute.
Broomes said he saw the rowing group in the park Thursday and was interested in their story, so he thought he'd try rowing Friday.
"I'm a veteran, and I've coached youth sports," he said after getting out of the 9-person boat, "but this was the toughest thing I've ever done. It really took teamwork. It's a good activity for young people to learn."
Gale Wilson, who works with Hill at Union Hospital, said she was intrigued by the idea of rowing and wanted to try it.
"Having the people in sync and rowing together was calming," she said, admitting she was nervous until she relaxed into the rhythm of rowing.
Wabash Valley Crew installed its own boat launch and dock to get to the river, with the cooperation of the Terre Haute Parks Department. The rowing group practices in the spring and the fall, and has competed in regattas at Cincinnati and Columbus, Ohio, at Eagle Creek in Indianapolis, at Culver Academy and in Illinois.
Hill said the hardest thing to learn about rowing is to not be afraid. The long, narrow boat will not tip over.
"It's like ballet," he said. "It takes power and effort, but it looks effortless."
Youth and adults are welcome to check out the rowing program from 9 a.m. to noon today at Fairbanks Park.
Lisa Trigg can be reached at 812-231-4254 or at lisa.trigg@tribstar.com. Follow her on Twitter at TribStarLisa.