The campuses of Indiana State University and Rose-Hulman Institute of Technology were probably home to the most hugs and high-fives per capita on Saturday as the Special Olympics Indiana Summer Games rolled into its second day.
Whether the athletes were setting a new power-lifting personal best or scoring the decisive point in a close bocce ball match, the Special Olympians, coaches and fans couldn't get enough of the enthusiasm and passion on display.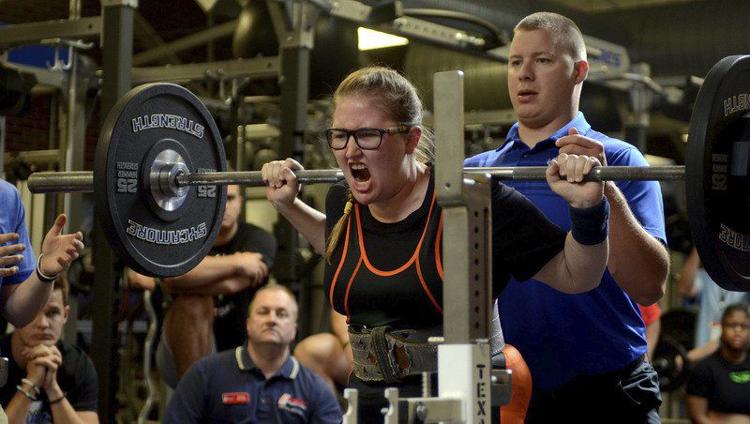 Indiana State's Director of Sport Performance, David McMannus, coordinates the power-lifting competitions and said seeing a packed weight room all scream and cheer for an athlete as they lift big weight is about the most motivating experience a person could ask for.
"Just earlier, we had an athlete set two [personal records] and the whole place, standing room only, was going crazy," McMannus said.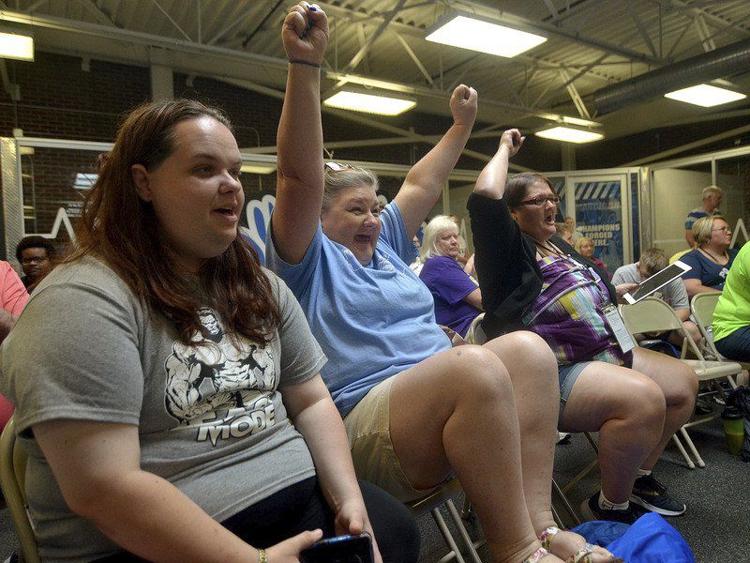 "The passion these athletes have for lifting and training is no different than what I see in the athletes we have here at ISU. And that passion is so motivating that it keeps me and my staff wanting to come back and volunteer year after year."
Even outside the weight room, McMannus said, athletes fill the campus with such pride for what they've accomplished that it's impossible not to smile.
"One of the best things I've seen in all the games I've worked was on a break between events," McMannus recalled. "An athlete with a bunch of medals around their neck walked by yelling, 'I did it. I did it.' It was about enough to make you tear up."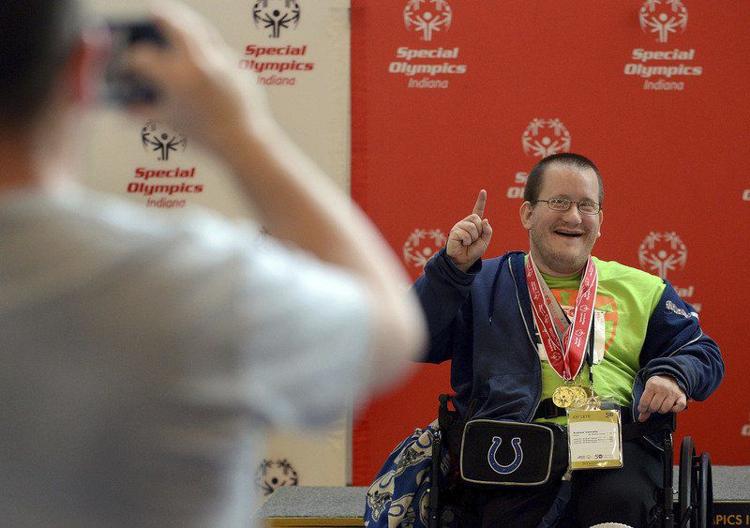 Elaine Cowan, an athlete representing Vanderburgh County, said making new friends and meeting new competitors is what has kept her coming back to the Summer Games for the past nine years.
"My favorite part is definitely making new friends," Cowan said. "I've probably made 20 new friends over the years."
But don't mistake Cowan's kindness for a lack of competitiveness, as she said a fifth-place finish in the 100-meter dash fueled her to a gold-medal finish in one of the relay races.
"I got fifth place in the 100-meter dash, but that's not bad because I used that to bounce back and win this gold medal in the relay race," Cowan said as she pulled the medal from her backpack.
"And even if I hadn't won this medal I'm having fun. Because our motto is; let me win, but if I cannot win let me be brave in my attempt."
Michelle Glassburn, the head bocce ball coach for the Howard County delegation, said motivation and positivity like Cowan's is all you can ask of an athlete and then some.
"So often you'll see that it doesn't matter what medal they get so long as they're having fun and making new friends," Glassburn said. "And that's what's so neat about the whole Special Olympics experience, if you see your athletes do just that, you will for sure get as much joy out of the experience as the athletes do."
Glassburn said she's been a Special Olympics coach for five years and would encourage anyone who's ever thought they might be interested in volunteering to make the jump without looking back.
"To see the athletes hug one another, give each other high-fives and celebrate a win, even if it's not their own, is super neat," Glassburn said. "I would recommend volunteering with the Special Olympics to anybody."
Reporter Alex Modesitt can be reached at 812-231-4232 or at alex.modesitt@tribstar.com. Follow him on Twitter @TribStarAlex.