Yolanda Altvater has been a crossing guard for nine years, and each day of the school year, it's her job to walk children safely across Margaret Avenue to attend Fuqua Elementary.
She's watched kids grow up, starting in kindergarten and graduating to middle school. "I treat every one of these children like they're my own," she said, as she donned a bright yellow reflective vest and carried a small stop sign she uses to escort children across the busy street.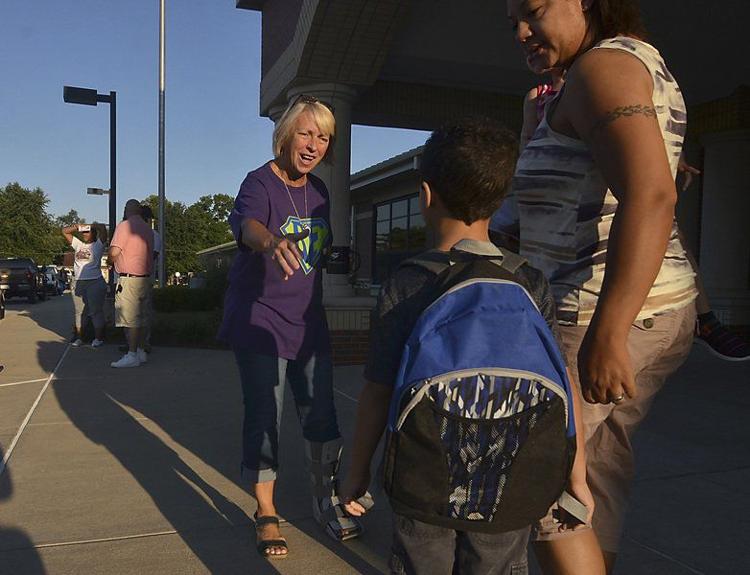 Wednesday was the first day of classes, and Altvater was back on the job — which pays $15 per day worked. She enjoys her crossing guard duties and lives near the school. "I love it. I take my job seriously," she said. 
She is one of 30 such crossing guards throughout the city in a program operated by the Terre Haute Police Department and funded through the Board of Public Works and Safety.
Both before and after school Wednesday, members of the city police traffic division were on patrol near Fuqua, watching for unsafe driving.
Altvater crosses children at 11 1/2 street and Margaret Avenue. When it's time, and the children arrive, she activates flashing red traffic signals that drivers should treat as a stop sign, she said. When she's done for the morning or afternoon, she turns the flashing red lights off. 
 The street has changed in recent years; it used to be one lane each direction, and now it is two lanes each way with a median. When she crosses children, both eastbound and westbound traffic are supposed to stop until she has the children across, but that doesn't always happen; sometimes, they may get caught in the median.
Her advice for drivers as kids go back to school?  "Watch your speed during school time ... and please obey the flashing red traffic light when it's on."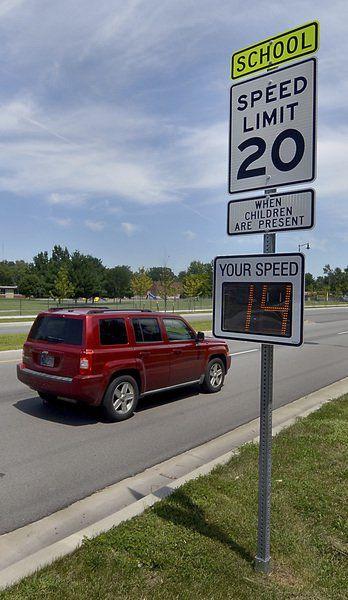 Afternoons can be especially bad, she said, with people are speeding  and not paying attention. On Wednesday afternoon, two drivers in succession went right through the red flashing lights, prompting city police officer John Hopper to activate the emergency lights on his motorcycle, stop the drivers and advise them of their violation.
"Most people are pretty good. I have a lot of regulars that go up and down and they know," Altvater said. And for those who don't know the rules, she'll call them out for speeding or going through the red light.
Sometimes, she gets some unpleasant feedback — and hand gestures. "I get people screaming and fussing at me," she said with a laugh. "I get it all. I've been doing it for so long, I'm used to it — I just let it go."
At one point, a driver stopped at the red flashing light and asked her what he should do. "Treat it like a stop sign," she shouted.
The numbers of children crossing aren't great, perhaps five or six in the morning and about a dozen after school — some walk, others ride bikes. "Every year is different," she said.
 Among those happy to have Altvater as a crossing guard is Candace Wilson, whose son attended his first day at Fuqua; he previously attended Hoosier Prairie. "I think as long as a crossing guard is out here, it's fine," Wilson said. "We haven't lived here long. I'm not used to him going to a city school." She also appreciated the police presence.
"I'd feel better if the cops were here every day, all year," Wilson said.
Fuqua fifth-grade student Tanner St. Juliana, who was on a bicycle, said Altvater "does an excellent job" getting students safely across  Margaret Avenue. St. Juliana feels "especially safe" when police are nearby.
Signs along Margaret warn drivers the speed limit in the school zone is 20 miles per hour when children are present; electronic signs in each direction also informed drivers of their speed.
Kelly Kennedy, who works in the traffic division, said the crossing guards are a veteran staff, although three new ones have been hired this year. The crossing guards are located at busy intersections or highly congested areas. "We let schools decide where they are needed," she said.
Also on site Wednesday afternoon was Terre Haute police Sgt. Jim Schneider, traffic division supervisor. Police stopped several vehicles along Margaret Avenue in the morning for speeding or disregarding the flashing red light, although the goal right now is to get the word out and make the public aware of the need to be careful — and slow down — in school zones.
Another area of focus is 25th Street and Wallace Avenue, which also has a crossing guard who activates a flashing red light; it's another intersection where drivers tend to speed and disregard the light. 
Police will be watching for unsafe drivers at other schools as well, Schneider said. "We'll be out there."
Sue Loughlin can be reached at 812-231-4235 or at sue.loughlin@tribstar.com Follow Sue on Twitter @TribStarSue.