While the Terre Haute Department of Parks and Recreation Department's board was approving Greg Mueller's contract to create an art installation at the soon-to-be-renovated Herz-Rose Park last week, he was already immersed in work on the project.
He was collecting hand prints of Ryves neighborhood children, which will adorn the arched entries into the installation.
The Minneapolis-based artist works mainly throughout the Midwest, but his business is expanding, with commissions coming as far away as California. He's long had an eye on Terre Haute, closely following Mary Kramer's Art Spaces project.
"I had been a finalist for a piece at the [Vigo County] library," he recalled. Art Spaces subsequently contacted him regarding the Herz-Rose installation.
To begin his work on the Herz-Rose project, Mueller said his first goal was to "figure out what unique attribute is the touchstone of a neighborhood." Initially, his installation was more obviously intended to resemble a mailbox, but he embraced a suggestion that the piece should be more interactive than stand-alone.
Mueller said he collaborated with Luke Walls, who designed the rest of the park's refurbishment. They bounced ideas off one another for four or five months.
"Luke came up with a phrase, 'Reaching for Ryves,'" Mueller said, which inspired the idea of incorporating the hands into his work.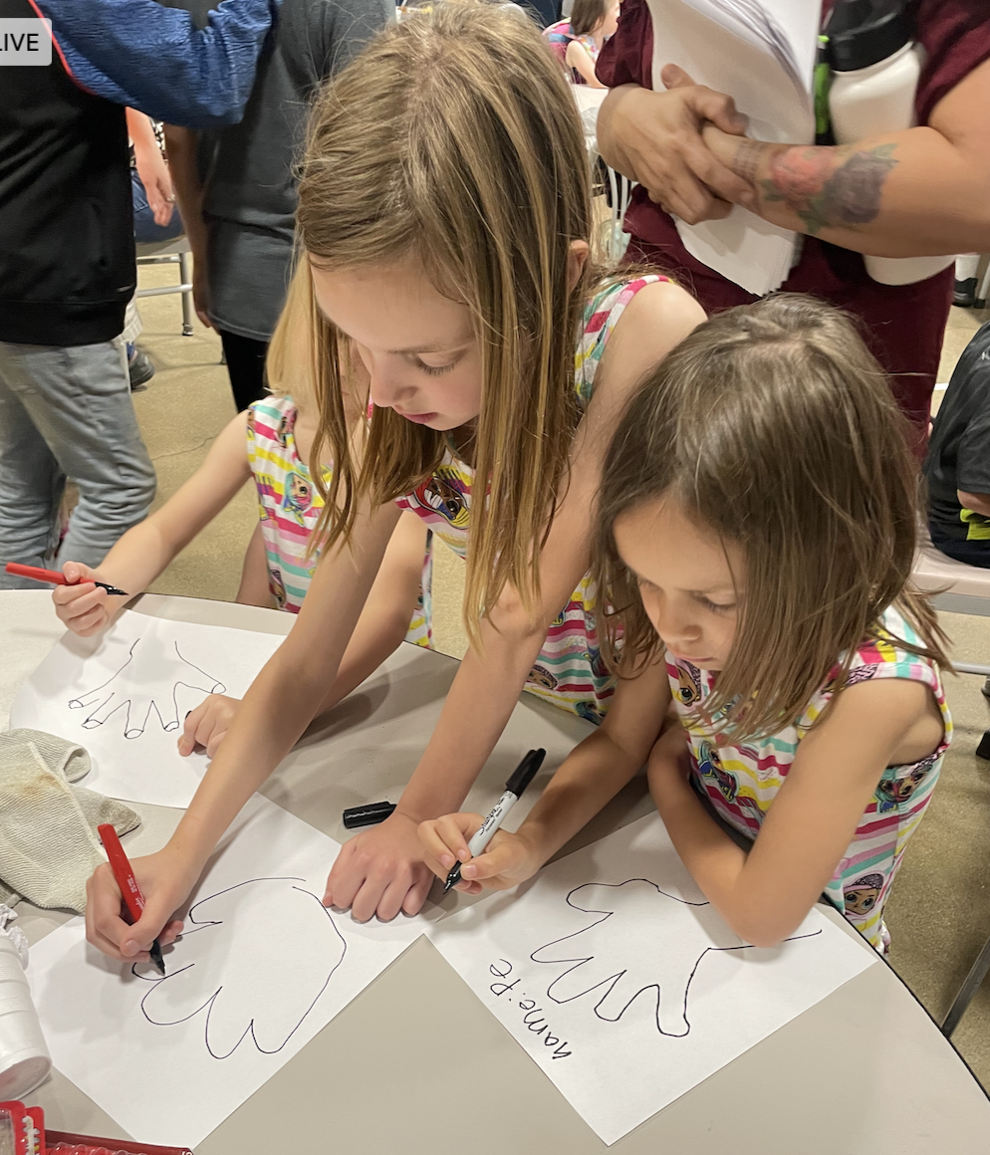 "Why not use the hand prints of the people who live there?" he recalled deciding. "It can encourage them to take ownership of the park."
Two of the first people Mueller met in the Ryves area were Mark and Tiffany Baker, who have been instrumental in attempting to resuscitate both that neighborhood and the 12 Points area. Their daughters — Delia, 5, Penelope, 6 and Giulietta, 8 (the three sisters of the Bakers' company Three Sisters Investments) — contributed their hand prints to be incorporated into Mueller's final product.
Hands flashing symbols in sign language will be a part of Mueller's installation, as well.
"We are thankful for Art Spaces and Greg's vision," said Tiffany. "We are looking forward to continued investment in this neighborhood."
Between art school and graduate school, Mueller served as an apprentice for a sculptor for five years.
"Where does public art become social and part of the world and you bring the two worlds together?" he said he learned from his mentor.
After grad school, he taught a lot, but in 2017, he said, "I broke away from academia and focused on my work full time."
Mueller's art will stand adjacent to where the Herz-Rose's new splash pad is to be installed. People can expect to enjoy the park's complete makeover near the end of 2024.
His contract is not coming from city funds, as the installation's chief underwriter is CenterPoint Energy.