Standing inside a tent in front of a 438,000-square-foot manufacturing plant in the Vigo County Industrial Park, Allura Chief Executive Officer Jessica L. Navascues went straight to the topic of a grand re-opening event Wednesday.
"We celebrate that the lights are back on in Terre Haute," Navascues said.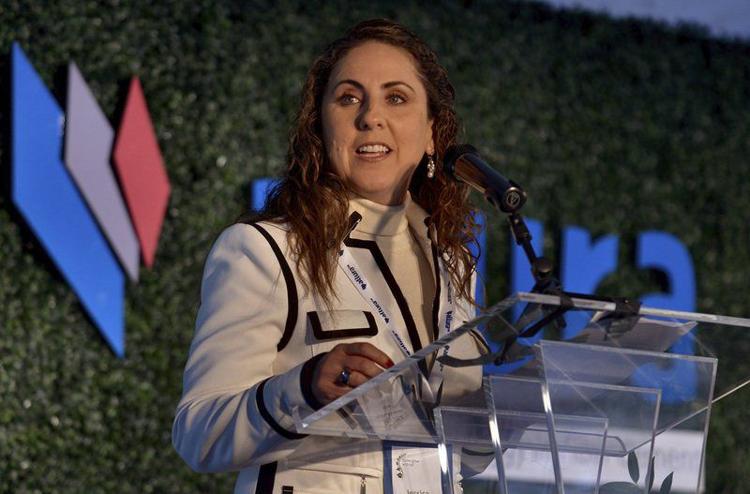 "Machine operators, material handlers, plant managers and others are back to work in this great community, and our long-lasting fiber cement siding, produced right here in Terre Haute, is making the dream of home ownership a reality for families across the Midwest," Navascues said.
The plant's new startup began in March of last year.
The plant now employs 60 people and is located on 97 acres in the industrial park, off West Industrial Drive in southern Vigo County. It includes a 9,120-square-foot office building, an 85-foot tall, multi-level water building with three internal vessels, a 1,200-square-foot dosing building plus storage yards, railroad spars and parking areas.
The facility was originally constructed by CertainTeed, a subsidiary of Saint-Gobain SA, opening in 2008. After the housing bubble and banking mortgage scandal rocked the nation, CertainTeed shut down some operations at the plant in 2012.
In 2014, CertainTeed was sold to Plycem USA Inc., a subsidiary of Mexico-based Elementia, a consortium of industrial and construction companies. Allura is a subsidiary of Plycem USA.
"The housing market is definitely going up," Havascues said. "By 2016, we said, okay, it is time, the housing market is going up. We decided about a year ago that we were ready to reopen when the economy was stronger and the housing market was going up. We have a great quality product with a great look and plan to be here a long time."
The company sells its products to contractors and builders through a network of distributors and dealers.

"Here in the Midwest, we are in every Menard's location, so that is the easiest way as a homeowner or if you want to remodel," to get Allura's product, Navascues said prior to the event.
The Terre Haute plant has the capacity to make 212,000 tons of product annually and is the company's largest fiber cement plant in the nation. Allura has a plant in White City, Oregon, with an annual capacity of 120,000 tons; Roaring River, N.C., with an annual capacity of 109,000 tons; and a facility in Nuevo Laredo, Mexico, with an annual capacity of 75,000 tons of product.
Fernando Ruiz, CEO of Elementia, said Elementia has "a renewed focus to become the innovators in the building industry to secure a longer and more impactful legacy." He said Terre Haute's facility, while the largest for the company, is also one of the most modern in North America.
"In addition to the major investment this reopening represents, the Terre Haute plant will improve the range of our products and delivery time we offer our customers which will help to improve Allura's market leadership," Ruiz said.
"As a company, we are determined to be the pioneers in our industry," Ruiz said, "to be more engaged with our customers and the customers of our customers. We have a very clear goal, which is providing integal solutions for the building industry.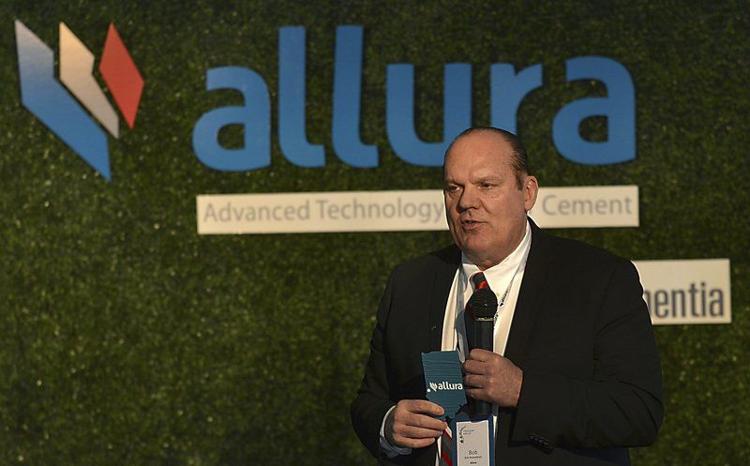 "Henry Ford once said coming together is the beginning, keeping together is progress and working together is success. In this time of tumultuous change around the world, let's work together embodying one of our fundamental principles at Elementia, which is the power of oneness. Together we are stronger," he said.
Francisco del Valle, chairman of the board of directors at Elementia, said the Terre Haute plant reopening "comes at a great time. The strong figures of the last year indicate that the building industry is back on track. In December alone, 30,000 (housing-related) jobs were created. The (U.S.) Department of Commerce announced that for January of this year, home construction was up nearly 10 percent," del Valle said, "more than 1.3 million units."
In December 2016, Elementia paid $220 million for a 55 percent stake and full control of Giant Cement Holdings Inc. to enter the U.S. cement market with three cement plants - in South Carolina, Pennsylvania and Maine. "We see many opportunities to leverage" the resources between Allura and Giant Cement, del Valle said.
"This investment will lead to benefits in the local economy in this great city," del Valle said of Terre Haute and Vigo County. While the facility currently operates with one shift, officials said they hope to have multiple working shifts, reaching a maximum of 200 workers, as the plant's demand increases.
Reporter Howard Greninger can be reached 812-231-4204 or howard.greninger@tribstar.com. Follow on Twitter@TribStarHoward.