Near 80 people came together at the Vigo County Courthouse on Wednesday evening to show racists who recently propagated anti-Semitic literature in Terre Haute and Paris, Illinois, that they will not forsake their personal creeds of universal love and inclusion in the face of hateful intimidation.
Because if there's anything they know for sure, it's that love trumps hate.
Demonstrators were protesting fliers recently distributed in Terre Haute and Paris, Illinois, with "White Power" written across the top of the page and "Get Some!" across the bottom. In the center was a swastika, a symbol that should be seen as offensive to any patriotic American, one speaker said on Wednesday.
A second page attached to most fliers featured a list of racist-propaganda sites that spelled out the warped teachings of supposed racial superiority.
Carrying signs that read "No hate in our state," and "We all belong here," those demonstrators, from a host of community groups, pledged to defend one another and to denounce hate speech at every turn.
Arthur Feinsod, president of the Interfaith Council of the Wabash Valley, said the use of a swastika is ironic in that it was most famously used by one of the U.S.'s greatest enemies, Nazi Germany.
"This person or persons were apparently so blinded by their own hatred that they would proudly flaunt the symbol of our defeated enemy in World War II," Feinsod said.
"And to go even further, they linked that ominous symbol with the phrase white power just to parade their hatred of Jews and people of color too."
But no matter how unsettling, Feinsod said before crumpling a flier and throwing it to the ground, he promised the majority of Hauteans will not be deterred from stamping out hate wherever it rears it's ugly head.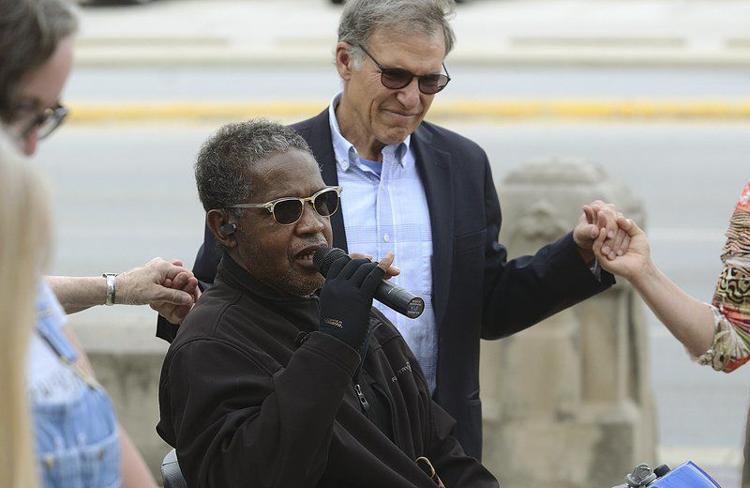 "We can all contribute to creating an atmosphere where love and respect spread like a thick grass that covers and eventually chokes out hate language and hate thinking," Feinsod said.
And while many of the demonstrators acknowledged that the fliers are protected as free speech, in that they don't threaten violence with an specificity, they said it doesn't mean the author shouldn't be called out for the act.
Leah Simpson, executive director of the CANDLES Holocaust Museum and Education Center, said Terre Haute has had brushes with this type of hate before, including the 2003 firebombing of the museum.
But, she said, like the museum and its rebirth, love and inclusiveness will overcome all in time.
"Although this latest example of hate is not as severe, it is still rattling," Simpson said. "We feel vulnerable, but it is so heartening to see Terre Haute present a united front against hate."
Terry Fear, a member of the United Hebrew Congregation, said largely the same, calling on all Hauteans to come together, now and into the future, to combat the scourge of racism.
"I know that without a shadow of a doubt that, even though you might not show up for a shabbat services, that you all are out there and are watchful and supportive of the Jewish community," Fear said.
Reporter Alex Modesitt can be reached at 812-231-4232 or at alex.modesitt@tribstar.com. Follow him on Twitter @TribStarAlex.