Indiana's 55th Safe Haven Baby Box went live Monday at Sugar Creek Fire Department's Fire Station No. 41 at 375 West National Ave. in West Terre Haute.
It is the 64th box installed nationwide.
"It is a good day," said Monica Kelsey, founder and CEO of Safe Haven Baby Boxes Inc.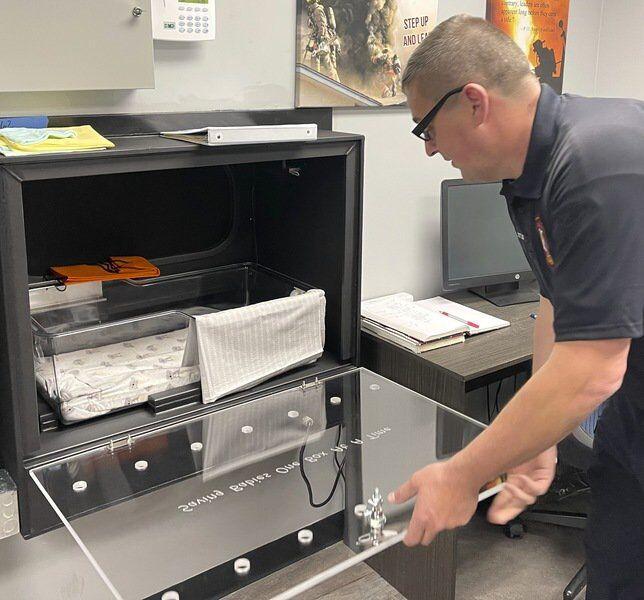 "I launched this in April 2016 with the first box," Kelsey said. "The first baby came in November of 2017 (near Michigan City) and that was the game changer for us because it worked exactly as it was supposed to.
"Then, five months later, a second baby came and then all the way up to Sunday (May 2), when we got the 11th baby in Clarksville, down by Jeffersonville."
"The mother knew exactly what to do and no one saw her," Kelsey said.
Safe Haven Baby Boxes have heating and cooling features and are equipped with silent alarm systems to immediately notify staff inside or outside the fire station. The exterior door locks as soon as the baby is placed inside the baby box.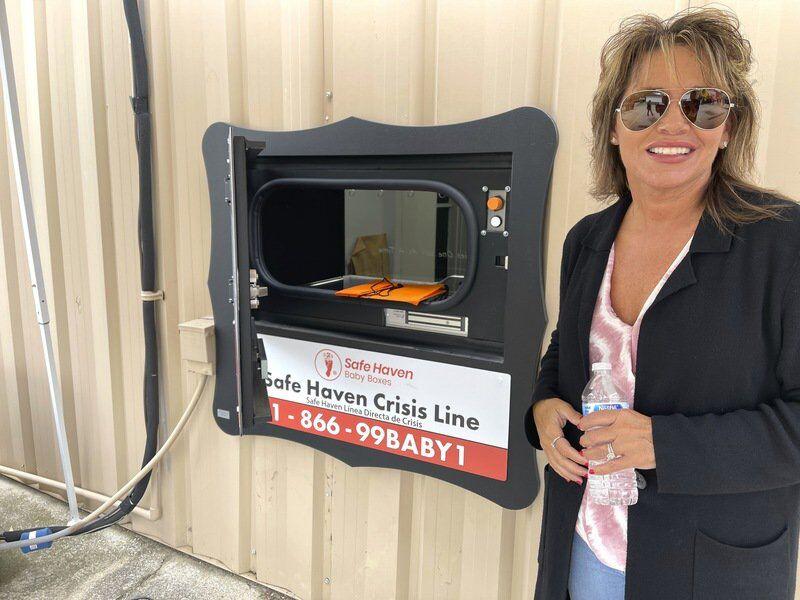 Indiana is one of five states with updated Safe Haven Laws to include additional surrender options, such as the Safe Haven Baby Box.
Indiana's Safe Haven Law, enacted in 2000, allows people to anonymously surrender their healthy newborn without fear of criminal prosecution at any fire station, police station, or hospital as long as the child appears to be 30 days or less and unharmed. The Safe Haven Baby Box is a final resource for women in crisis who want 100% anonymity to ensure a safe surrender of their baby, Kelsey said.
As Kelsey spoke at a unveiling event Monday, 2-year-old Nola Higgs ran about near the baby box.
Nola was surrendered in a Safe Haven Baby Box in 2019.
"Her mother surrendered her in northern Indiana, and I think at that time there were only a few (baby) boxes," said Tessa Higgs, who with her husband, Keegan, adopted Nola.
"We know (Nola) was born at a healthy weight, free of drugs," Tessa Higgs said. "She was surrendered in February of 2019, but was cleaned and wrapped in a warm towel. And her mother breast fed her before surrendering her so we know that she was very much loved and wanted and for whatever reason, her mom was not able to care for her.
"We also know without the box, her outcome could have been very different," Higgs said. "We are very thankful for Safe Haven Baby Boxes and the opportunity it gives to mothers. Nola is a huge blessing to our family."
Lt. Joshua Sittler of the Sugar Creek Fire Department said the department's location is ideal for a baby box.
"We felt like with all the colleges, with the interstate right here as we are connected to Illinois, and there are major thoroughfares here, that if this happens, someone can easily come here and surrender the baby and then be gone and not have to worry about anything," Sittler said.
Once the baby box door is shut, an alarm goes to central dispatch and alerts firefighters inside 60 seconds after the baby has been placed in the box, Sittler said.
"We hope it gets used for the right reason," he said. "If there is a mother in crisis and she doesn't know what to do, we hope we do not find a baby in a dumpster or in a river."
Sitter's wife, Amy, started a fundraiser in early 2020 "just a little be pre-COVID-19, but we were able to raise money during the pandemic. We raised about $8,000, but then got a generous donation of $10,000 from Chad and Natalie Overton from SERVEPRO for this box," Sitter said.
The department will pay $600 annually to keep the alarm service active for the box. The box cost about $20,000, Sittler said, but in-kind materials and service kept costs down. "There was an outpouring of support," he said.
Sittler said another box is located a Terre Haute Fire Department's Station No. 5, at Ninth and Ohio Streets, but is not yet activated.
The footprint featured on the Safe Haven Baby Box is to honor baby Amelia, who was abandoned at Eagle Creek Park in Indianapolis, on December 28th, 2014. She was the last deceased infant found from illegal abandonment in Indiana, said Linda Znachko, the founder of He Knows Your Name Ministries.
Reporter Howard Greninger can be reached 812-231-4204 or howard.greninger@tribstar.com. Follow on Twitter@TribStarHoward.