Most of the 50 or so residents of Heritage Shelter Care in this small Wabash River town are veterans. Many were homeless before ending up here.
Bob Corbin is typical. A native of Paxton, Illinois, about 200 miles to the north, he served stateside with the Air Force in the early 1970s. After his two-year tour of duty, he traveled the country as a construction worker.
But, as he approached the so-called golden years, "I got into drugs about four years ago," the 66-year-old said.
Following a brief stay at the Veterans Administration Hospital in Danville, Illinois, Corbin ended up at Heritage, surrounded by other vets from the Vietnam area through Afghanistan.
"I like it a lot," he said. "You've got your own bedroom, which I share with a roommate. I get my meals here and we go out and do things like out to eat once a month and to a movie once a week."
Movies are in Robinson. Meals out are often for catfish at the Silver Moon in nearby West Union or, for what Rena Smith, the facility's administrator, calls a big treat, at Red Lobster in Terre Haute.
Mark Sanders, 57, originally from Medora, Illinois, made a career of the Army. He served nearly 40 years before also finding himself at the Danville VA Hospital and being placed at Heritage.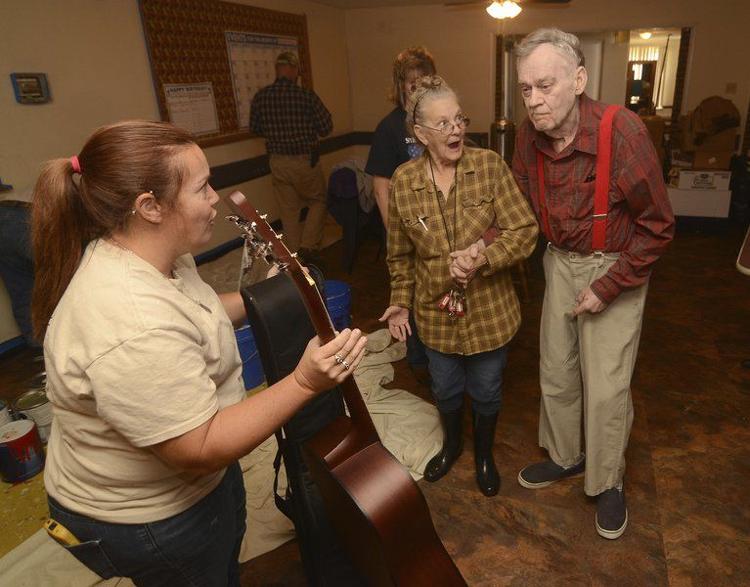 Both men say they enjoy living with other veterans.
"Yeah, I sure do," Sanders said. "I like the people here."
Heritage Shelter Care is known far and wide as a place where veterans can find a home – and much more.
"We've actually had some veterans just walk in," Smith said. "They heard about us and made their way here, so we connect them with the VA and help them sign up for a pension or benefits they may not have even known they were entitled to."
Heritage didn't start out catering mostly to veterans. When it was built in 1968, it served mainly retired farm couples, Smith said.
When Smith's father, a veteran, purchased the operation in 1976, the emphasis shifted, she said. Smith took over the operation after her dad died in 1978.
"We try to create a program that allows for healthy activities," she said.
Residents live in cabins separate from the facility's main building.
Whatever each individual's diagnosis, "let's learn to cope with it, have a quality of life and enjoy who we are as a person. We strive to keep them part of the community," she said.
People throughout Crawford and Clark counties – and beyond – help with that goal. Staff from the Robinson Correctional Center bring vegetables from the prison garden and veterans visit inmates who may be fellow veterans, often becoming pen pals.
Members of a Martinsville church make quilts for the men and growing number of women vets at the facility and it is common for widows to offer their late husbands' clothes to Heritage residents.
But a huge influx of donations recently arrived by truck and trailer loads – three pickup trucks and three 16- to 22-foot trailers, to be precise, courtesy of a dozen residents of Toledo, Illinois.
They brought dining tables and chairs from a recently closed Ryan's restaurant in Effingham, a new couch, chairs and recliner, four televisions, six DVD players, 600 DVDs, numerous books, yarn for crafts, an assortment of games – even a guitar for a musically inclined resident who had been borrowing one from a fellow vet.
Carrie Verdeyen, a member of the American Legion auxiliary in Toledo whose family includes veterans, headed up the effort, beginning with the tables and chairs.
"It's important to have a nice place to sit and eat," she said, noting that she recognized the importance of family style eating when she worked at a group home.
A recent job at Ryan's gave her an inside on obtaining the tables and chairs.
John Osborne, Verdeyen's brother, was among those who helped set up the tables.
"I love it," said Osborne, a Gulf War veteran. "There's a need and I always want to help."
Jessie Peters came to help paint the dining room at Heritage.
"I think it's everybody's duty" to help, she said, noting that her brother is a Desert Storm veteran, her dad a Vietnam vet and both grandfathers served in World War II.
"We've been collecting for a month and people have been bringing stuff like you would not believe," she said before listing all the items.
This marked the second year the group has donated items to Heritage Shelter Care.
"We brought down a load last year and saw how much there was a need," Verdeyen said.
The number of homeless veterans decreased by about 5 percent this year after an increase in 2010, the Military Times recently reported.
The Department of Housing and Urban Development estimates about 38,000 vets nationwide are without stable housing on any given night, roughly half the number that were on the streets in 2010.
It's important for homeless veterans to know help is available, said Bob Corbin, when asked what he would say to vets who find themselves on the streets.
"There's help at the VA," he said. "Go there, get straightened out … Then I'd tell them about places like this where they can come and be welcomed and get a lot of good help."
Dave Taylor can be reached at 812-231-4299 or dave.taylor@tribstar.com. Follow him on Twitter @TribStarDave.