Hundreds gathered at American Legion Post 346 in Terre Haute on Sunday afternoon to celebrate the accomplishments of, "a true American and French hero."
Joined by local and state dignitaries and the Consul General of France to the Midwest, Jimmie Royer was awarded the Legion of Honor for his service in France during World War II.
Established by Napoleon Bonaparte in 1802, the Legion of Honor is the highest distinction bestowed on those who provide eminent service to the French Republic.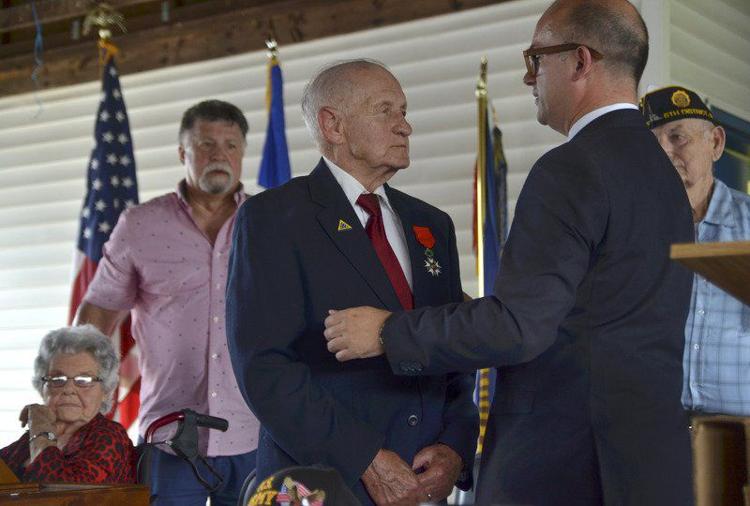 About a year ago Royer went to his son, Bruce Royer, with handfuls of paper for awards he said he rated. Bruce Royer took the papers from his father and set out to find the medals his father deserved.
"My first thought when he brought me the papers was, 'Dad, why did you wait so long? You're 93 years old," Bruce Royer said with a laugh.
Sunday was the culmination of Bruce Royer's effort.
Guillaume Lacroix, consul general of France to the Midwest, presented Royer with the award and said he was excited to come to Terre Haute and honor, "a son of America's greatest generation.
"It is a generation that changed a lot of America for the better," Lacroix said. "But is also a generation that changed everything in Europe.
"Without the bravery, the dedication, without the courage and the heroism and the sacrifice of Mr. Royer's generation, the French flag would be history."
Royer joined the U.S. Army in August 1943 and was assigned to the 106th Cavalry Reconnaissance Squadron as a gunner.
His unit landed in France on June 29, 1944, on the heels of the mass Normandy invasion. Over the next four months, Royer participated in three major French campaigns in Normandy, Northern France and the Rhineland.
Lacroix said he grew up hearing stories from his father, who was eight in 1944, about Allied troops liberating their country from Nazi Germany's control.
"Maybe he saw you, Mr. Royer," Lacroix said of his father. "But this story I tell of my family, every French family has its own stories about the occupation, the suffering and separation. But it also has stories about Mr. Royer and his comrades."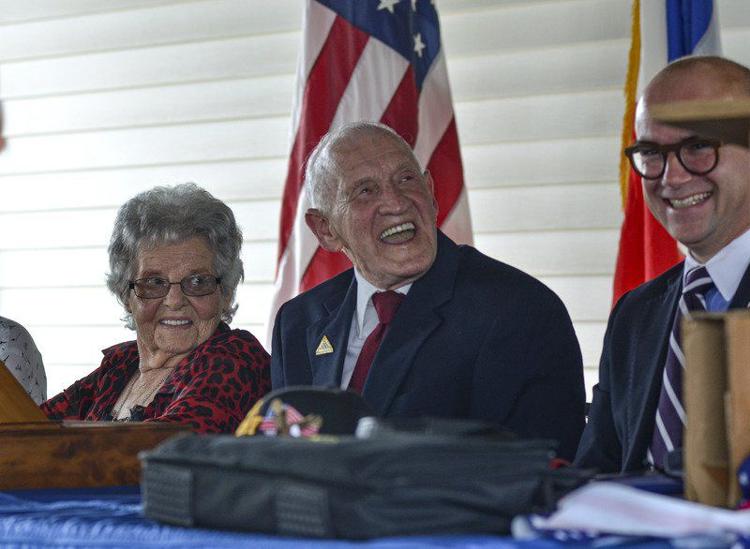 Royer, 94, said those French people and the appreciation they showed after liberation are memories he's cherished for 75 years.
"When we would go and liberate a town, the people would have a joy in their eyes and a happiness …" Royer said. "They were so happy. When I went over there I wondered, 'What am I doing here?' I found out, but I remember the laughter and them passing the bottle around."
Royer nearly lost a leg to a landmine in October 1944 and spent the next ten months in military hospitals receiving treatment and learning to walk again. He was honorably discharged with a Purple Heart medal in August 1945.
Along with the Legion of Honor, Terre Haute Mayor Duke Bennett declared Sunday as "Jimmie H. Royer Day," in the city.
Even after the medal was pinned on his lapel and the decree in his hand, Royer said he still couldn't believe that he was being honored in such ways.
"It blows my mind, let me tell ya," Royer said. "I never in my wildest dreams thought this would be happening to me. It's the greatest honor that could ever be bestowed on me.
"I guess I really don't realize why I got this, but it's done."
But, Lacroix said, there may be no one that's ever deserved it more than the men who fought and died to secure French independence from Nazi rule.
"What we did for you in the past, you returned to us in a way that is not only unforgettable, but is a duty for us, a debt that we will never be able to repay," Lacroix said.
"You are a true American hero and a true French hero."
Reporter Alex Modesitt can be reached at 812-231-4232 or at alex.modesitt@tribstar.com. Follow him on Twitter @TribStarAlex.