Memorial Day will be different this year.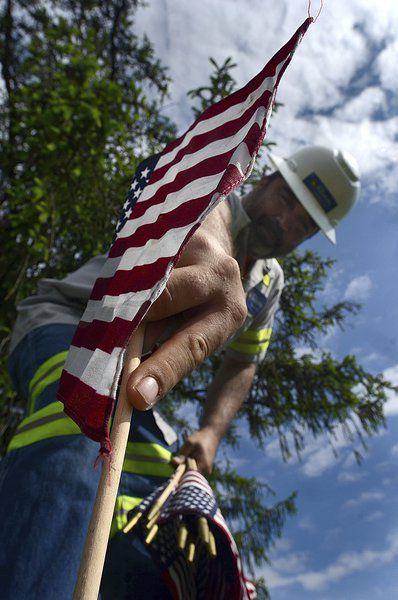 With services at cemeteries all over the Wabash Valley canceled because COVID-19 concerns, visiting those who made the ultimate sacrifice will have to be a personal affair.
Citing concern for public health, Terre Haute canceled its annual Memorial Day event at Highland Lawn earlier this month.
The Terre Haute Deanery followed suit earlier this week, canceling its Memorial Day Mass at Calvary Cemetery. 
The Calcutta Cemetery Association Board of Trustees also canceled its June 7 meeting and memorial service at Calcutta Cemetery in Clay County due to the virus.
Other area cemeteries also have no planned public services.
But while day-of events have been called off, more than 35 Sullivan residents Friday honored veterans by planting flags at their gravesite, an annual tradition at Center Ridge Cemetery.
Members of the American Legion and VFW will continue placing flags throughout other cemeteries in Sullivan County over the weekend. 
Although no formal services are scheduled for the weekend, cemeteries encourage those wanting to do so still come out and pay respects to America's fallen.
Staff at Highland Lawn and Woodlawn, as well as Roselawn, Center Ridge in Sullivan and Cottage Hill in Brazil said visitors are welcome over the weekend. The cemeteries do ask that gatherings be limited and social distancing guidelines be followed.
If social distancing can't be achieved, cemetery staffs ask that visitors wear masks.
In a written statement Friday, Department of Veterans Affairs Secretary Robert Wilkie said that while this Memorial Day may be celebrated different than years past, it's still important to honor those who made the ultimate sacrifice.
"The names of many of them are forever memorialized in our Department of Veterans Affairs, State Veterans and American Battle Monuments cemeteries across our country and around the world," Wilkie said.
"It is true that this Memorial Day is somewhat different. As we fight the COVID-19 pandemic, we do not gather as we normally would to honor our nation's heroes. But we can still remember and honor them by spending a quiet moment paying homage to their courage and sacrifice."