A Saturday dedication of the Michael L. Phillips Memorial Basketball Court at the Lost Creek Grove honors a long-time community leader, student advocate and father who is remembered as a person who encouraged others to be their best selves.
Set for 11 a.m., the ceremony begins with a tribute to Phillips, himself a former member of the Indiana State University basketball team.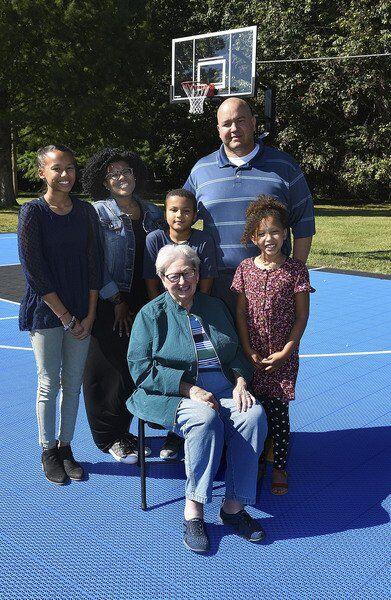 "My dad loved the community and all the people at The Grove," his son Marc Phillips said of the reason for the basketball tribute. The Grove gathering grounds is located at the corner of Hunt Road and Haythorne Avenue.
The memorial project arose a few Christmas seasons ago when Marc gathered with family. The adults talked about how they wanted to stop spending money on each other for gifts. Instead, they decided to donate money to honor of Mike Phillips, who died in 2007.
They knew they wanted to do a basketball court, Marc said, so they started saving. They got cost estimates, and they set up an online fundraising account. Some additional money was raised, but the contributions stalled after a while.
A large private donation finally turned the corner for the fundraising effort, resulting in completion of the recreation project.
The family – Mike's wife Rita and his four children – knew they wanted to do a sport surface that was safer than concrete and would reduce injury on the court.
The innovative court tile system is about 50 feet by 31 feet, and is Sycamore blue. The surface is durable, shock-absorbing and reduces fatigue.
"Dad was a loving and giving individual who cared about his family and his community," Marc said reflecting on his father's life. "He was a man that spent his time on Earth trying to make it a better place. It was important for my family to do this project because we felt it was a great way to remember my dad while also giving back to the community."
After deciding on the project, the Phillips family contacted Dee Reed, who is on the board of directors at The Grove. The board was supportive of the basketball court project.
"Mike was always happy and smiling. Always engaging the kids. Always encouraging," Reed said of The Grove community's relationship with Phillips. "He made you feel so comfortable. We hear memories of students at ISU, and he really helped a lot of students. He wanted them to be good people."
Reed said Phillips was a good mentor and helped "hundreds, if not thousands" of students through his work at ISU.
The Grove is a rural recreation area founded as part of the Lost Creek Settlement of people who migrated from North Carolina in the early 1800s. It became a place where people of color in the area could socialize, organize baseball games and have family reunions.
The Grove has been overseen by a board of caretakers since the early 1900s.
"We're there to continue to maintain the history of the Lost Creek Settlement," Reed said, "because when you think about what they did – the perils they faced and the bravery and courage – they pursued a quality of life that was important to them and their families."
The new basketball court fit in with that mission of maintaining community.
Mike Phillips was active in the Ross-Anderson family reunion.
Usually he was in charge of games and entertainment, and would organize activities such as a dunking booth and water balloon tosses, son Marc said.
"I remember the night before the family reunion. Me and my brother would stay up and fill the bathtub with water balloons," Marc said.
Their father made games the highlight of family gatherings, included all ages and generated lots of laughter while creating memories.
"Mike always worked to find games at the family reunions that both children and adults could participate in," Rita Phillips said of her husband. "He would be thrilled with the addition of the basketball court for all to enjoy."
Phillips was a member of the 1967-68 ISU men's basketball team, which was inducted into the Athletics Hall of Fame in 2005. ISU had a magical basketball season in 1967-68 as the Sycamores finished the year 23-8. The team also was the NCAA college division national runner-up after making a run through the NCAA tournament to the championship game.
Phillips graduated from ISU in 1969, and then built a professional career on campus.
After graduation, he began working in the Office of Student Financial Aid, and was eventually promoted to director. In 1995, he became student ombudsperson, assisting students in resolving issues concerning university policies or procedures.
Phillips was scheduled to retire at the end of the semester after 37 years of service to the institution he loved when he died in January 2007. He was remembered as a "gentle giant" in the many tributes marking his death.
"I am often stopped by strangers who, one way or another, have figured out that Mike Phillips was my father," Marc said. "They frequently share with me how he was a mentor, a calming force, a trusted advisor, and how he had a major impact on their lives."
The public is invited to attend Saturday's dedication and to share in the remembrances about Phillips and his impact in the community.
Lisa Trigg can be reached at 812-231-4254 or at lisa.trigg@tribstar.com. Follow her on Twitter at TribStarLisa.