After several loud knocks, Delores Blakemore opened the door to her apartment on South 25th Street early Saturday morning.
"Tribune-Star Christmas basket," said 20-year volunteer Dale Garloch, a former UPS delivery driver, who along with his son-in-law, Juan Morales, helped deliver eight food baskets in the cold winter morning.
"This is so wonderful, I am very grateful," Blakemore said. "This is my first time for this. I work a little bit, but not a full-time job because I don't feel very well. I am a diabetic. I don't have much income at all, so I decided I would sign up" for the basket through the Salvation Army.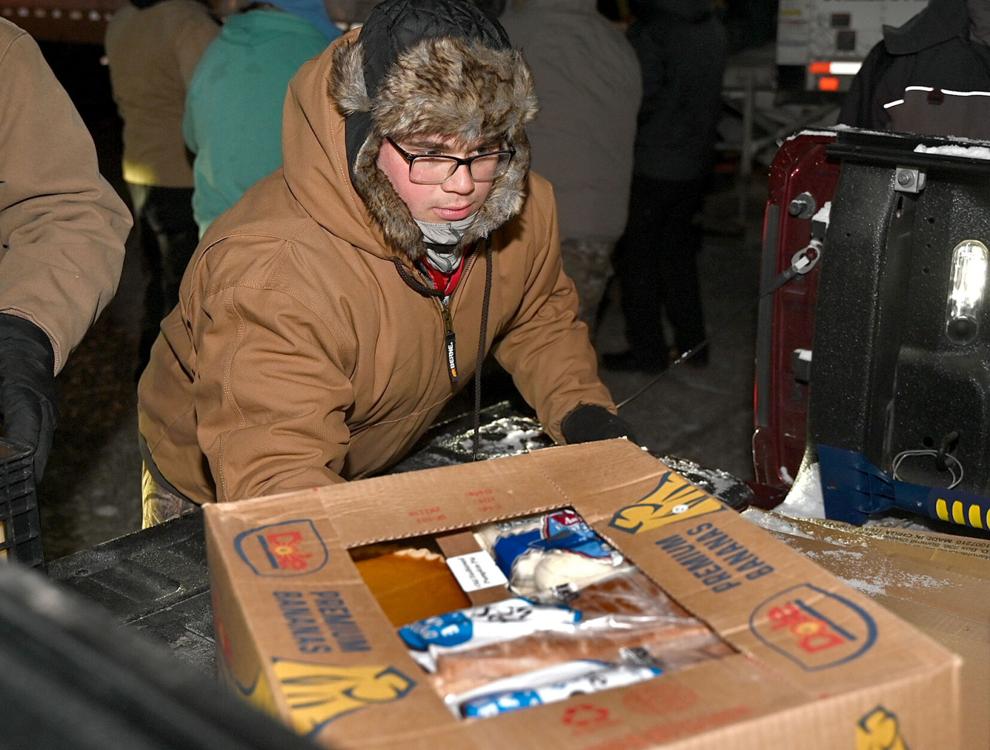 Charles Houpt, helped by his son, Elijah, was all smiles when Tribune-Star volunteers knocked on their door at 1443 Washington St. to deliver a food basket.
"It is kind of big for us and we definitely appreciate it," as the food basket will serve his family of six. "There will be seven of us next year," Houpt said.
Misty Burks said the food basket "is a blessing to have for my kids. It is a blessing no matter what you get," said Burks, who lives on 231/2 Street.
Volunteers from the Indiana 181st Intelligence Wing of the Indiana Air National Guard, the Terre Haute South Rotary Club and for the Tribune-Star worked to deliver 650 baskets.
Wearing a hat that resembled a Christmas tree with lights, Lt. Col. Corrine Foree of the 181st Intelligence Wing of the Indiana Air National Guard directed Air Guard volunteers on where to unload crates of milk, both chocolate and white, near a loading dock at The Meadows shopping center.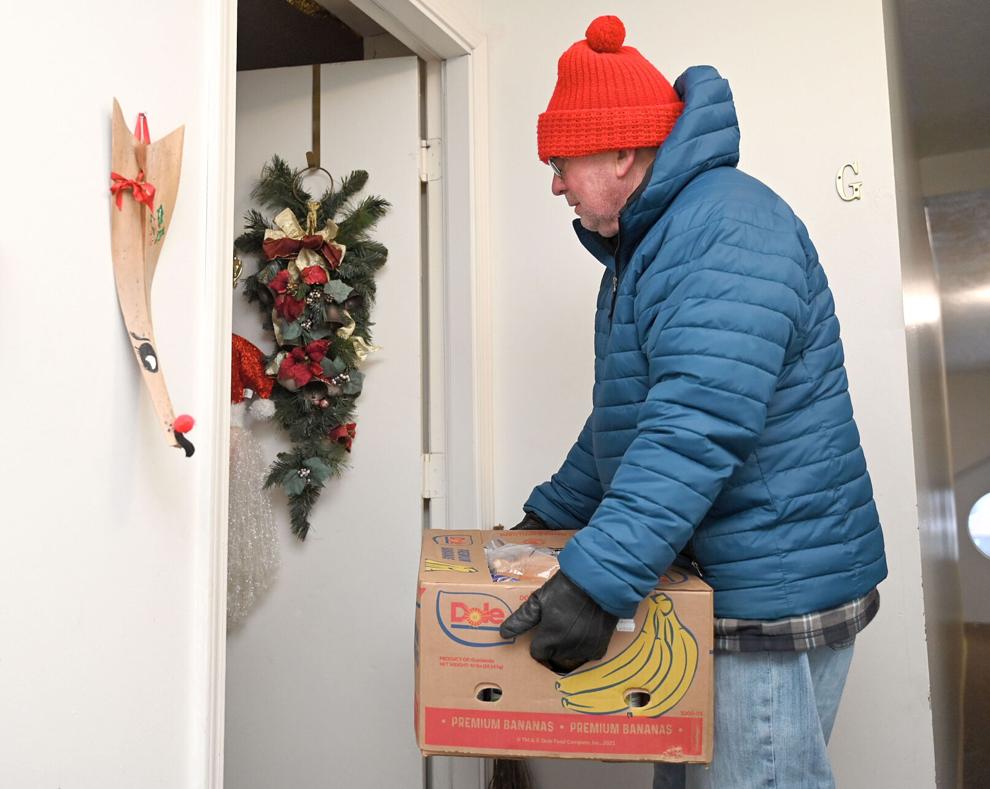 "We have 650 boxes and now we are just marrying up the boxes with the milk," Foree said, as 40 to 50 Air Guard volunteers, many donned in camouflage outerwear, worked in the early Saturday morning darkness in 2 degree weather.
"We always look for opportunities to help," the community, Foree said.
Work for the Air Guard actually began Thursday, when about 100 volunteers Air Guard volunteers packed the baskets, which are actually sturdy banana boxes, "via an assembly-line style setup," said Master Sgt. L. Roland Sturm. The Air Guard also planned delivery routes "by organizing them into groups of eight people" for delivery.
The baskets contain several food items such as a ham, canned vegetables, butter, fresh fruit, corn, green beans, noodles, macaroni and cheese, milk, bread, orange juice, pie and other items.
Master Sgt. Dillon Hatcher, who has been in the Air Guard for 16 years, helped to unload milk and load food into vehicles of volunteers readying for delivery.
"This is my first year for this. One of my Terre Haute North High School friends — Jimmy Housley, who is a lieutenant colonel in the Marines — took all the addresses and he is the one who separated them out and got all the delivery routes organized," Hatcher said.
"I think this will be an annual thing for us and hopefully we can improve on some of our process here and make it even better next year," he said. "I think logistically, with Lt. Col. Foree and the organization we have here, it came together really well."
Terre Haute Mayor Duke Bennett is in his 37th year helping to deliver baskets.
"I have not missed one yet," the mayor said of delivering baskets. "I started right before my daughter was born, that is how I always track it. My daughter Suzanne is 35 now, so I have been doing it just before she was born. It is fun to go out and deliver these and see the smiles on kids' faces as you bring them dinner. For most of these folks, this will be their Christmas dinner," the mayor said.
"It is just a great program and I have always been appreciative to be a part of it," Bennett said.
Some volunteers began the early morning with a breakfast at The Meadows Cafe.
Scott Jeffers, scoutmaster for Scouts BSA Troop 38, said he had about 17 scouts ready to deliver baskets as the boys and girls ate breakfast before starting deliveries. While several volunteers began delivering at 7 a.m., all of the baskets were to be delivered by 10:30 a.m. Saturday. Also helping was Troop 006.
"This is my sixth year delivering baskets," Jeffers said. "We have loaded a couple times and other times we have driven [delivery] routes," adding he was to deliver baskets to homes along First, Second and Third avenues in Terre Haute.
"This is our favorite service project of the year. It is just fun to get up early and usually everyone is on vacation and everyone has just cheery spirits and we get to do something nice for the community," Jeffers said.
"It will be cold," said John Abrams, 12, who joined Scouting at age 7 as a Cub Scout, but added it will help others in the community.
Phil and Lynette Tofaute of Terre Haute have been volunteers for the past seven years.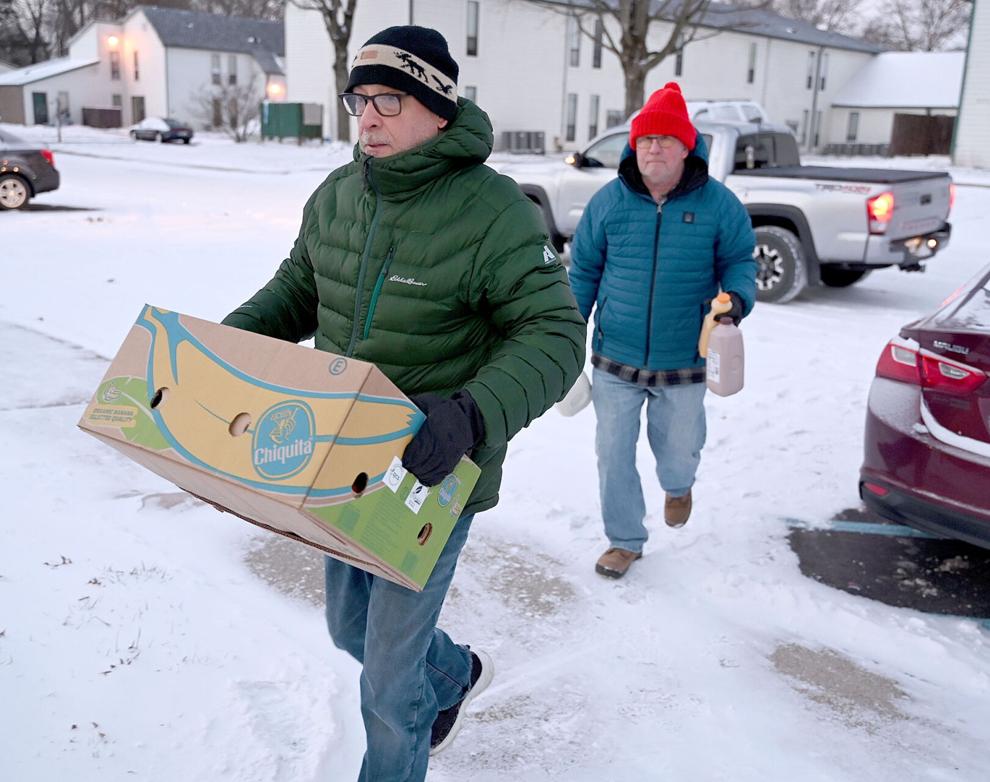 "We love giving back to the community and being able to do it as a family. It is my husband, myself and our two sons, ages 28 and 24. It is a way to give back as a family and hopefully passing that down to the next generation," Lynette Tofaute said.
People who receive the baskets are grateful, she said, "and they very much need it."
The holiday food basket distributions began in 1928, 36 years after the founding of the Terre Haute Tribune and 25 years after the Terre Haute Star debuted.
The combined staffs of the newspapers engineered the annual Christmas Basket effort through the Great Depression, World War II and wars in Korea, Vietnam and the Middle East.
Contributions to help with the annual effort can be made year-round. Online donations can be made at wvcf.org/tribstarchristmas basket. The Wabash Valley Community Foundation administers the donated funds; contributions are tax deductible.
Also, contributions can be sent directly to the Tribune-Star, attention Christmas Basket Fund, P.O. Box 149, Terre Haute, IN 47808.