Josh Schertz's name has had been bandied about in the Indiana State and Terre Haute community for at least a week since the Lincoln Memorial coach was first identified as the primary target to replace Greg Lansing as ISU's men's basketball coach. 
When a name swirls in the rumor mill, it's hard sometimes to get an impression of the man behind the name, but on Thursday, the ISU community finally got to meet the man who will be in charge of the Sycamores' fortunes going forward.
By all accounts? Schertz made a good first impression.
Schertz and ISU Director of Athletics Sherard Clinkscales spoke to the media and assembled donors inside Hulman Center as he was officially introduced as ISU's new coach. There was the usual pomp and circumstance as Schertz posed with a custom-made No. 26 jersey — denoting that he is the 26th coach in program history.
Once that was over, Schertz detailed his vision for the ISU program.
"I'm going to show up, work as hard as I can and seize the day," Schertz said. "This program has a great foundation from Coach Lansing, his staff and his players. We're going to give everything we have to build a high-level program with high-character kids that represent the kind of program we want to be."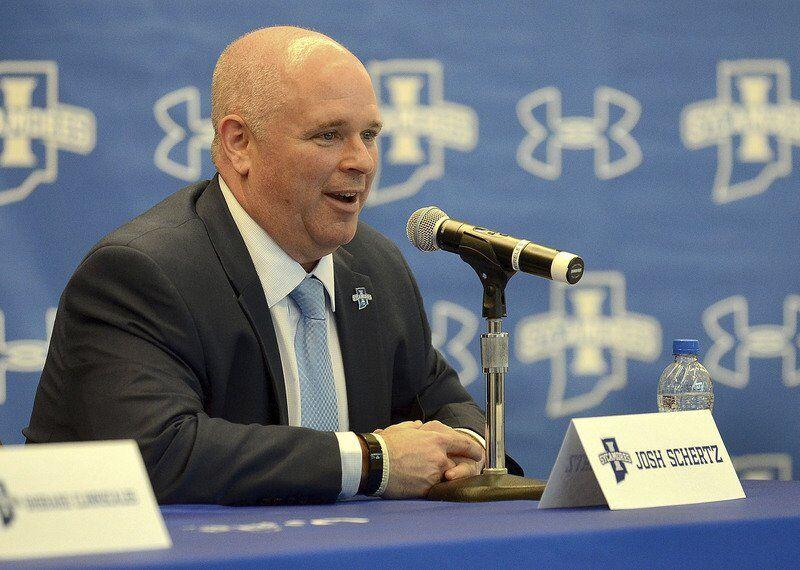 Clinkscales said that Schertz has a five-year contract, but did not discuss Schertz's salary. Clinkscales also said the search was assisted by Bowlsby Sports Advisors search firm.
"Like a lot of athletic directors, you have a little black book with names in it. Josh was always on my list. Josh's record separated him in regards to what he's accomplished. Fit really mattered more than anything to me," Clinkscales said. "You have to know the environment you're dealing with and how you adapt. As my conversations went along with him, we quickly learned we were alike in a lot of different ways with the challenges we face and success we would have in the future."
One thing that guides Schertz's program-building and coaching philosophy is the concept of kaizen. He explained what it means to him and why it's important to him.
"That's kind of the core of who I am. Kaizen is a Japanese word meaning 'commitment to continual improvement'. If we want to be known for one thing, it's that we're a program that embraces the growth process," Schertz said. "If you focus your attention on your efforts and your growth? I think it's a fulfilling way to live, to coach and to play."
It has been a whirlwind 48 hours for Schertz. On Tuesday night, LMU advanced in the NCAA Division II Tournament with a 103-67 victory over Emmanuel at LMU's home gym in Harrogate, Tenn.
On Wednesday morning, Schertz spoke to the LMU team to inform them of his intentions to take the ISU job, and then made the not-so-direct six-plus-hour drive from the Cumberland Gap to Terre Haute. Schertz and his family didn't arrive in Terre Haute until Wednesday evening. At that point, Schertz talked to ISU's players.
Thursday's press conference represented the first time Schertz had been inside Hulman Center and his quick trip to Terre Haute was his first time visiting the city. Due to the COVID-19 pandemic, all interviews were done remotely.
Schertz, 45, has turned Lincoln Memorial into a Division II power.
Schertz has amassed a 336-68 record at the school, which is located at the Cumberland Gap, where Tennessee, Kentucky and Virginia converge. That record is third-best among any coach at any NCAA level.
The Railsplitters will compete in the Elite Eight in Evansville next Wednesday against Colorado School of Mines. Lincoln Memorial is seeded fourth in the field.
Schertz is a four-time Division II National Coach of the Year. The Railsplitters' best showing in the Division II tournament under Schertz was a runner-up finish in 2016.
Schertz made Lincoln Memorial one of the winningest Division II programs of the 2010s. After his 14-14 record in his initial season in 2009, Lincoln Memorial has not failed to win 20 games in a season since then.
"The only reason I was going to leave would have been to come to a work environment that had community support that empowered me and the opportunity for a challenge that empowered me as a coach," Schertz said.
Schertz's teams at Lincoln Memorial are high-scoring and they shoot a lot of 3-point shots. 
"We have certain non-negotiables. We want to play fast, I know everyone says that at these press conferences, but hopefully, there's some empirical evidence of that in terms of what we've been able to do at LMU," Schertz said.
"We do want to play with pace and play an entertaining style. Our guys share the ball. We're averaging 92 or 93 points a game, it's the fifth or sixth year we've averaged more than 90. We lead the country in assists, threes and threes contested. In the 13 years I've been at LMU, we've led our league in field goal defense," Schertz added.
Schertz was joined at the press conference by his family, wife Natalia and sons Jordan and Jaden.