Indiana State is daring to dream big when it comes to its athletics future — and it revealed what that dream looks like to the public on Thursday during a presentation at Federal Hall.
Indiana State president Deborah Curtis, ISU Director of Athletics Sherard Clinkscales and representatives from HKS Architects presented the Athletic Master Plan and the Sycamore Sports District.
"Without a vision? You have no goal. Visions are very important. This athletics master plan is a vision for what could be," Curtis said.
The plan involved four proposed facilities improvements:
• A new softball stadium that would be part of a combined baseball-softball complex near the northwest corner of Third Street and Locust.
• A new basketball practice facility, located at the corner of First Street and Cherry Street, for both the men's and women's programs.
• An 8,000-seat, on-campus football stadium, located at the northeast corner of First Street and Chestnut Street.
• An additional plan to renovate Memorial Stadium, football's current facility. Capacity would also be in the 8,000-seat range.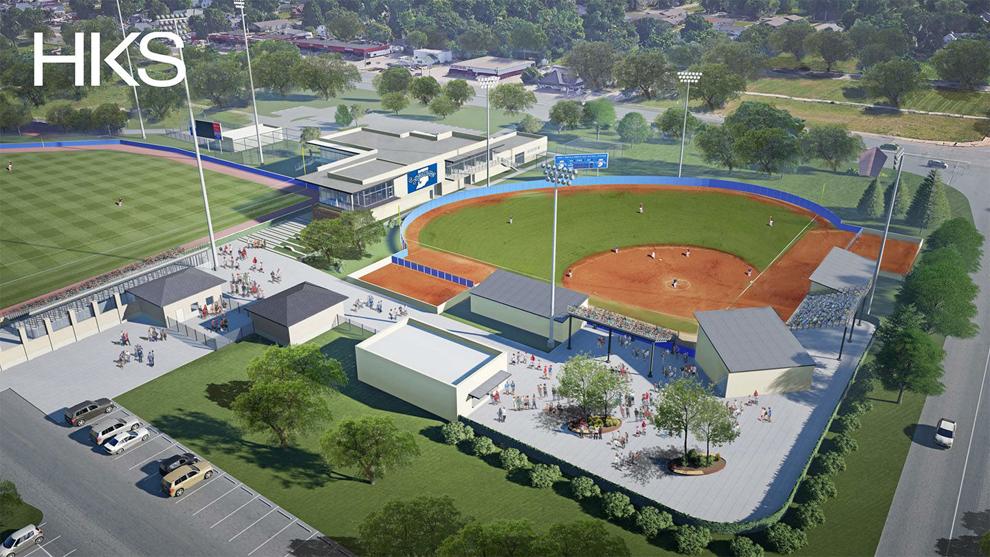 The overriding goal of the master plan is to consolidate ISU's athletic facilities into a Sports District that would locate most of ISU's athletics facilities along the First Street corridor from Cherry to Locust Streets. Currently, the Gibson Track and Field Stadium, the ISU athletic annex and Bob Warn Field are located along 1st Street.
Curtis explained that previous campus master plans didn't include athletics in their proposals, and she thought it was time to change that line of thinking.
"This is what we would dream to have if we could have it. Then, you can start an action towards making things happen. Without a dream? You imply that the status quo is fine. It's not fine," Curtis said.
"Those of us who spend time visiting our colleagues in the Missouri Valley? We have some beautiful facilities — the cross country course and the Hulman Center renovations are terrific — but some of our other facilities are not what they should be. That's where we're headed at this point," Curtis said.
Costs remain a question
The vision had one crucial element missing from the conversation — the proposed cost. All parties made it clear that the presentation was aspirational in nature. None of the proposed athletics facilities improvements have any funding allocated to them or have any current plan to having funding provided for them. The state does not provide funds for athletic improvements as Hulman Center was considered a civic project.
When asked about the specific cost involved with the entire project or individual pieces of it? Curtis, Clinkscales and others refused to comment on specific numbers both to the media privately and publicly to parties who asked questions during the event.
"It's not a fundraising plan, there will be no dollars discussed, it's not a commitment to the details you'll see in this presentation because those are likely to evolve. What this is, is a big, bold dream," Curtis said in her opening remarks.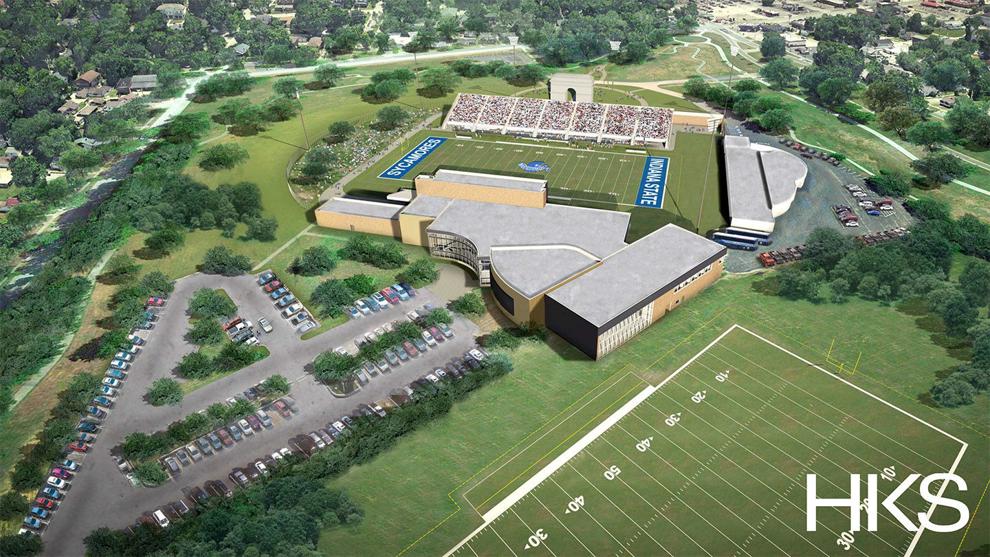 While costs were not provided, the stakes as far as what the project hopes to attain were articulated clearly from the athletics point of view.
"These projects are crucial if we're going to stay competitive in the Missouri Valley Conference and the ever-changing landscape of college athletics," said Clinkscales, who also noted that Thursday's presentation is the "Cadillac" version of what ISU wants to accomplish.
Clinkscales later explained why it was important to make these proposals public, regardless of whether money has been allocated for them or not.
"I want to follow something from the Elevate campaign [ISU athletics' 2018 fundraising effort] that keeps people excited about what's going on. It's always 'give mode' so this is something that came out of that. Looking across the conference? After four years, you see where you are. I'm thankful for what we have; we still have a ways to go to get where we need to be to be on par with our peer institutions. We have to have a vision we aspire to."
The presentation was made by ISU's architectural partners — HKS Architects. HKS Vice President Kevin Suter and architect Fred Ortiz presented each of the proposed facilities.
One unifying aspect that came through was that the architects want to take advantage of multi-use aspects — courtyards and gathering places where game and non-game day events can take place. This was evident in all three of the new facilities proposed. The proposed Memorial Stadium renovation would also incorporate aspects of open areas, wider concourses and the like.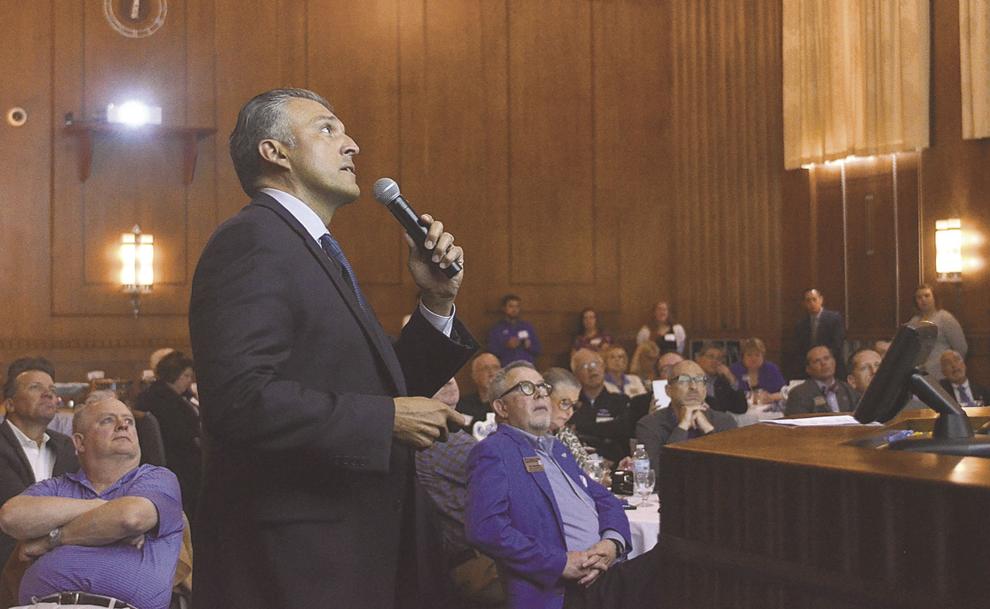 Creating flow
Another overriding theme for the Sports District was to create a distinct flow from the current campus to the First Street area. Architects envisioned that ISU's current campus could become a bigger part of game-day experiences with everything integrated in one place.
The basketball facility would be a sort of front door for the Sports District as it would face Cherry Street, anchoring the south end of the District. There would be individual courts for both the men's and women's teams as well as a publicly accessible gathering area.
The proposed on-campus football stadium would run north-south and called for an open concept on Chestnut Street. The architects proposed that Chestnut Street could be closed on game days as a gathering spot.
The plans called for the softball field to be built near the corner of Third and Locust, which is currently an unused practice and wooded area. The baseball facility would remain as is, but the existing locker room area would be expanded to incorporate softball. There would be shared spaces for both sports inside the expanded facility.
The Memorial Stadium renovation proposal called for the existing bleachers to be partially torn down to create a wider space between the stands and the Memorial Stadium gate.
A new grandstand, topped by a new press box and suites, would be built on the north side of the facility. Behind them would be a new set of football offices located partly where the remaining portion of the old Memorial Stadium baseball footprint. A new parking lot would be built off of Locust Street in what is now parkland.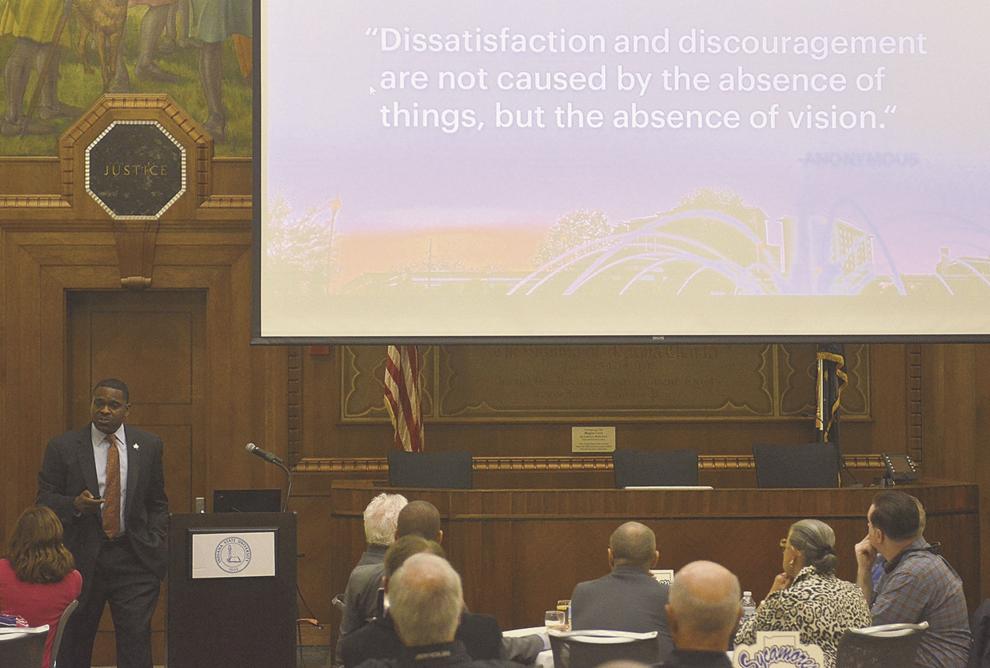 Clinkscales was asked why both football proposals were put forth.
"You have to have two. We're at Memorial, and it's great — a park setting, plenty of parking, a lot of amenities that make it nice, but there's challenges out there. Being on-campus also has a lot of great opportunities and amenities. We had to have two [proposals] so people could see what they look like," said Clinkscales, who would not comment on which of the proposals was the preferred option.
So what's the next step? Curtis indicated that the athletics proposals will be part of a wider campaign to be announced.
"There are steps in the process. There's a very important quiet phase that will determine our feasibility for these projects. We won't be launching any fundraising for this until we're ready to get into a campus campaign and it will become part of that campus campaign. We already had visions for parts of campus, we didn't have this one. So this is the first step," Curtis said.
From Clinkscales' point of view? The vision presented Thursday is a starting point that needed to be conveyed to the public.
"People ask questions and now I can have a conversation piece to talk to different people about what our vision is now," Clinkscales said.