When it comes to the issue of climate change, Indiana finds itself caught, in a sense, between two realities.
Government leaders are touting advancements in clean air and water initiatives, and environmental experts say that improvements in solar and wind technology are shrinking the state's carbon footprint.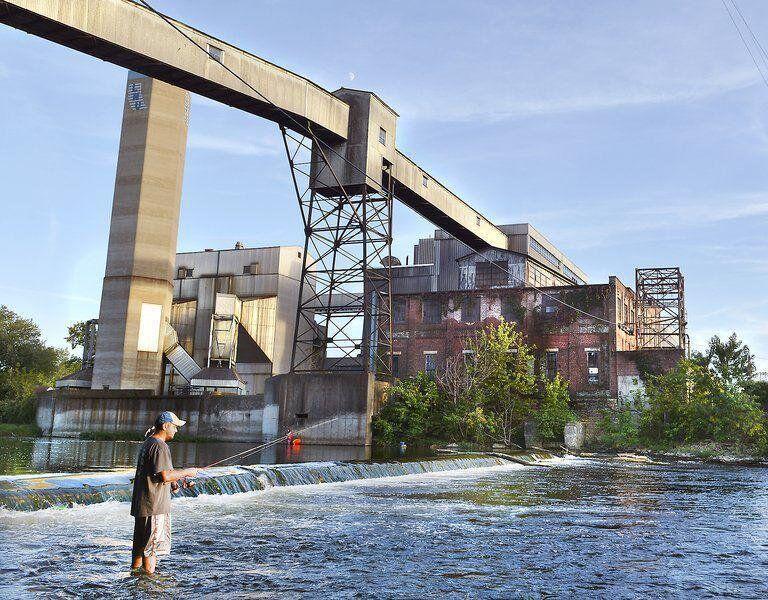 But environmental advocates say there is much work still to be done.
According to a recent report released by the United Nations' Intergovernmental Panel on Climate Change, the United States is second only in the world to China in carbon dioxide emissions from energy and electricity. Ten states account for half that total, and Indiana is one of them.
The Hoosier state emitted nearly 190 million metric tons (more than 209 million U.S. tons) of energy-related carbon dioxide in 2018, according to data from the U.S. Energy Information Administration — enough to place it among the top 10 of all states in both overall and per-capita emissions.
"Our electric supply sources in Indiana are still very dependent on fossil fuels which emit carbon — things like coal and natural gas," said Gabe Filippelli, executive director of Indiana University's Environmental Resilience Institute. "They're an outsized part of our electricity portfolio compared to a lot of other states, including several of our neighboring states."
Indiana also remains a significant transportation hub, with interstate highways and railroads crisscrossing the state. The Indiana Department of Transportation estimates that 724 million tons of freight passes through the state annually, much of it carried on heavy equipment that discharges carbon dioxide into the atmosphere.
"Basically, a lot of trains and trucks go through Indiana," Filippelli said. "Plus, we still have some significant manufacturing and production facilities — not only steel but others — and those produce kind of an outsized share of emissions."
Those three factors — especially the state's continued reliance on fossil fuels — are widely seen as the main culprits behind the state's unwanted status as a leading CO2 emitter.
According to Dana Nuccitelli, an environmental scientist and research coordinator with Citizens' Climate Lobby, more than 90% of the state's generated electricity in 2020 was supplied by fossil fuels — 53% from goal and 38% from gas, compared to less than 10% from wind and other renewable energy sources.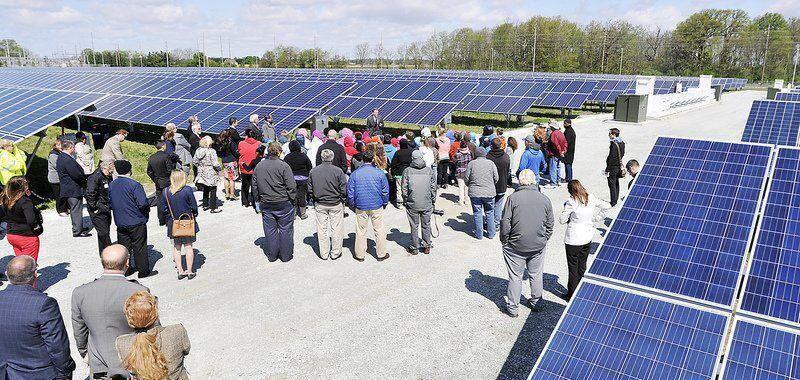 The state's utilities are gradually moving away from coal and other fossil fuels despite what some critics say are legislative efforts to slow the transition. Vectren Energy last year announced its Integrated Resource Plan, which detailed its efforts to curtail carbon emissions by nearly 75% and, by 2025, rely on coal for only 12% of its energy production.
"Oftentimes utilities are slow to make this transition because they have sunk costs into their existing fossil fuel infrastructure," Nuccitelli said. "For example, perhaps they recently took out loans to install pollution scrubbers on their coal smokestacks and feel the need to continue operating them because they haven't yet paid off those loans."
Incentives or mandates
Nuccitelli and others suggest that Indiana's energy policies must become more robust, carrying with them greater incentives for companies to move toward renewable energy sources and harsher penalties for those that violate clean air standards.
As of September 2020, 38 states had established renewable portfolio standards (RPS), policies that require a certain percentage of a utility's electricity to come from renewable or other clean energy sources. Most of these, according to Nuccitelli, mandate that states reach 50% of their electricity coming from renewable sources by 2030 and 100% by 2050.
Indiana's current mechanism is the Comprehensive Hoosier Option to Incentivize Cleaner Energy (CHOICE) program, passed by the legislature in 2011. The program sets a voluntary goal of 10% clean energy by 2025.
"To put it mildly, that is not an ambitious target," Nuccitelli said.
Federal wind and solar tax credits, he added, could be extended and expanded to entice more producers to switch over, with local governments potentially helping utilities defray the costs they've already incurred to maintain their coal-based operations. He acknowledged that the idea could carry political pushback.
"That would mean making taxpayers reward utilities (that have made bad decisions to invest in fossil fuel infrastructure," he said. "These are difficult policy choices."
Filippelli suggested that instead of waiting for legislative guidance, businesses should take the initiative to assess their greenhouse gas emissions. A greenhouse gas inventory, he said, can provide insight into wasted electricity costs and provide data that could help speed a transition to renewable energy.
"A lot of these renewable energy sources have certain subsidies built into them, like all of our power systems," Filippelli said. "In a sense, coal and natural gas are getting a free subsidy, and they always have because they're allowed to emit their pollutant, carbon dioxide, right into the atmosphere. There's no control on that.
"They're getting a free ride, and what has to happen, I think, is that free ride has to end," he added, "either through a carbon tax or another way to account for that as a pollutant that has negative value so those other electricity sources that don't produce that should be incentivized."
The state's Department of Environmental Management (IDEM) recently awarded a total of $12 million to more than two dozen projects around the state designed to curb diesel emissions. The money comes from the state's allocation of $41 million, part of a $2.7 billion court settlement with German automaker Volkswagen, which was found to have cheated on emissions tests in the early 2010s.
"That money is going to fund new vehicles that are much cleaner with emissions," said Beverly Gard, a former Indiana state senator who served on an 11-person committee tasked with determining how to allocate the settlement.
"We've given a significant amount of money for school buses to either upgrade to natural gas or electric. Even some of the old diesel-powered school buses, we've given some money to upgrade those to a much cleaner diesel."
Next steps for green energy
During a recent Chamber luncheon in Anderson, Gov. Eric Holcomb promised his office will make a series of announcements about renewable energy initiatives later this month. He said his approach to these policies would continue an "all-of-the-above" philosophy when it comes to finding ways to promote renewable resources across various industries.
"We live in a small world, it turns out," Holcomb said. He added that skyrocketing natural gas prices in Europe and electricity shortages in China should be seen as cautionary tales of overreliance on traditional power sources.
"We don't want to be caught in that position," he said, "so we'll continue to lean on reliable, clean, sustainable sources of our energy. For Indiana, that will continue to serve us well."