For the first time, the Vigo County School Corp.'s enrollment has dipped below 14,000, and Superintendent Rob Haworth — during his State of the Schools address — again emphasized the need to right-size district spending and look for new sources of revenue.
"Population decline in Vigo County is the most significant challenge we face in our schools," he stated in information released prior to the address, which took place Thursday in the VCSC Conference Center attached to West Vigo Elementary.
Over the last 11 years, enrollment has declined by more than 1,300 students, enough to fill three elementary schools, according to Haworth.
In the second and final enrollment count of the 2019-20 school year on Feb. 3, the district had 13,968 students, down from the fall count's 14,190.
A 2017 study predicts that the district will lose an additional 636 students — and the state funding those students bring — in the next eight years, as the population of Vigo County declines. At current funding levels, 636 students represent $4.14 million in yearly revenue.
In a related matter, deficit spending continues to be a concern, and the district overspent revenues by $7.2 million in 2019. Much of the district's revenue loss is the result of enrollment decline.
"We have to bring our deficit spending under control," Haworth said during the address. "We should have no illusions about the work that is ahead of us."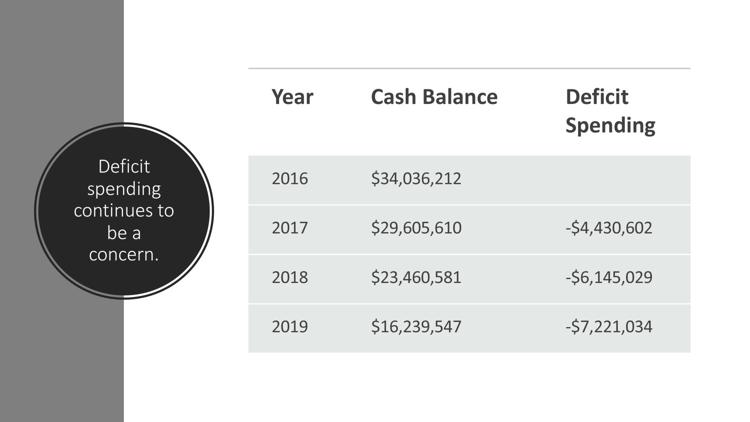 The board recently approved budget cuts, which call for closing up to three elementary schools and redesign of alternative education. Loss of enrollment also will impact decisions related to high school facilities.
In November, the community approved an operational referendum that enabled the district to improve teacher pay and maintain positions added in recent years, including school protection officers, counselors and behavior interventionists. Officials say it is a "bridge" as the district right-sizes its budget.
Also Thursday, Haworth revealed eight building concepts as the district looks to renovate, reconstruct or replace — or a combination thereof — its high school facilities as well as West Vigo Middle School. They ranged from one mega high school to four new, smaller high schools — and many options in between.
No dollar figures were attached, but those will be released at future community meetings; a schedule of meetings will be released in the next few days. Tax impacts also will be presented at those meetings.
Asked about an estimated cap for spending on high school facilities, Haworth said, "I'm going to ask the community where that cap is ... that's a community question."
Haworth wants to narrow down the eight high school options to four by May, and from four to one by December. The district hopes to conduct a facility referendum in May 2021. "That can only be done through community meetings — feedback," Haworth told reporters after the program. He described public participation as "vitally important."
The district may also do some online meetings, where it puts a concept online for a week and allows people to comment on it.
One possibility being explored is financing with loans through the U.S. Department of Agriculture for any projects in the West Terre Haute area.
The district also rolled out its plans for technology, a major priority of citizens during community meetings last year.
The district plans to move toward 1:1 [one device for every student] using Chromebooks, with a goal of distributing 15,000 Chromebooks over the next four years, said Doug Miller, director of technology, one of several central office administrators who also spoke.
This spring, the district will distribute devices to principals and teachers who will undergo training in the 2020-21 school year. In summer 2021, devices will be given to four grades [5, 8, 9 and 10]; in summer 2022, devices will go to four grades [4, 6, 7 an 9]; and in summer 2023, devices will go to five grades [K, 1, 2, 3 and 9].
"Our hope is to be technology rich by 2023," Haworth said in an earlier interview. "That can mean a lot of things, but I think it has us looking at more than just a device."
Meeting the technology needs of today's students will require about a $2 million investment each year, Haworth said. Purchase of the Chromebooks will be through a general obligation bond and capital projects [operation] funding.
"If we want to create a 21st Century workforce, everyone of our children need to be exposed to technology in a much greater way," Haworth has said.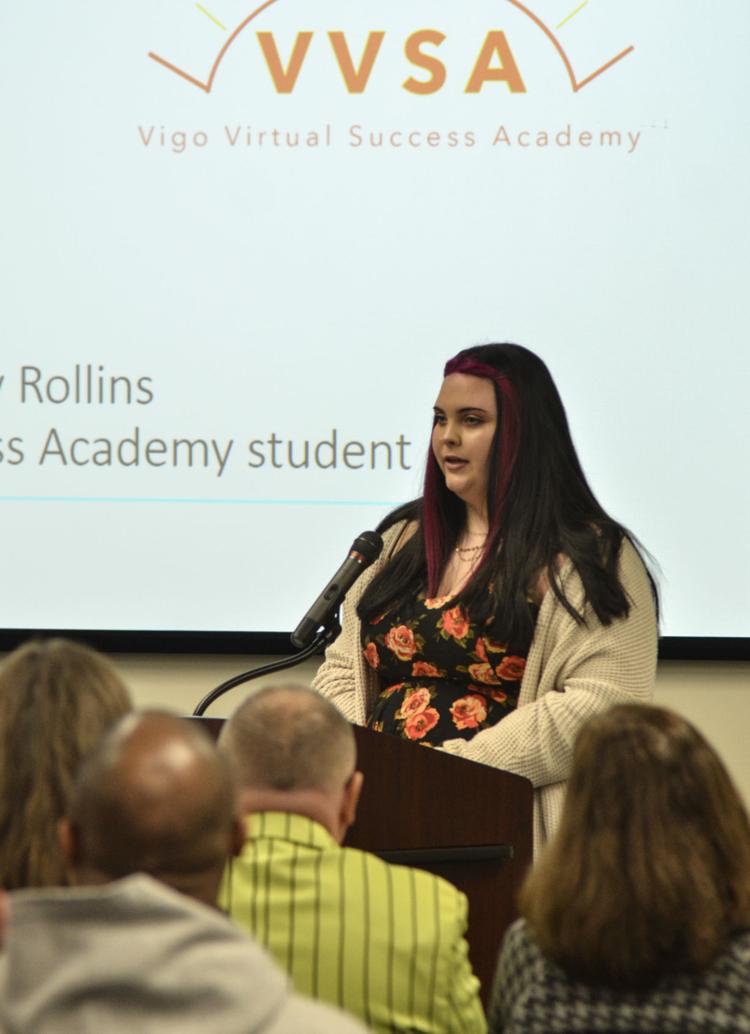 Those attending State of the Schools also heard from Gracey Rollins, the first graduate of Vigo Virtual Success Academy, the district's virtual school option which began last summer. Rollins credited VVSA with helping her complete high school, and later this year she plans to attend college at the University of Nevada-Las Vegas.
A bright spot for the corporation's student count, as of Wednesday, VVSA has enrolled 123 students, over 40 of which are new to the district's enrollment count.
Next year, the district plans to expand the program to elementary and middle school students and it will go beyond Vigo County as well, said Tom Balitewicz, director of student services; the program is generating new revenue for the district.
Also during his address, Haworth talked about the need to collaborate with partners including post-secondary education, the trades, and state and local officials to increase population and strengthen the local economy. Education can be the key to community transformation.
He added, "We are a regional hub for education," particularly with the four colleges in Vigo County. To compete, the community must "out-educate and out-innovate the rest of the Midwest."
Discussion about enrollment, technology and facilities are encompassed in the district's new five-year strategic plan for 2020-2025; the planning process began in fall 2018 with several community meetings. Haworth will make a presentation on the strategic plan Monday to the Vigo County School Board and is hoping for approval this month.
The strategic plan also addresses career/college pathways; fiscal responsibility; community engagement; student leadership opportunities; and early childhood education [collaborating with the community to strengthen pre-K programs in Vigo County].
Also during State of the Schools, the Vigo County Education Foundation highlighted its success over the last year.
Sue Loughlin can be reached at 812-231-4235 or at sue.loughlin@tribstar.com Follow Sue on Twitter @TribStarSue.