Mari Hulman George — whose impact on auto racing, education, animal welfare and charities could be felt around the nation, Indiana and Terre Haute — died early Saturday morning in Indianapolis with her family by her side.
Serving as chairman of the board emeritus for the Indianapolis Motor Speedway and Hulman & Company at the time of her death, she was 83.
Daughter of the late Anton "Tony" Hulman Jr., who purchased the then-struggling IMS (home of the Indianapolis 500) in 1945, Hulman George became IMS chairman from 1988 through 2016.
"Our mother was such a unique, wonderful person," said Tony George, current IMS chairman. "She loved her family, friends, auto racing and animals with equal passion. She was a quiet pioneer in so many ways, from owning a race team in the 1950s and 1960s to overseeing a period of tremendous growth and evolution while chairman of the board at IMS."
Hulman George was instrumental in the expansion of the Indianapolis Motor Speedway and became known to millions of fans over the years as the voice who ordered countless drivers to start their engines before the Indy 500 and other IMS races.
"Her vision and guiding hand has been a driving force at the Indianapolis Motor Speedway and her love of motorsports, along with her compassion for everyone associated with racing, was unrivaled," longtime car owner Roger Penske told The Associated Press. "We will all miss her leadership and her spirit."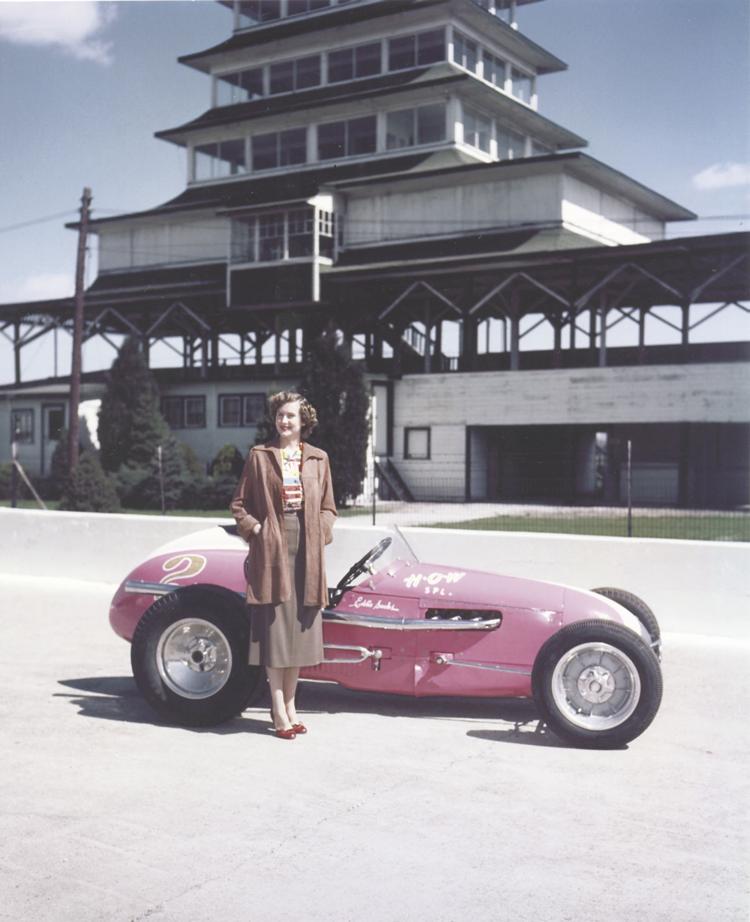 Hulman George was immersed in auto racing and became friends with many drivers during her teenage and early adult years.
She joined with longtime family friend Roger Wolcott to form the HOW racing team, which fielded the American Automobile Association and U.S. Auto Club sprint and national championship cars for several drivers, including Jerry Hoyt, Eddie Sachs, Tony Bettenhausen, Roger McCluskey and Elmer George, whom she married in 1957.
Elmer George won the Midwest Sprint Car title in 1957 and finished third in 1956 and 1958. Mari Hulman George also co-owned an Indianapolis 500 entry in 1962 and 1963 that her husband drove. He finished a career-best 17th in 1962 and received relief help from Paul Russo and A.J. Foyt during that race.
"Racing is filled with passionate people, but you'd be hard-pressed to find anyone more passionate than Mari Hulman George," said retired driver Tony Stewart, an Indiana native who grew up idolizing the Indy 500 and the speedway.
I I I
Born in Evansville the day after Christmas in 1934 as Mary Antonia Hulman, she never ventured far from Indiana. She attended Purdue University and was an Indianapolis community leader with her stewardship of the speedway.
Hulman George launched numerous philanthropic efforts, including benefits for Indiana Special Olympics and complementary field trips for Indiana's schoolchildren. She focused on the arts, health care and, in particular, animal care. She served on the board for Hulman & Co., IMS and the IMS Foundation, as well as First Financial Bank, a publicly traded company headquartered in Terre Haute.
Hulman George was especially close to the legendary Foyt, whom she met a year before his 1958 Indianapolis 500 debut. She and Foyt placed a commemorative "golden brick" into the famous "Yard of Bricks" start-finish line in May 2011 to celebrate the 100th anniversary of the inaugural Indy 500 and 50th anniversary of Foyt's 1961 victory.
Foyt, now 83, lamented the loss of a friend whom he and his wife, Lucy, had known for decades. He recalled living with the Georges early in his career.
"We've been close for over 60 years," Foyt said in an emailed statement to the Tribune-Star. "We spent many a Christmas together. Our kids are about the same age, so we had a lot of wonderful times together. We did a lot of things together and had a lot of fun. She's going to be dearly missed, especially by me."
Hulman George hosted for years two events during the lead-in to the Indianapolis 500. The "Racers Party" took place annually on the opening weekend of the "Month of May" for the entrants of the Indy 500 and a "Friends of the 50s and 60s" event commemorated the week between qualifying and the race to celebrate with racing veterans.
She welcomed all drivers to the parties, setting a standard for providing red-carpet treatment to all past and present Indy 500 competitors when they came to the track, regardless of their stature with the public.
"Mrs. George was committed to the long-term health of the Indianapolis Motor Speedway as a treasured Indiana asset and her stewardship as chairman set the tone for staff and others involved with IMS," said J. Douglas Boles, current IMS president.
I I I
Even though most of Mari Hulman George's fame developed in Indianapolis, she did not forget her roots in Terre Haute.
A building at the Terre Haute Humane Shelter is named after her. There's also Saint Mary-of-the-Woods College's Mari Hulman George School of Equine Studies, founded in part due to her love of horses. She also received an honorary degree from SMWC.
"Mari Hulman George made herself a significant part of the Saint Mary-of-the-Wood College family," SMWC President Dottie King said Saturday. "Our shared love of horses and commitment to education provided a natural fit that added to our connection through family alums Mary Fendrick Hulman, Josie George and Laura George. Our hearts are saddened today and our prayers will continually be with the Hulman George family."
As many longtime Terre Haute residents remember, Rose-Hulman Institute of Technology was renamed in honor of the Hulman family in 1971 after previously being known as Rose Polytechnic Institute (Rose Poly for short).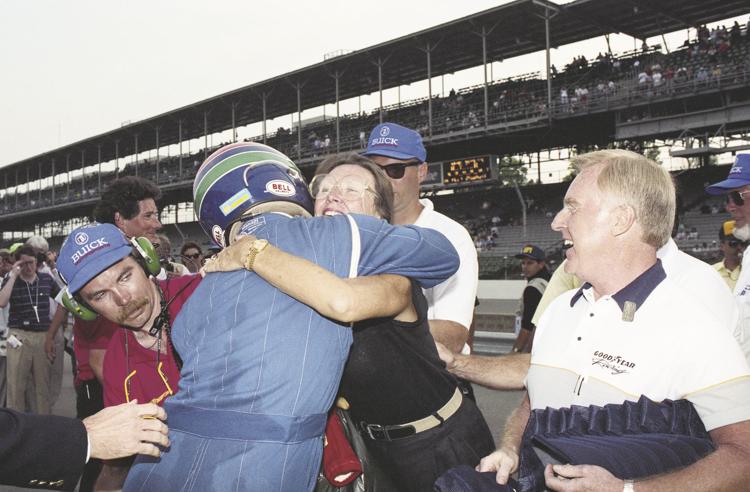 "The Rose-Hulman Institute of Technology community is saddened by the loss of Mari Hulman George, a friend and benefactor whose family relationship with the institute dates back more than a century," Rose President Jim Conwell told the Tribune-Star. "Her grandfather, Anton Hulman Sr., served on the Board of Managers of what was then Rose Polytechnic Institute beginning in the 1880s and he and his brother, Herman, donated the 123 acres of land on which the institute now sits.
"Anton's son, Anton [Tony] Hulman Jr., and his wife, Mary Fendrich Hulman — Mari's parents — continued the family's philanthropy, funding a student union in the 1960s and donating the assets of their family foundation to Rose in 1971. ... Mari continued the family legacy of involvement and advocacy for Rose-Hulman, which earned her an honorary doctorate in 1998. She joined the board in 1989 and, after her tenure, remained an emeritus member of the board. Her son, Anton 'Tony' George, continues the family legacy of service as a member of the current Board of Trustees."
Conwell, who became Rose's president in 2013, fondly remembers his personal interactions with Mari Hulman George.
"Every time I had a chance to chat with her, she always said, 'Make sure you take care of Rose-Hulman. It meant so much to my family,'" Conwell mentioned. "That's really what I've been thinking about all day [Saturday]."
Indiana State University, which finished construction of its Hulman Center multi-purpose arena in December 1973, also felt the loss Saturday.
"The Hulman George family has supported Indiana State University in many ways, but the two most significant gifts for the Hulman Center and Hulman Memorial Student Union have had a dramatic impact on our campus and the community," ISU President Deborah J. Curtis emphasized.
"Both facilities significantly enhance our students' experience and have hosted countless community events. We wish peace and comfort to Mari Hulman George's family and send our deepest condolences during this difficult time."
In addition to son Tony George, Mari Hulman George is survived by three daughters, a stepdaughter, seven grandchildren, nine great-grandchildren and longtime companion Guy Trollinger. She was preceded in death by her husband, Elmer, and a stepson.
Services are pending at Callahan & Hughes Funeral Home in Terre Haute.
The Associated Press contributed to this report.
David Hughes can be reached at 812-231-4224 or at david.hughes@tribstar.com. Follow David on Twitter @ TribStarDavid.