After spending a lifetime challenging the greens, fairways and bunkers of Terre Haute, Robert Edwin Arnett passed away on Wednesday, October 2, 2019 at the age of 85. He was born November 2, 1933 to Robert Erwin Arnett and Mabel Wills Arnett. Bob liked to say that his path in life was set at an early age by his father, who instilled a love of family and sports in his son. Bob was especially proud to transfer that passion and work ethic to the young people he taught, coached and mentored over the years.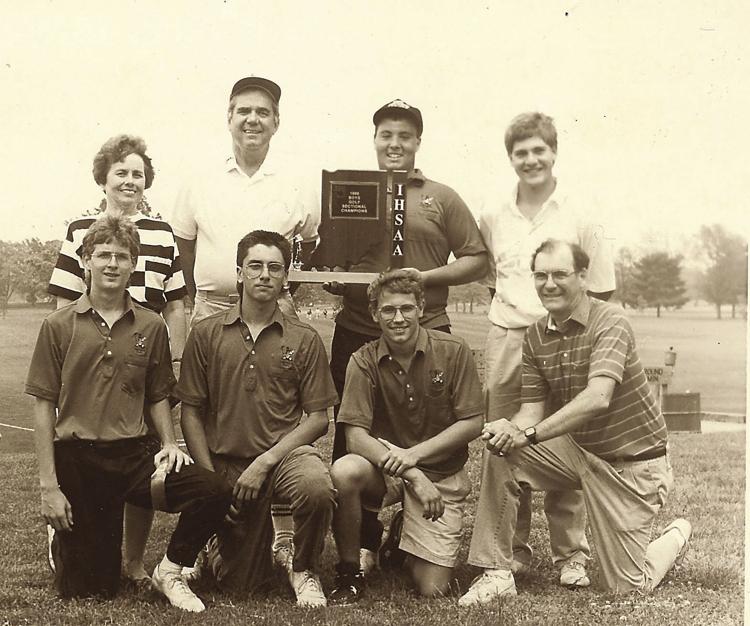 Bob covered the local golf scene in his Terre Haute Tribune-Star column, "Rub of the Green," and authored a collection of his best-loved columns in a book by the same name. He taught golf for beginners in grades 4-8 in Vigo County and coached high school golf for 26 seasons, including 24 at Terre Haute South, where he taught English. Bob was especially proud of his students who won championships, secured positions as golf pros and went on to display a strong work ethic and sportsmanship in their adult lives. As a result, Bob has been honored with his induction into the Terre Haute Golf Association Hall of Fame and the Indiana Golf Coaches Hall of Fame, and by proclamation of the mayor, Terre Haute's Bob Arnett Day in 2005.
Bob won three Casey Opens, the Spaghetti Open, the Roundup of Champions, and the 1988 City Seniors Championship, as well as countless other local and regional tournaments over six decades. He served as president of the Rea Park Men's Club, Hulman Links Men's Club and the Terre Haute Golf Association.
A graduate of Indiana State University, Bob was named ISU's most Outstanding Athlete in 1954, the first golfer in the history of the institution to win the award. He was a 50-year member of the Masons, Zorah Shrine and Scottish Rite of Terre Haute. Bob served in the U.S. Naval Reserve for eight years.
He will be greatly missed by his survivors including his longtime companion and collaborator, local teacher Sue McMullen of Terre Haute; children Erin Mendoza and husband Alvin, of Chesterton IN, Robert Arnett of Sarasota FL, Mike Arnett and his wife Jeanne, of Bolingbrook IL, and Paula Brandon and her husband Chuck, of Newport KY; stepson Patrick McMullen of Terre Haute; grandchildren Josh Thome and his wife Alicia, of Terre Haute; Robert Arnett and his wife Julie, of Cincinnati OH; Rory Sandhage of Taichung, Taiwan; Jason Sandhage of Newport KY; Heather Sallay of Lisle IL; Lindsey Thome and Sarah Thome of Terre Haute; and Ian Mendoza and Ailsa Mendoza of Chesterton IN; and great grandchildren Hallie Campbell, Aubrey Mangia, Landon Thome, Lillian Thome, Gregory Sanders, Moriah Thome, and Johnna Thome. In addition to his parents Bob was also preceded in death by a daughter, Cleeta Thome of Terre Haute.
Funeral services will be conducted at 2:30 P.M. Saturday, October 5, 2019 in Callahan & Hughes Funeral Home, 605 South 25th Street. Visitation will take place 4:00-8:00 P.M. on Friday in the funeral home. Burial will be in Highland Lawn Cemetery.
To honor Coach Arnett, the family requests donations be made to the Friends of Rea Park, Inc., C/O Earl Elliott, C.P.A.; Treasurer, P.O. Box 3304, Terre Haute, IN 47803-3304. Funeral information and tributes may be found at www.callahanandhughes.com.
Bob always signed off by saying, "Keep your head down and your shoestrings tied."