Roughly 100 concerned citizens crammed into the Vigo County Public Library basement Tuesday night to hear eight Vigo County candidates for public office, well, basically agree with each other.
Despite their friendly tone in the public forum, sponsored by the League of Women Voters of Vigo County and the Tribune-Star, the candidates provided plenty of interesting responses.
Candidates who showed up were Republicans Isaac Deal and Eddie Felling, both running for District 43 state representative; Democrats Mark Bird, Sylvester "Coach" Edwards, Norm Loudermilk, Chad Overton and Tonya Pfaff, also seeking to be District 43 state representative; and Democrat Chris Gambill, District 38 state senator.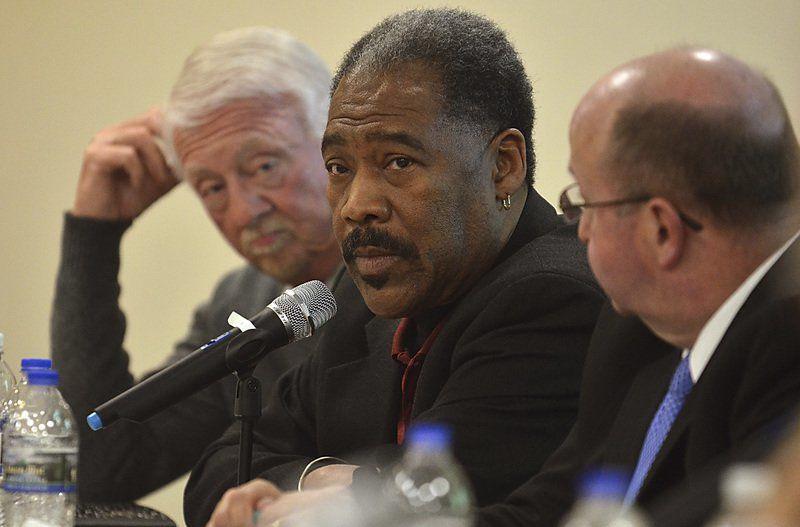 Only candidates facing opposition in the May 8 Indiana primary election received invitations to Tuesday's forum. But Gambill was the only aspiring state senator on the panel because candidates Maria David and David Allan Fuchs II did not attend.
One of the early questions asked by moderator Louise Anderson dealt with home-schooling of Indiana children.
"I'm a public school teacher, so I'm very in favor of public schools, although we do not provide everything for every kid," replied Pfaff, who teaches math at Terre Haute North Vigo High School. "So there are families who want to home-school their children. I think that's fine. I think they have a right to home-school their kids.
"What I don't want is money going from the state of Indiana to home schools. ... I would like money in Terre Haute North High School and all the high schools in Vigo County."
Overton, who has five children (including two foster children), and Edwards, the recently resigned president of the Greater Terre Haute branch of the NAACP and a former high school track coach, did not disagree with Pfaff. But they had different ways of making their points.
"When you're home-schooled, you lose a lot of touch with reality," Overton insisted. "You don't have friends. You don't have sports. You don't have interaction. And in today's world, interaction means everything.
"You have to be able to communicate. You have to be able to get off your phone. You can't text at a job interview. You have to be able to walk across and shake hands and work with someone else."
"I don't know much about home-schooling, but I do know something about segregation," said Edwards, the only African-American on the panel Tuesday. "And segregation is wrong, whether it's from the parents taking their kids out of school or whether they are using charter schools to segregate or an academy or private school using the taxpayers' money to fund these schools. So I don't know how home schools are going to help that student assimilate into the community."
Another topic brought up was what candidates would do with the state government's considerable surplus of money, in addition to education.
"I'd like to see more money put into child and family services," said Bird, who served 12 years as a Vigo County councilman. "I think that's an issue that's been in the headlines this year, but I think the state has decided to put that off until next year.
"I'd also like to see more money in workforce development. I think educating our kids and giving them the necessary training to do the jobs out there needs more funding."
"I think most of that should be spent on places where it's needed the most, like the Department of Child Services," echoed Loudermilk, a former Terre Haute city councilman and police officer and current Terre Haute Fire Department assistant chief. "It's in shambles right now.
"The governor [Eric Holcomb] has also pledged only $5 million for school safety. That's a joke. That's a drop in the bucket."
All eight candidates promised they would not accept money from the National Rifle Association (NRA), with most adding that they support background checks for gun sales and working toward "common-sense gun control."
"What we really need here is filling in the gun-show loophole," noted Gambill, a longtime Terre Haute attorney who described himself as a lifelong hunter. "As for common-sense gun control ... one person's well-thought-out ideas are the next person's idiocy, right? What is common-sense gun control?
"First of all, there's the bump stocks. That's the low-hanging fruit. The second thing is magazine capacity."
"I guarantee you, I'm the biggest Second Amendment supporter up here," stressed Deal, a 21-year-old Indiana State University student. "I carry my license with me all the time. I don't carry [guns], obviously, because that's against school rules.
"However, I'm not an NRA supporter. I think they should get kicked out of politics and go back to what they used to do — teaching people about gun safety."
"I believe in gun ownership," added Felling, Terre Haute's city attorney since June 2015 and a self-described avid outdoorsman and gun owner. "However, that does not come entirely without restriction. ... Absolutely, we need to re-analyze how we're looking at guns here, especially in today's climate."
David Hughes can be reached at 812-231-4224 or at david.hughes@tribstar.com. Follow David on Twitter @ TribStarDavid.