Damon Sturm TD run for TH North at jamboree
Terre Haute North's Damon Sturm scores a touchdown against South Vermillion during the high school jamboree at Northview on Aug. 13, 2021.
As featured on
High school football returned with a jamboree at Northview on Friday. Terre Haute North, Terre Haute South, Northview and South Vermillion gave a dress rehearsal.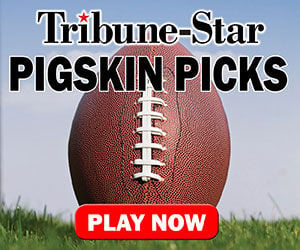 TERRE HAUTE - Dr. Lyle Eugene Hawkins, passed away September 19th, 2021 in Union Hospital. He was born in Memphis, Tennessee, on February 11, 1932, to Charles A. and Lillian Jacoby Hawkins. He was the youngest of 3 children. Lyle was an active member of Bellevue Baptist Church, Memphis, Tenn…
Ruth Ann Dowdy, 94, of Terre Haute, Indiana, passed away Wednesday, September 22, 2021 in Union Hospital. Ruth Ann was born in Clinton, on March 27, 1927 to Harry and Faye Myers Dowdy, and was raised by Harry and Ruth Ritcheson Dowdy. Ruth Ann was retired from a long career in nursing, worki…