Until a decade ago, Brett Krieble hadn't thought a lot about global issues. She was a full-time mom, busy raising four kids.
"I had never really been much of an advocate at all," Krieble said, "except for my children."
That all changed in 2007, when the Terre Haute native returned to her teaching career at University High School in Zionsville. Her daughter, Haley, was a student at University High and led an effort to bring to the school a speaker from Invisible Children, a nonprofit organization trying to protect vulnerable people from violence in northern Uganda.
Later that school year, a young Ugandan named Akena Boni spoke at the school, telling his story of being one of 30,000 children kidnapped by a rebel army to become a child soldier, and of being shot while escaping and his quest for a better life.
Today, Boni fondly refers to Krieble as "mum." She's traveled to Uganda five times, developing friendships with the people of the Acholi tribe in the north. Krieble took 10 University High students along on her most recent journey to Uganda, last January. And, she's launched her own nonprofit, the Ribe Project, aimed at providing vocational skills, business education and microloans to women in that region of that east African nation.
It's a country where past violence displaced 1.7 million people. It's also a land of breathtaking natural beauty, and residents in the north who are "just amazing — warm, happy, smiling people," Krieble said.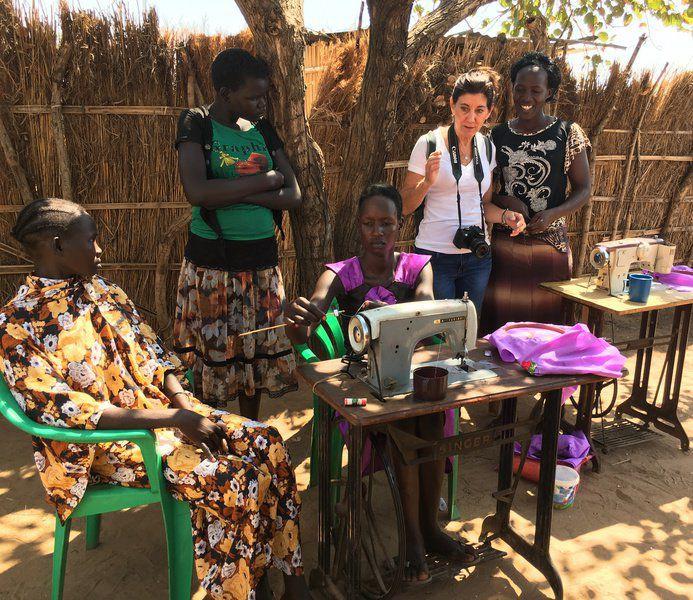 "I think, once your eyes are opened to a thing like this you can never turn away from it," she added, "and you say, 'What can I do to help that situation?'"
In the Acholi language, "ribe" means unity — a high aspiration in any place, especially northern Uganda. A civil war between government forces and the rebel Lord's Resistance Army raged for more than 20 years, before the LRA moved into surrounding countries a decade ago. During the war, the Acholi people were ordered to move into displacement camps for protection, but violence and disease were prevalent. Some stayed in their villages, risking raids by the LRA.
The LRA rebels, headed by international fugitive Joseph Kony, would raid villages at night, kidnapping children as recruits, Krieble explained. Kids would walk into safe houses inside the cities in the evening to avoid the kidnappers. The children were called "night commuters" and "invisible children." Boni was captured when he was just 8, a year after his father died. Two weeks after his capture, Boni and a friend escaped. Boni suffered a gunshot wound but reached safety, Krieble said. His friend was killed.
The war changed adult lives, too. The conflict "left many women without their husbands, and now it's the women [who do the] farming in order to raise money for buying food and paying school fees," Boni said last week by email from Uganda. He's now 27 years old, Ribe Project's Uganda director and a father, raising a young daughter and thinking of her future.
Microloans go a long way
Daily life is laborious for the women. They haul water long distances, care for young kids, tend to their homes and cook. Poverty is more prevalent in the north, where the landscape is flat and sparsely populated, unlike the lush hills of southern Uganda, where coffee and tea grow plentifully.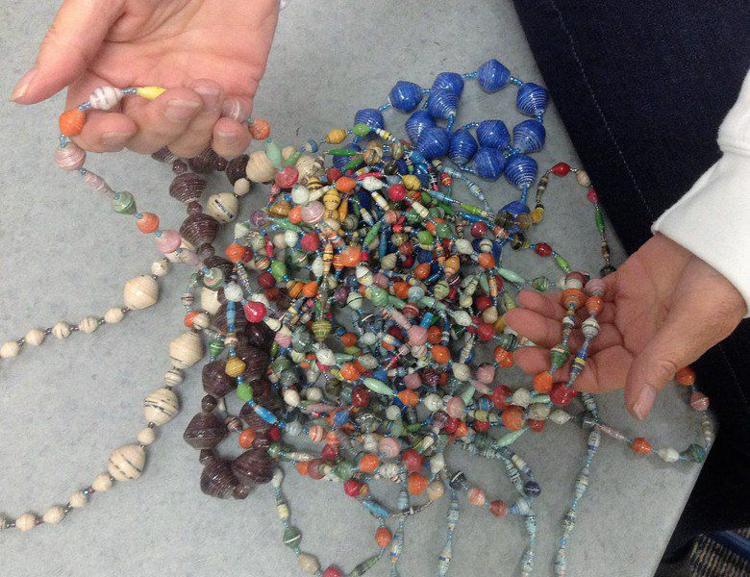 "A lot of men here don't help their family a lot, and a lot of women here don't have the qualification in school to earn ... white-collar jobs, like working in big offices," Boni said. "So Ribe Project will help them come out of the poverty." 
Nearly a decade after the war, many Acholi women are trying to support their families. "I just want to see the women there be successful in reaching their dreams," Krieble said.
Krieble traveled to Gulu, Boni's hometown, in 2014 and met his mother, Abollo Kevin Florence. "Her dream was to start a pharmacy in her home," Krieble said.
Small, low-interest microloans can open such possibilities for women to create start-up businesses. Funds go a long way in northern Uganda's low-cost-of-living environment. A $250 loan would cover a six-month rental of a stall in the Gulu City Market, for example. The Ribe Project hopes to provide such microloans for women to make and sell jewelry, beads, leather goods and crafts, to raise poultry and pigs, or become hairdressers. The project could fund business and vocational classes for the women, as well.
The timing of those programs depends on fundraising. Krieble assembled a board of directors, applied for 501(c)(3) certification in October 2017 and received that status April 30.
"When that letter came in the mail, it was like, 'Hey, yeah,'" she said, clenching her fist and smiling.
People are 'so welcoming'
Krieble grew up around business in Terre Haute. Her family owned and operated Dairy Queen restaurants on North 13th Street, Fort Harrison Road, North Third Street and South Seventh Street. "We were a Dairy Queen family," she recalled.
She graduated from Terre Haute North Vigo High School in 1977, earned an education degree with psychology and history endorsements at Indiana State University, taught at Greencastle High School for six years, and then put that career on hold to raise four children. Since returning to teaching at Zionsville's University High, Krieble has taught three of her four kids in classes there. Her daughter, Haley, serves on the Ribe Project board.
Now 24, Haley works as a youth advocate at Prevail in Indianapolis, supporting kids ages 6 to 13 who have experienced sexual abuse. As a University High student, Haley helped her mother start the Invisible Children Club (now the Global Citizens Club) there, leading to Boni's visit. Haley has traveled to Uganda, too, and shares her mother's vision.
"The women and children of northern Uganda deserve to be supported," Haley said. "Whether we live in Indianapolis, Indiana or Gulu, Uganda, women deserve access to education and opportunity in order to further not only their own lives, but the lives of their children."
Brett is anxious to see the project implemented. As Ribe Project's CEO, she's learning more about the logistics while pursuing a master's degree in nonprofit administration through Louisiana State University's online program. With contributions, some initial necessities can be met, such as construction of a one-room permanent home for Ribe Project in Uganda (about a $2,000 undertaking).
Krieble looks forward to returning to Gulu to see friends there, including Boni, his mother, grandmother and aunt. Boni's grandmother fed Krieble and her students on last January's trip. "Grandma cooked goat for us one day in the village, and [the students] said it was the best thing they'd ever eaten," Krieble said. "The kids were troopers."
Sitting on a desk in her classroom last month, Krieble sorted through necklaces crafted by Acholi women, with beads made of rolled paper and shellac. A couple of Ribe Project signs rest on the dry-erase board ledge, along with an inspirational poster that includes the phrase, "If you don't like something, change it," and "Life is about the people you meet and the things you create with them, so go out and start creating."
She enjoys the interactions with the Acholi. "The people of the north are so welcoming, so kind and so willing to share the things they have," Krieble said. Even amid the difficulties, life there is slower paced. "A conversation is more important than being somewhere else on time," she added.
"It's just a beautiful other world," she said.
Mark Bennett can be reached at 812-231-4377 or mark.bennett@tribstar.com.