There is a bigness to the Kansas prairie that I can't experience here at home, even in the longest and widest cornfield I can find. It is an uninterrupted openness where even a solitary fence post or rock wall, a narrow dirt road or a single tree, stands out against the sky to make its presence known and the horizon marked. The prairie, as Conrad Richter called it, is "a sea of grass."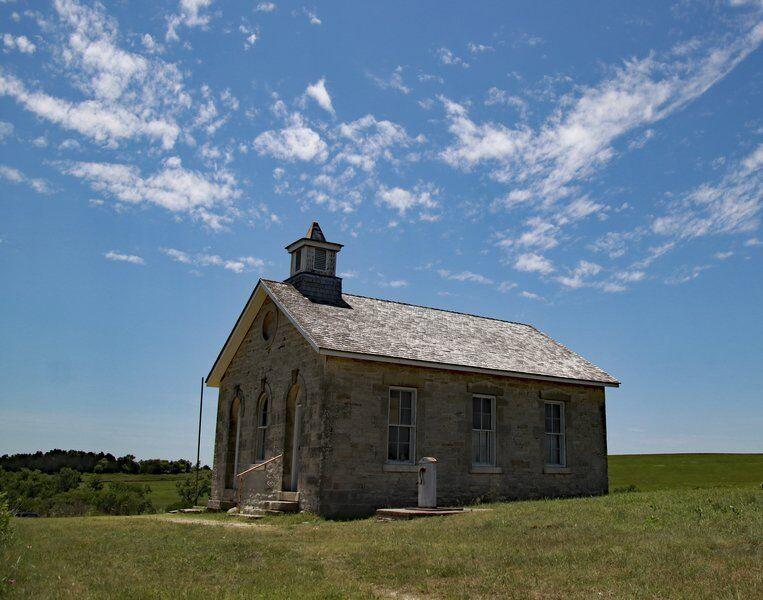 We discovered that, and much more — my hiking mate and I — a few weeks ago when we took most of a day to explore a tiny portion of the nearly 11,000 acre Tallgrass Prairie National Preserve, located just north of Strong City, Kansas.
Had I not been overconfident in my own mental road mapping skills, consulted our atlas and turned west out of Emporia — where we had spent the night — onto U.S. Highway 50, we would have been at the Preserve earlier than we were that day. Instead, I ventured onto Interstate 35, the toll road known as the Kansas Turnpike, and drove 30 miles or so to the southwest toward Wichita before we could exit and head north toward our intended destination.
It proved to be a fortuitous mistake, however; wonderful two-lane Kansas 177, took us from Matfield Green to Cottonwood Falls to Strong City on a beautiful drive through endless grassy pastures and the stone outcroppings of the rolling Flint Hills. Along the way, we enjoyed as many rock walls as we had seen on our last trip to New England, a pair of friendly horses that came to the roadside fence to visit a while, and a mostly two-toned landscape painting of green and blue, broken only by the black herds of cattle as they gathered in the countless stock pools to escape the building heat and the ever-present plagues of flies.
It was already a toasty 90 degrees—the early afternoon sun high in the sky—by the time we pulled into the Preserve's parking lot. After a change into hiking boots—for rattlesnakes aren't uncommon along the prairie's paths—we visited the cool visitor's center operated by the National Park Service, which shares responsibilities for the property with the Land Conservancy.
Legislation introduced in 1991 eventually created the Preserve, which is maintained in a unique private/public partnership that grew out of the one-time Spring Hill Ranch, first fenced by cattleman Stephen Jones in 1878. The home Jones built in 1881—a massive five-story limestone Second Empire beauty—sits alongside a huge barn near the Center, and those, and every inch of the seemingly-endless property are now open to the public at no charge; I highly recommend a tour of the house, from its spring room (fed by fresh water from the hill directly to the west and two floors below the back entrance) to the ornate top-floor bedrooms.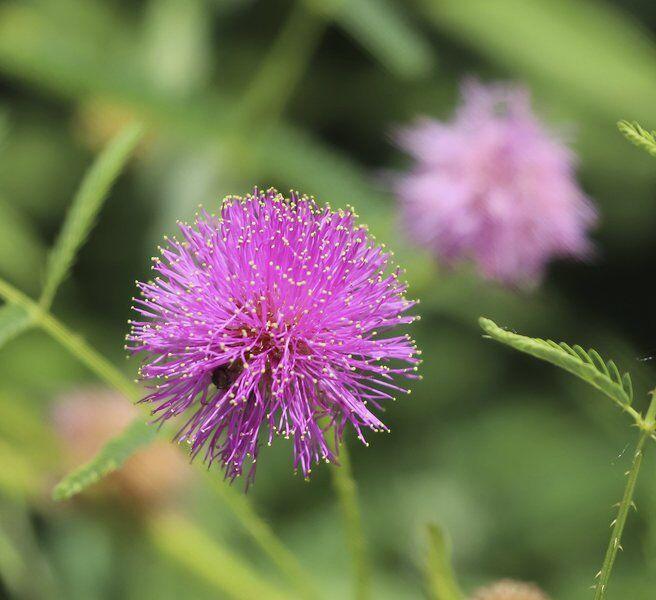 Jones sold the ranch in 1888, and through several owners, including neighbor Barney Lantry, it first grew to 13,000 acres, and was then subdivided into smaller sections. The huge property was reunited under George Davis in 1935 and by 1955 was called the Z-Bar Ranch and placed in a trust. Public interest in the land grew, and after overtures from the National Audubon Society waned, and a movement for the preservation of the Lower Fox School (established on property donated by Jones in 1884) prospered, the prairie was eventually named a National Historic Landmark. Not long afterward, the Preserve—originally the traditional land of the Kaw, Pawnee, Osage, and Wichita peoples—was born.
I knew I wanted to see the old schoolhouse and photograph birds before I ever got there that day, but a cheerful and informative NPS guide spotted my camera and told me that above all the other paths on the Preserve, I'd want to walk the two-mile Southwind Nature Trail. After all, she said, the longer trails that combined to encircle the big Windmill Pasture would probably not offer us even a distant view of the always-popular bison herds, which hunker down in the summer as the heat builds. The heat was, indeed, building; by the time we walked out onto the trail, deceptively first hidden in a grove of trees, it was nearing the day's high of 96 degrees.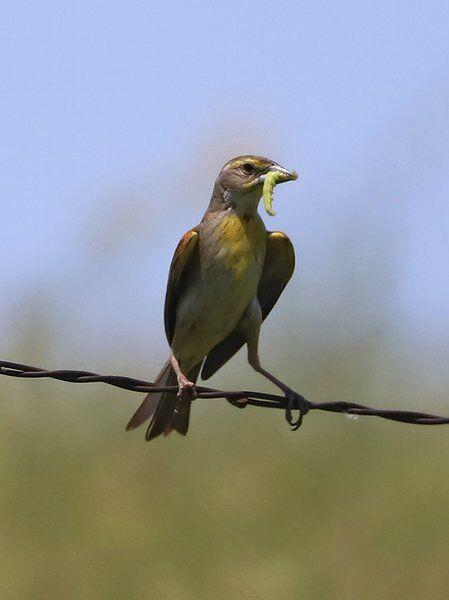 We ambled more than hiked, although a startled jump got things underway. I almost immediately heard a hawk, and while I stared into the tree line, I turned just in time to see Joanie reverse and head my way; she had nearly stepped on, not a rattler, but a sunning gopher snake, probably... Gopher snakes, named for their primary dietary target, are the largest snakes in Kansas, sometimes reaching eight feet in length; I saw only its slithering tail disappear into the brush, but neither of us was interested in taking a closer look.
Entering the loop behind the big house, we descended onto a ridge that overlooked much of the mown path that constitutes the trail. Within just a few minutes, we were rewarded for our slow going by spotting an Eastern Collared Lizard as it lay in the dappled shade of a stone outcropping. I apparently found a very patient subject, for the lizard, a colorful male, sat still while I took its picture. Collared lizards are quite fast, using powerful hind legs for propulsion. Nearly exclusively insectivorous, the lizards actually prefer basking temperatures of over 100 degrees.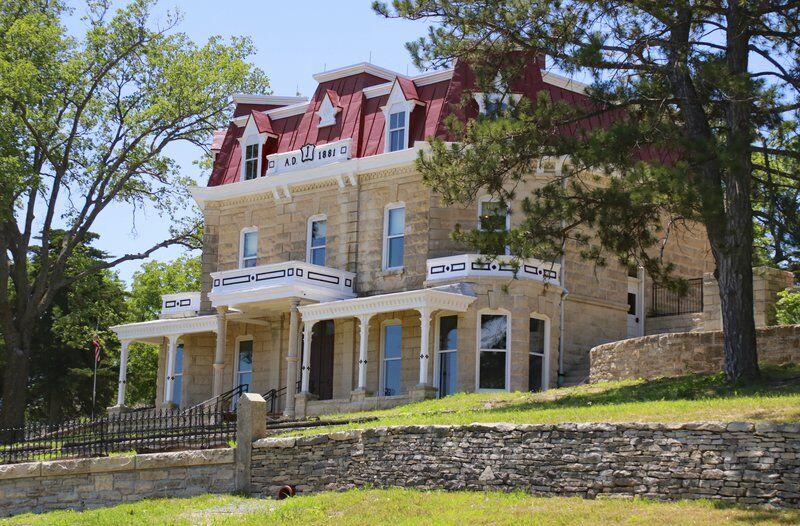 Although the early portion of the trail afforded us magnificent views of the still-short and growing prairie grass to the south and west—which by fall could reach six or seven feet in height—most of our walk involved a more subtle landscape of native wildflowers, songbirds, butterflies, and dragonflies. Below ground, however, the prairie is a dynamic mass of aggressive and competitive roots, some reaching depths of up to 12 feet. In fact, much of what we saw will soon be hidden by the deepening grasses, but on that day we were provided with a beautiful vista dotted by orange butterfly weed, pink wild coneflower, prickly harsh tall thistle, and the subtler low-growing colors of the bottomland prairie—white primrose, catclaw briar, and common milkweed among them.
At one time, the tall grasses—some 40-60 species—constituted 170 million acres in North America; less than four percent of it remains. What we witnessed on that warm afternoon emphasized our smallness, for despite a full parking lot, we saw only two other people on the trails we walked, even after we left the loop and jumped the barely-running trickle of a branch that runs toward Fox Creek to the east, and headed up-hill to the solitary schoolhouse. There, alone in the silent heat, we sat in blessed darkness out of the blistering sun for just a few minutes, read informative placards, and wondered what teaching in that one-room building, which closed its doors in 1930, would have been like.
We were pretty well sapped by the time we had covered the rocky ground back to the original trail and ascended it to where we had started. But, we had seen colorful meadowlarks and dicksissels, the brilliant flashes of great spangled fritillary and orange sulfur butterflies, spied a huge leopard moth as it lay camouflaged on a flat slab of limestone, saw sprigs of plains larkspur pushing themselves up through the already shadowing spires of tallgrass. Soaked and a bit hungry, we decided to spend what energy we had left looking through the house, then heading north to our next stop.
Nearly 30 years ago, Paul Gruchow, who wistfully celebrated the prairie in books like "The Necessity of Empty Places," wrote, "The prairie is one of those plainly visible things that you can't photograph. No camera lens can take in a big enough piece of it. The prairie landscape embraces the whole of the sky. Any undistorted image is too flat to represent the impression of immersion that is central to being on the prairie. The experience is a kind of baptism."
We say, amen to that.
You can contact Mike at hickory913@gmail.com; his website is at www.mikelunsford.com. His books are available in local stores and on Amazon.