My vacation trip in March to Colombia's tourist magnet destination, the Spanish Colonial walled city of Cartagena de Indias on the nation's Caribbean coast, kicked off with fanfare.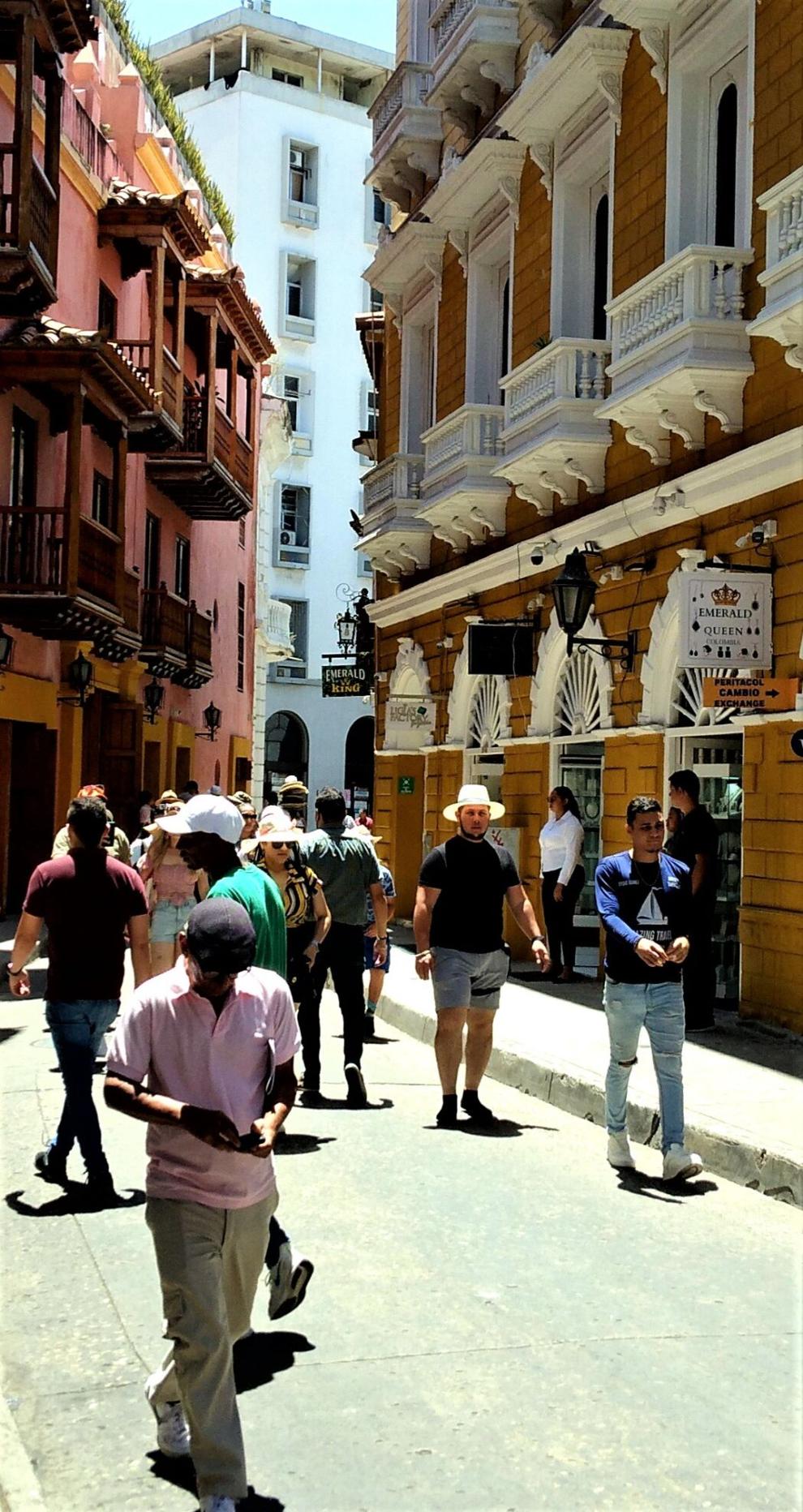 Before I traveled to Cartagena, I read "Lonely Planet's" travel guide. The book gave a favorable rating to La Cevicheria, an outdoor café on a cobblestone side street near the north wall of the historic "Old Town" section of Cartagena. Television travel host Anthony Bourdain liked this restaurant so well that during his lifetime, he went there two times to film episodes for his highly acclaimed "Parts Unknown" TV series. As soon as I arrived in town, I dined there too.
Ceviche is a marinated fresh seafood dish frequently eaten in the Caribbean and South America but rarely found on menus in Indiana. La Cevicheria offered fresh, cooked and uncooked seafood selections like lobster, shrimp, red snapper, squid and octopus. Despite the walled city's antique charms, like many of its famous restaurants, LaCevicheria provides patrons with cell phone-accessible high-tech menus that are "QR"-app opened.
I ordered for my ceviche entree a combo of squid, octopus, red snapper and avocado dinner seasoned with lemon, lime and Colombian-style pesto sauces. A shrimp empanada appetizer and coconut and lemon rum cocktails added gusto to my meal.
Then, to my delight, a remarkable procession of street musicians and performance artists came streaming down the street beside my outside dining table.
A young female guitarist singing a classical Latin song was the first act to come my way. As soon as she moved down the street to perform for another outdoor restaurant crowd, a five-man, barefoot troop of exotically clad Afro-Colombian street dancers came along, somersaulting, swaying and spinning their bodies to the rhythmic vibes of Caribbean music. Next, a girl dressed as a mysterious Turkish belly dancer showed up on the cobblestone side street and danced to Middle-Eastern music.
After her performance, one of the many horse-drawn carriages carrying smiling tourists along the streets of Cartagena's Old Town trotted past me. Following the carriage, three odd-looking men dressed as zoot-suit zombies arrived. They strutted back and forth several times in front of the dining tables and passed their donation box. Then two violinists and an accordion player playing romantic music stood in front of a happy-looking young couple; after these musical artists left — a man dressed like Michael Jackson appeared. The performer mimicked Jackson's "Moon Walk" dance as his boom box played Jackson's former hit song "Billie Jean."
By the time I finished the courses of my meal, I had put a lot of Colombian pesos in the hats and collection boxes of the acts that passed by my table.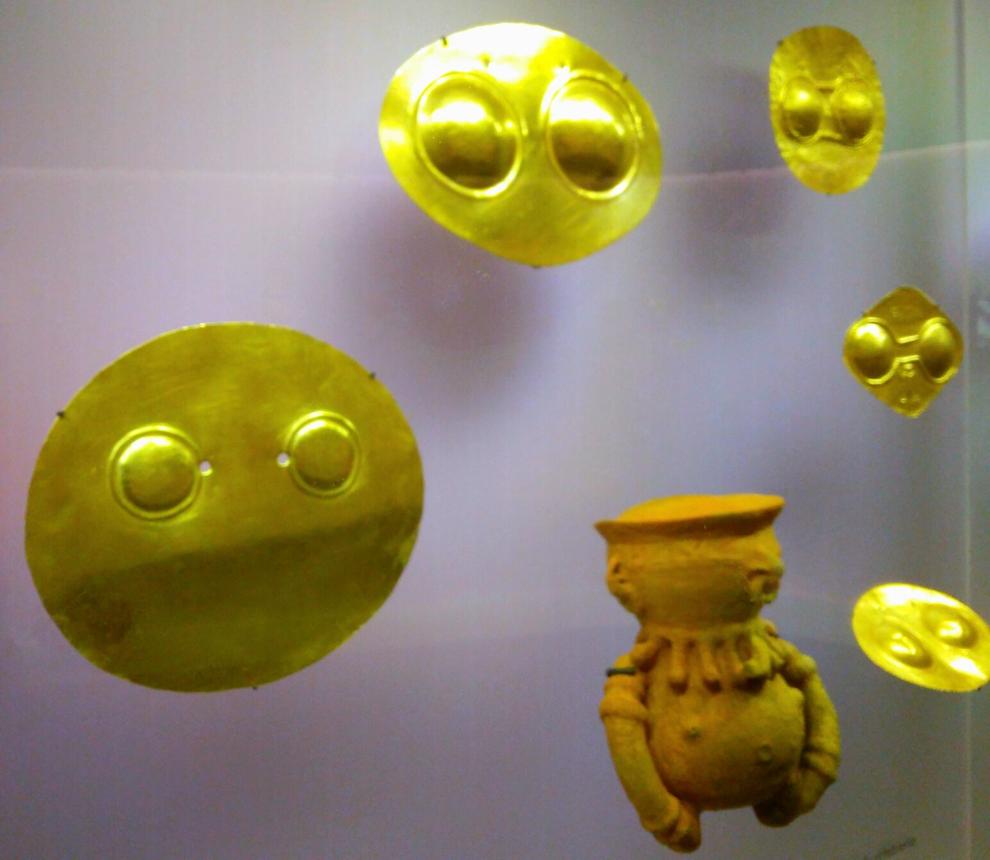 III
I had never considered Cartagena a travel destination until a friend of mine, who had been there, suggested I check it out. I bought an airline ticket from Indianapolis to Cartagena and arrived at its airport in March, the city's tourist off-season because Colombian students are in school. Fortunately, March is also Cartagena's dry season, and the weather during the week I stayed there was pleasantly warm with no rain.
Searching online, I found accommodations in the center of Cartagena's Old Town for much less than a similar place would cost in a touristic part of the United States.
Cartagena's walled Old Town is a UNESCO World Heritage site located on a peninsula of land jutting into the Caribbean Sea from the South American continent. Adjacent to the city walls, also on the land arm, Getsemani is a working-class neighborhood noted for an art scene that has produced a variety of vivid murals on its building walls adorned by flowers. Getsemani's streets and plazas are home to many coffee shops, bars and nightlife.
My initial up-close feel for Cartagena commenced after a taxi brought me to my lodging place. I speak a little Spanish, so I took a self-guided walking tour along the maze of the Old Town's cobblestone streets. I felt safe. Two thousand police officers watch over the walled city.
Cartagena's historical section is roughly the size of New Orleans' French Quarter. The surrounding modern town of Cartagena has a population of 900,000. The Old Town is widely considered South America's most beautiful example of Spanish Colonial architecture. After visiting there, I understood why. Old Cartagena has the appearance of a fairyland lifted from the pages of a storybook. Its buildings, topped with traditional red tile roofs, are painted in the colors of the rainbow and draped by radiant blooming flowers — featuring the red blossoms of bougainvillea plants.
Street vendors peddle a cornucopia of fresh fruit and vegetables at low prices: mangoes, coconuts, bananas and nispero (a fruit something like a pear). Outdoor vendors also offered scrumptious fruit cocktails and fresh orange or pineapple juice. Some sold pastries.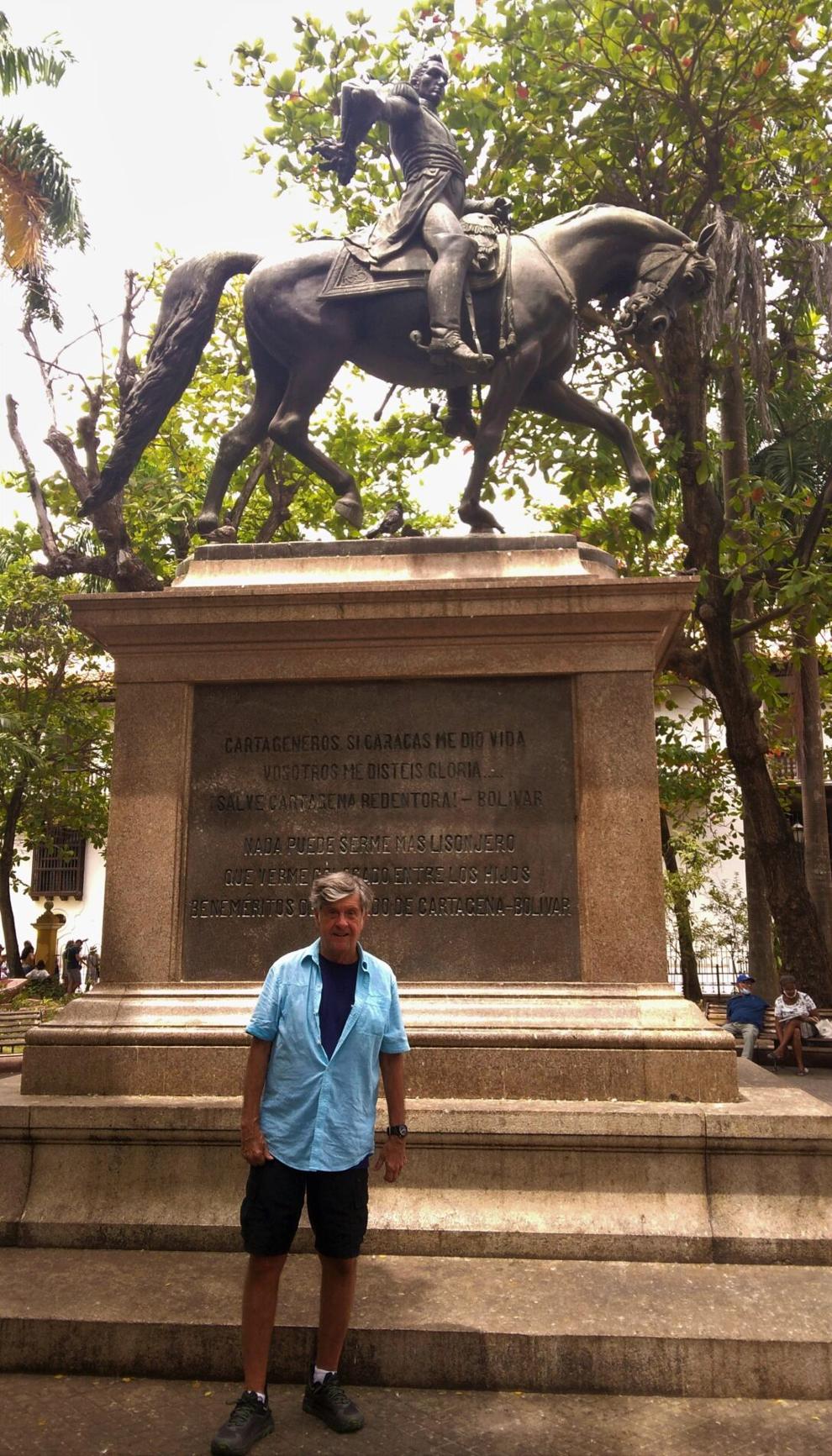 I bought an "arepa con huevos" — a tasty cornmeal pastry filled with eggs and meat.
Along the Old Town's streets are designer clothing stores and hundreds-of-years-old Spanish mansions housing luxurious boutique hotels. These chic hotels' interiors are said to have elegant furnishings. Looking in through the hotels' entryways, I saw tastefully-designed fountains and crystal chandeliers. In the evenings, musicians play violins or guitars in their courtyards.
North Americans visiting Cartagena will not find in Cartagena's walled city the familiar imagery of large and flashy neon signs promoting well-known hotel chains like Hilton or Marriott. However, modern Cartagena offers these lodgings.
Most of Cartagena's tourists were middle and upper-class Colombians, but many North American weekenders and some Europeans were there. Tourists were more dignified in their dress than tourists I've seen in American cities. The "grunge" look was non-existent. A relatively small percentage of people wore jeans. Women and their daughters often dressed in pretty summer dresses with floral designs; many wore flowing, ankle-length dresses. Romantic couples walked hand-in-hand.
The downside of wandering through the walled city was the many street vendors hawking beads and other trinkets, sombreros, and cigars — one vendor I came across multiple times sold magnetic chess sets.
I said, "No, thank you," to rid myself of pesky vendors.
Cartagena's liveliest Old Town neighborhoods surrounded its seven plazas. Outdoor cafés surrounded these plazas. Entertaining street musicians and performance artists regularly circulated through the cafes' dining areas.
While in Cartagena, I learned this part of South America was well-developed — booming, in fact — decades before the Pilgrims landed in 1620 at Plymouth Rock.
During the 50 years after Cartagena's original settlement by Spanish sailors in 1533, its deep-water port became the Spanish Armada's main Caribbean port for ships unloading commercial goods for usage in Spain's South American colonies and picking up from Cartagena's warehouses the plundered gold, silver and other riches Spanish colonizers took from the Indigenous people like the Inca. Cartagena also became Spain's primary slave market for its South American empire.
Sixteenth century Cartagena's extraordinary wealth attracted immigrant traders and merchants from as far away as Lebanon, Syria and Turkey. As far back as 450 years ago, these traders were building their gorgeous, still-standing colonial mansions.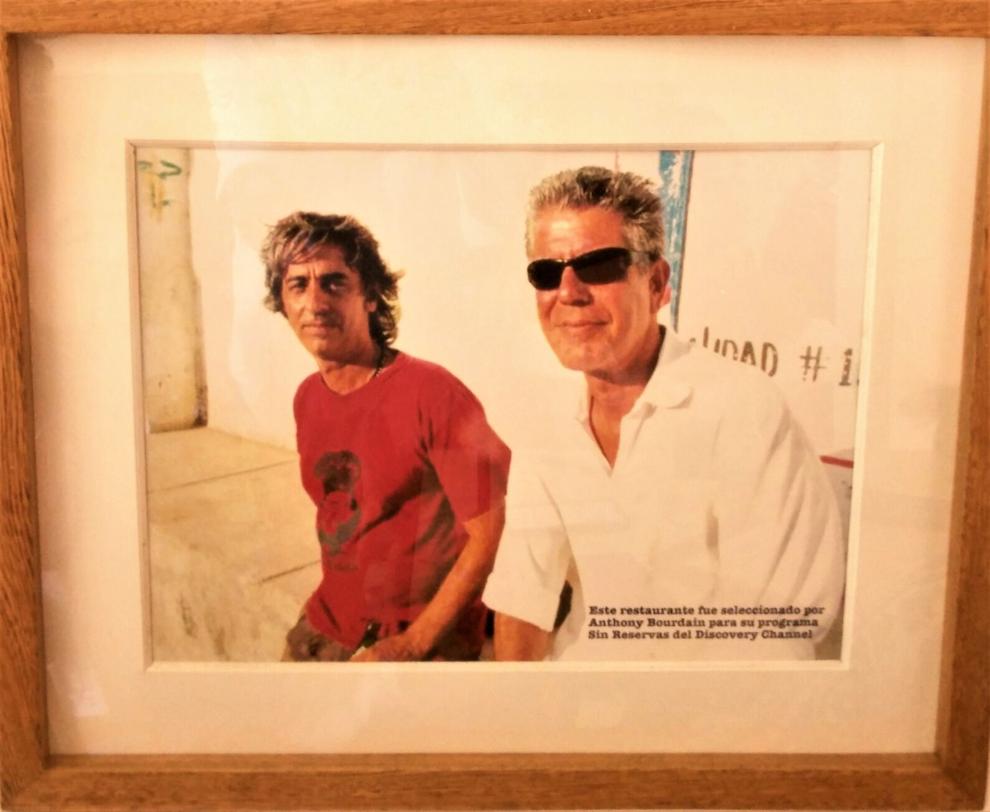 Pirates repeatedly attacked Cartagena to steal its riches. Most famously, in 1586, Sir Francis Drake — loathed as a pirate by the Spanish, lauded as a hero by the English — raided Cartagena to seize its gold, silver and other treasures, plus enslaved Africans, with his 23-ship fleet and 3,000 soldiers. Cartagena's citizens became his hostages for two months until they raised the enormous ransom he demanded to keep from burning their city to the ground.
Repeated pirate pillaging led the Spanish government to surround the city with its 13-kilometer-long defensive wall. Construction began in 1614 and did not finish until 1790.
III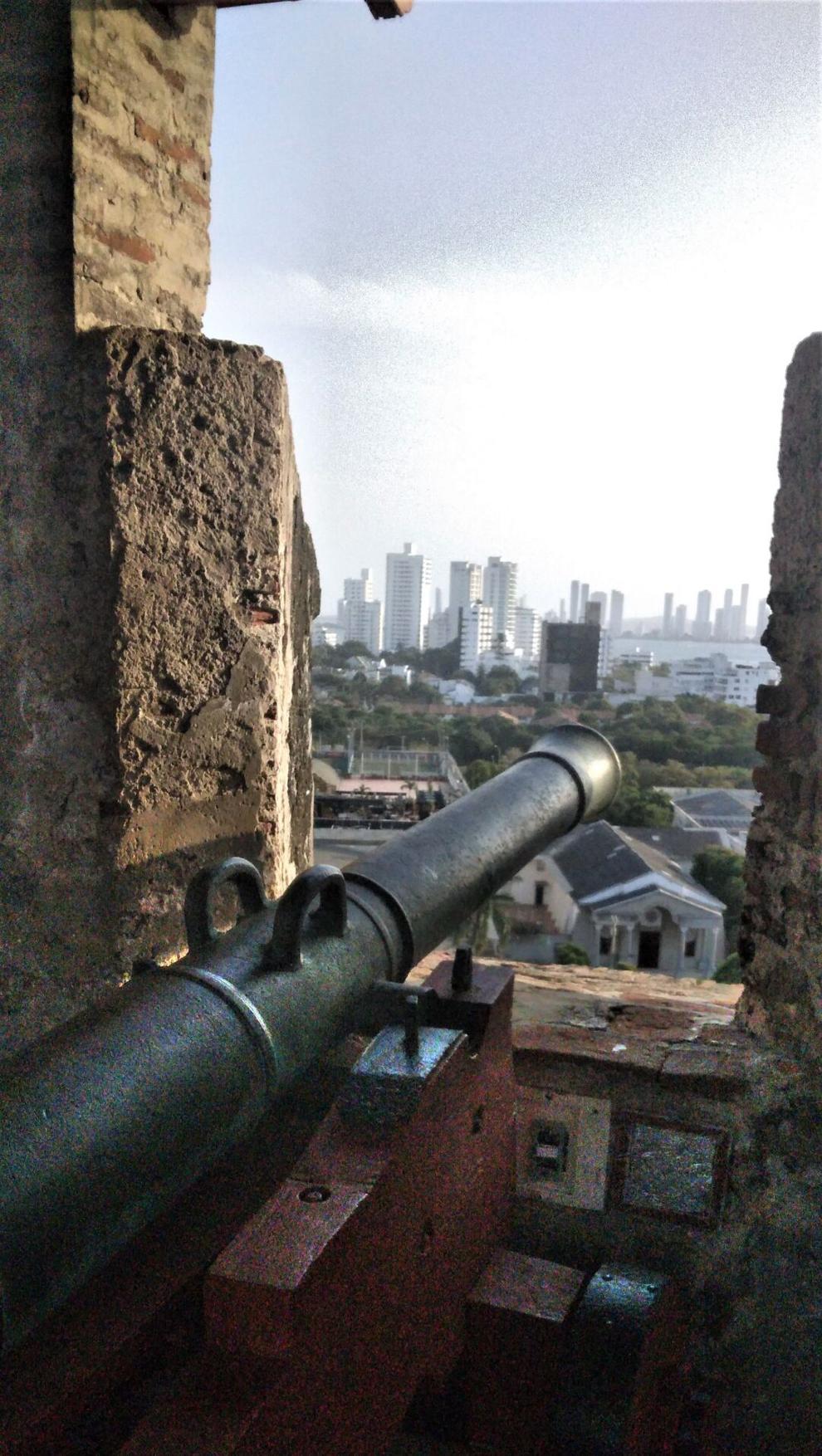 The vista of the Caribbean Sea was stunning as I walked about behind the cannon ports on the city walls' walkways. Cartagena maintains its walls in picture-perfect condition. Widely considered jewels of architecture and military engineering, these massive defensive fortifications still encircle the city — complete with many antique cannons on display. Historians believe Cartagena's walls make it one of the modern world's finest examples of a classical walled city.
Outside the city's west wall, San Felipe is the largest fortress the Spanish built on the South American continent to protect their colonial empire from pirates and the British.
The neighborhood around Bolivar Park, a plaza a few blocks from Cartagena's port for passenger boats, provides an excellent window into the city's glorious, terrible and exciting past.
On the east side of the park, the Museum of Gold displays a superb collection of gold and pottery fashioned in Pre-Colombian days by the Zenu people, who, using stone tools, created delicate works of gold art. The Zenu respected gold as a window into immortality because it did not fade, but gold possessed no financial value for them. Zenu goldsmiths could gain status in their families by fashioning high-quality gold wares. When the Zenu moved away from the area in the years before the Spanish arrival, they often discarded sophisticated gold works like unneeded pieces of pottery because of their perceived lack of value.
The opposite side of Bolivar Park from the Museum of Gold stands the Palace of Inquisition, which has an elegant Spanish Colonial baroque façade. This museum displays torture equipment used on victims of the Spanish Inquisition. About 800 poor souls were executed for crimes like "black magic," either by the guillotine or burning alive. A person could get entangled in the inquisitional horror merely by an anonymous note to church authorities.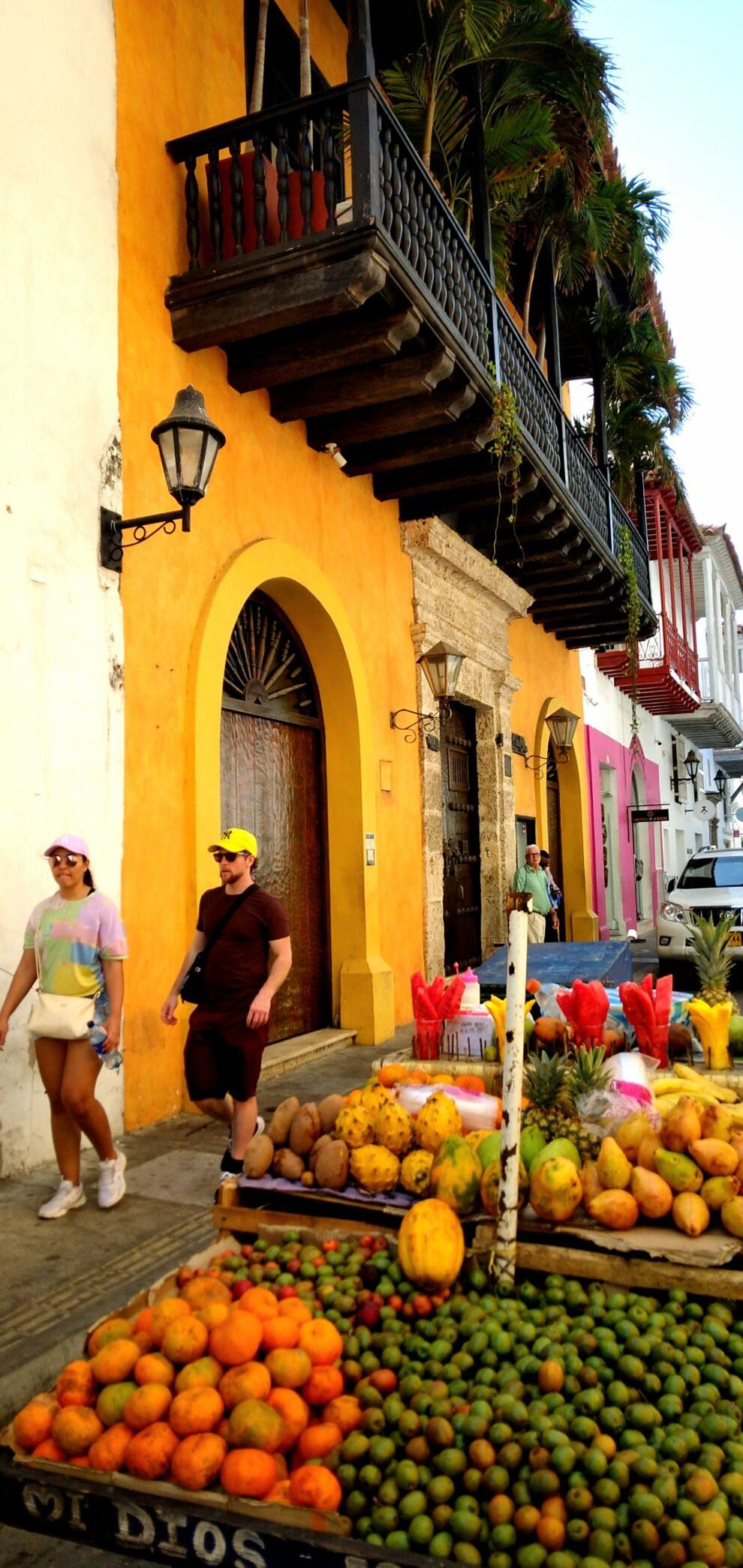 A couple of grand old historic churches are near Bolivar Park. One, the Alejandria Cathedral, was under construction when Sir Francis attacked the city. Sir Francis' partial destruction of the cathedral helped prod Cartagena's residents to raise the ransom he demanded. The Church of San Pedro Claver was built in the 1700s to honor a priest who called himself "The Slave of the Negroes." Claver braved the wrath of slave traders to administer to and baptize captive Africans doomed to grueling lives in the Spanish colonies of South America. By one account, he baptized 300,000 enslaved Africans during his years of service.
III
The Palenquera women were attention-grabbing personages. Large numbers of these women display themselves for photography — at a small price. They wore ankle-length dresses, often in the blue, red and gold colors of the Colombian flag, and bore fruit bear baskets on their heads. One Palenquera I noticed showed off some of her dance steps to amuse tourists.
These Afro-Colombian women come from the remarkable heritage of Palenque, a town several miles south of Cartagena. An order issued by the Spanish Crown in 1691 made Palenque the first settlement of free Africans in the Western Hemisphere after they fought 90 years for liberty.
An African king named Benos Bioho, who came from what is now either the Democratic Republic of the Congo or Angola, managed to escape from the slave port of Cartagena in 1599 by fleeing into the swamps south of the city. Bioho succeeded in forming a small Black army and creating an intelligence network to help more enslaved people escape.
Forty-five hundred people still reside in Palenque. Two native sons of Palenque became world boxing champions.
Cartagena has other memorable and fun features. A monument to Nobel Prize in Literature winner Cartagena's Gabriel Garcia Marquez is inside the city walls. Elegant white sand beaches are nearby. I arranged a day trip by boat to the beautiful Rosario Islands.
Before leaving Cartagena, I took an hour-long stroll on the west walkway of the city walls. Atop the wall sits Café del Mar, an establishment famous for its spectacular view of the blue Caribbean. I finished one afternoon at the café among the many tourists as sunset approached, enjoying a tasty fruit cocktail while musicians played cheerful Latin and Caribbean music.