Museums, art galleries, theaters, music venues and arts organizations in the Wabash Valley in March temporarily closed due to the COVID-19 pandemic.
Area bars and nightclubs started scheduling live music and karaoke again by mid-June.
Some arts and music venues rescheduled spring events for late-summer and fall. Other arts organizations chose to switch to outdoor venues or virtual presentations, as well as postpone some events until 2021.
This Arts Roundup calendar will be updated as new information is received. Email community@tribstar.com with your submissions.
Outdoor Events
Dec. 1 through Jan. 1: Christmas in the Park shelter displays in Deming Park. Drive-through event only; no public lighting ceremony or live awards presentation.
Everyday: Always available outdoors to experience up close and in person are the 20 works of art in the Wabash Valley Art Spaces Sculpture Collection in Terre Haute. The walk/drive activity is a great opportunity for those ready to get out of the house after months of self-isolation. Visit https://wabashvalleyartspaces.com/collection for photos and information on the Sculpture Collection, as well as a link to a detailed Sculpture Collection Walk/Drive Tour Map.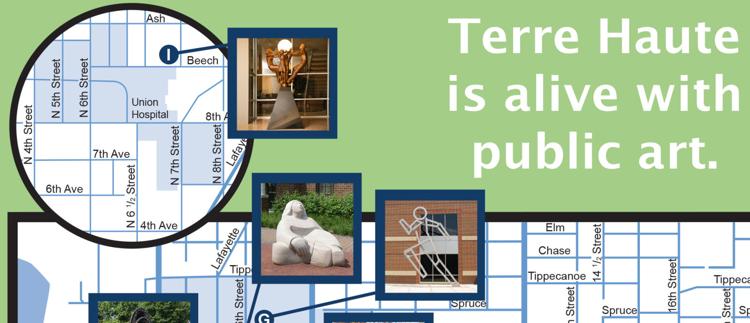 Live Entertainment
• Nov. 26: Wayne Newton American Legion Post 346, 1346 Wabash Ave., will feature Wagle's Karaoke from 7 to 11 p.m. Offered every Thursday.
• Nov. 27: Terre Haute Moose Lodge 1009 at 3708 Wabash Ave. will offer karaoke at 6 to 10 p.m. Offered every Friday.
• Nov. 27: Wayne Newton American Legion Post 346, 1346 Wabash Ave., will feature Front Page Karaoke from 7 to 11 p.m. Offered every Friday.
• Terre Haute Symphony annual holiday concert, Joyful Holidays, Dec. 5, featuring soprano Cathy Berns Rund, 4:30 p.m. in Maryland Community Church, 4700 S. Indiana 46. Social distancing and masks required. 
Season ticket holders will receive colored admission tickets in the mail which will grant them access to seating beginning at 3:30 p.m. A limited number of single tickets may be purchased online at www.thso.org by scrolling down to Events and clicking the Buy Tickets button next to the Joyful Holidays event. Patrons will have the option to print their ticket at home, pick them up at the THSO office, pick them up at a Will Call table at the venue, or receive their tickets by mail. Tickets will be available for online purchase through Dec. 5. Single tickets may also be purchased with a card over the phone by calling the THSO office at 812-242-8476 until Friday Dec. 4 at 5 p.m.
• Gaslight Art Colony gallery, 516 Archer Ave. in Marshall, Illinois, show through Dec. 12 by Terre Haute artists Anna Lee Chalos-McAleese and Andrew McAleese. Visit www.gaslightartcolony.com for artwork featured during opening and special in-person viewing hours.
• Art exhibition "Works by Sujata Gopalan" open for in-person visits through Dec. 31, Link Art Gallery, 132 S. Central Ave., Paris, Illinois; linkartgallery.org
• Swope Art Museum's 76th Annual Wabash Valley Exhibition is open to in-person visits through Jan. 10. For more information visit www.swope.org or call 812-238-1676.
2021 Events
ISU Performing Arts Series spring 2021 series of shows include The Magic of Motown, Feb. 9; Broadway Tonite Live, March 16; and Flamenco, April 5. To purchase season tickets call at 877-ISU-TIXS, visit Hulman Center Ticket Office, or www.hulmancenter.org.
Oct. 10: The Oak Ridge Boys, Hatfield Hall, Rose-Hulman Institute of Technology.
Dec. 8: Dailey & Vincent, Hatfield Hall, Rose-Hulman Institute of Technology.
Virtual Experiences
Several arts organizations and WFIU public radio are providing virtual access to their arts and entertainment offerings on websites, Facebook and YouTube channels, as well as meetings and webinars using the Zoom video conference app.
Currently: reTHink Inc. has launched its Virtual Replay Runway 2020 fundraiser event, an online version of its annual fashion show fundraiser. This year, 10 models with outfits made out of recycled materials are competing for the title of "Green Queen" or "Green King." Vote for a favorite participant. Funds raised go toward programs and work at reTHink. Find videos and voting platform at www.wabashrethinks.com/2020virtualreplayrunway.
• The Vigo County Public Library creates an Artist of the Month virtual gallery each month showcasing works by members of Wabash Valley Art Guild and River City Art Association on its Facebook page and YouTube channel. November artists Lynne Dunnavant and Mark Thompson featured at https://bit.ly/34MOReD
• Rose-Hulman Art Exhibits on Facebook currently features its Fall Exhibition, "Relative Effect," by artists Elizabeth Lisa Petrulis, Sarah Joy Petrulis and Beth Berolzheimer, as well as artwork by members of the Rose-Hulman Art Club. Exhibit runs through Dec. 18.
• Swope Art Museum website offers 360-degree tours of the museum's five galleries, and a YouTube video by The Haute. For more information visit www.swope.org or call 812-238-1676.
• Visit artsilliana.com or Arts Illiana Gallery Facebook page for a virtual tour of the Desiderata show in an exhibition catalog, as well as its current issue of its Spectrum magazine.
• Vigo County Historical Museum: Take a video tour of the County History Exhibit as well as other exhibit tours and fun videos on the museum's YouTube channel. Visit https://www.vchsmuseum.org/programs for a link at the bottom of the webpage.
• The Terre Haute Children's Museum at 727 Wabash Ave. reopened June 18 with new programming, including Everyday Science Club, a virtual experience. For more information: thchildrensmuseum.com or 812-235-5548.
• The Eugene V. Debs Museum at 451 N. Eighth St. remains closed for improvements. The museum will reopen with dates and hours to be announced after renovations are completed. Upon reopening, small group tours will be offered by appointment only and masks will be required for staff and guests. Till then check out virtual programs including Debs Day which took place June 20. For more information: debsfoundation.org or 812-232-2163.
• Indiana Public Media in Bloomington podcast series, The Ernie Pyle Experiment! available at https://indianapublicmedia.org/erniepylepodcast and on iTunes. Pyle, a Pulitzer Prize-winning journalist and war correspondent, from Dana, Indiana, is best known for his stories about ordinary American soldiers during World War II. The 13-episode podcast chronicles Pyle's pre-war work as a travelling columnist for the Scripps-Howard Newspaper syndicate. The podcast was produced at WFIU on the campus of Indiana University at Bloomington. Visit https://indianapublicmedia.org for details.
• Community Theatre of Terre Haute offers a web series at https://ctth.org/web-series-where-everyone-plays-a-part/. 2020-2021 season pass sales on hold.
• Recording of Terre Haute Symphony Orchestra's May 16 "Music in Bloom" live-streamed concert available at www.thso.org The program featured 10 musicians performing solos and duets at Central Presbyterian Church.
• Indiana Arts Commission's "The Arts and Covid-19 Webinar Series" on Zoom. Visit www.in.gov/arts/3254.htm to view recordings of previous webinars.