Knit three, purl three.
Or as written in knitting patterns — K3, P3.
The skill of knitting — whether for a colorful sweater, practical dishcloth or giftable afghan — takes practice.
To someone picking up a pattern, the instructions can read like a foreign language or require a code-breaker.
But the delight in being able to hold up a newly created hat, mitten, sock, sweater, shawl or other item is deep and satisfying. The effort is worth the end result.
In looking for a way to simply define knitting, I've found it described as a process of using two or more needles to loop yarn into a series of interconnected loops. But it is more than that. Ask any knitter.
A group of friends and I have been knitting together on a regular basis for more than 10 years. Most of us were experienced at some form of knitting or crochet when the group formed. Some were already parts of other knitting clusters when the idea came to begin a prayer shawl ministry in our community. One of the group's founders had received a lovely prayer shawl from a friend, and as she shared her story of wrapping up in that shawl during cancer treatments, the seeds of a hand-crafting ministry were planted.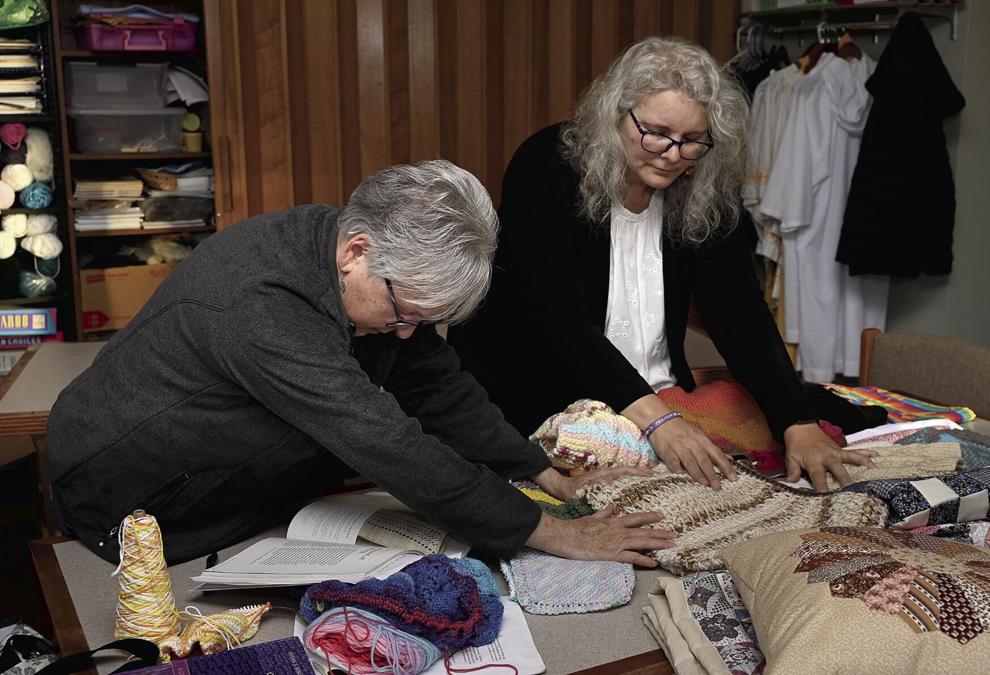 The goal was to create lovely shawls that contain the prayers and positive meditations of the makers in each stitch. Prayers of hope, healing, comfort and support go into the shawls. A collective prayer of blessing is said over each month's finished projects before they are distributed to those needing a knitted hug.
Some of the shawls are simple. Some are complicated works of art.
"It's not hard to give a piece away when you know it's supposed to go to someone else," said Terry Noble, a Greencastle knitter who averages one completed shawl per month. "I've started stuff I intended for myself that I knew later was supposed to go to someone else."
Socks are also a favorite project for Noble. She said she once knitted a pair that a friend would wear each time she went to her chemotherapy treatments. In fact, several people who knew that woman participated in knitting a stitch or two into that pair of socks.
"All of the love that all of us had knitted into those socks went into the treatment room with her," Noble said. "She wouldn't let treatment start until she had put her socks on."
Another prayer shawl group member, Joella Burns of Roachdale, learned to knit about 60 years ago by watching her aunt. Now, Burns knits all of her husband's socks as well as prayer shawls. And she is often the go-to person to help another knitter figure out a pattern problem when a knitter is stumped by errors and missed stitches.
Burns, Noble and I gathered with several other knitters in November at Waycross Conference Center and Camp in rural Brown County for a semi-annual "Knit Camp."
Friends share yarn and knitting stories, talk about yarn and fiber stores and enjoy a few days relaxing on comfy couches in front of a fireplace. Of course we talked about other life stuff — but it was interesting how many of our personal stories involved knitting.
A late-summer trip to Europe on a work-related project had found knitter Monica Ayhens-Madon making time for trips to fiber shops around Great Britain.
Talking to shop owners about their wools and patterns added value to her travels, she said, as well as added interesting fiber to her stockpile for future projects.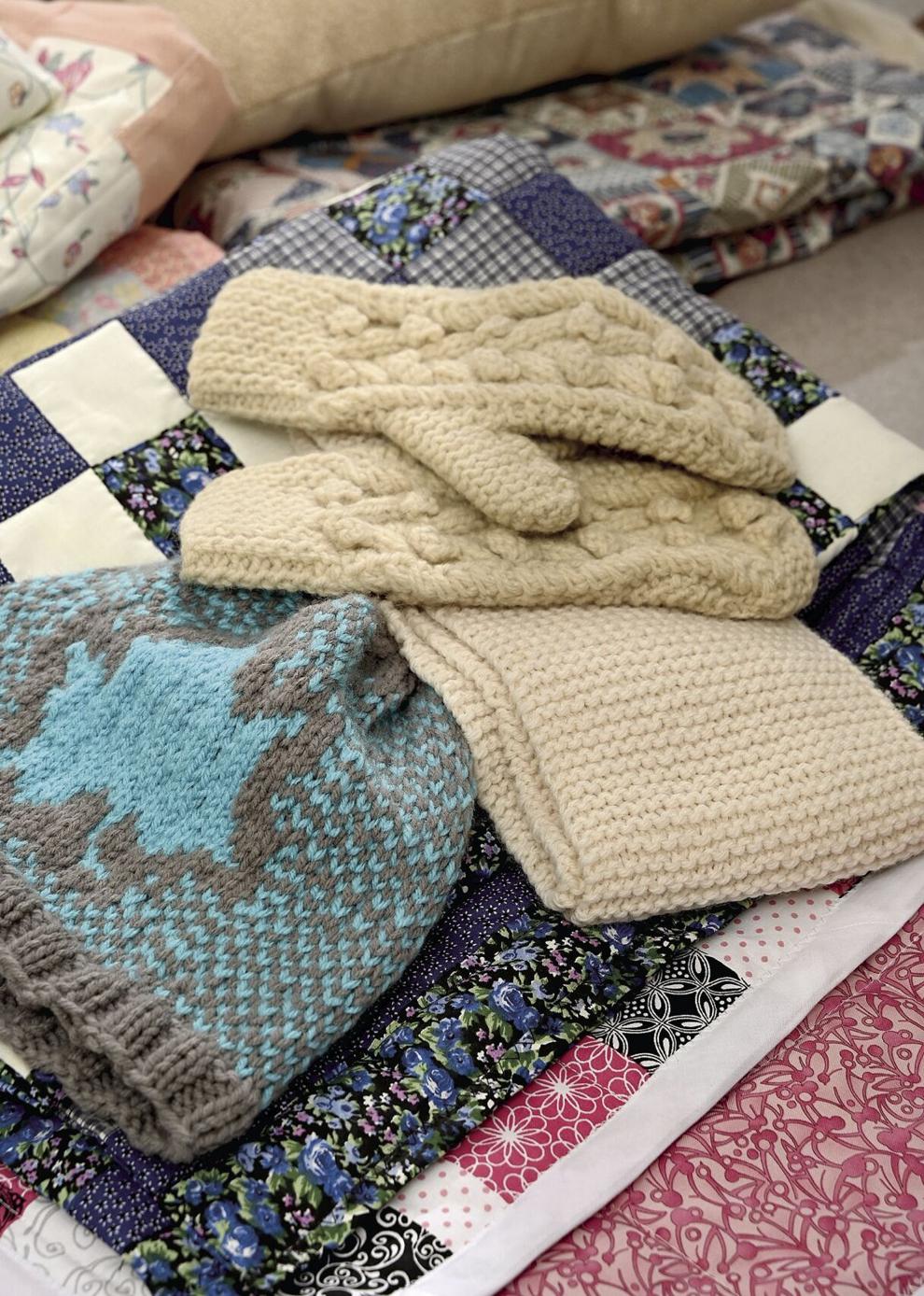 Noble said she first learned to crochet about 50 years ago when taught by a left-handed neighbor. Herself right-handed, Noble said, sitting across from the woman to mirror the crochet motions made learning easier. It wasn't until about 20 years ago that Noble started to knit as well.
"The motion of the stitches and the feel of the yarn through my hands and knowing there will be something beautiful at the end …i t feels good to make something that will bring someone else comfort, let them know that someone has been thinking about them through their struggles," Noble said.
History of knitting
Historical research shows earliest evidence of knitting in the Middle East. Since natural fibers such as cotton and wool disintegrate over time, only fragments of garments have been found for the oldest knitted pieces found in Egypt. With trade, knitting spread into Europe and by the 1400s the term "to knit" was common in the English language.
The craft was likely first done by men as a vocation of making fabric, and it later extended into a cottage industry that involved women and children also making garments for their family as well as for income.
Breaking stereotypes
So the stereotypical notion of knitting being an activity for gray-haired grandmothers in rocking chairs doesn't hold up well under closer inspection. Many men, in fact, are accomplished knitters and fiber artists. An online search for "men who knit" turned up a variety of groups, books and instructional videos.
In our prayer shawl group, retired IT specialist and U.S. Air Force veteran George Edenfield is a frequent contributor.
Edenfield started loom knitting when his daughters were in middle school.
"Loom knitting is more structured and easier for someone with arthritis," Edenfield said.
His looms are portable and vary in shapes — some for hats, others for scarves and blankets.
He also makes hats and shawls for his daughters, grandchildren and relatives, and he prefers to make male-oriented lap blankets for the ministry, since a man might prefer less delicate or colorful items. Butterscotch is a favorite color to use.
"I love the shawls that Joella makes," Edenfield said of fellow-knitter Burns. "They look fantastic. But I would never wear one."
Edenfield's wife Anita, a retired speech therapist, also contributes shawls and other hand-made items. She will admit, however, that knitting has not come to her as easily as it did for her mother or her daughters.
"I sometimes get into a pickle," she said of miscounting stitches, "so I use 'lifelines' where I can rip out stitches back to a certain point and start over without having to start again from the beginning."
It's even eco-friendly
Along with shawls, the group also began partnering a few years ago with other knitters in the community to make reusable dishcloths for distribution at the monthly Non-Food Pantry in Putnam County. About 250 knitted dishcloths are handed out in December along with dish soap and other non-food items given to households who pick up personal care and cleaning items.
"It makes a difference for many people," said knitter Marilyn Culler, "and since the dishcloths are usable many times, it is a sustainability effort and good for the environment."
Many of the dishcloths in my own kitchen are hand-knitted — usually the lop-sided ones I'm too proud to give to someone else, or sometimes squares made of a mish-mash of leftover cotton yarns that are still functional but not necessarily of a pretty design.
My grandmother's own kitchen had a stack of such cotton dishcloths and hot-pads, and having one at hand to wash a counter or absorb a spill relieves the eco-unfriendly guilt of still buying paper towels.
Infinite possibilities
As for patterns, whether purchased in books, magazines or online, the variety of garments or other things that can be knit is unlimited.
My daughter sent me a pattern book of Star Wars items — Baby Yoda is on the to-do list.
Yarn and supplies are also readily available. Though variety can be limited in mainstream retail stores, at a "yarn store," a new universe of color, texture and technique beckons the exploring beginner as well as the intermediate and advanced knitters.
Martha Crossen, who operated River Wools in downtown Terre Haute for 15 years, still gets together with a group of knitters that first organized in her Wabash Avenue shop.
"The common thread is there are not many things in our lives that we start and finish to get a feeling of accomplishment from quickly," Crossen said of the satisfaction of knitting. "So there is that sense of accomplishment. And then there is art — physically tangible art. You get to play with color and play with texture and see those come together."
Participating in the knitting world through a group, or even through online classes, can give people the comfort of being creators and being part of something larger than themselves when they share it with others.
Like many knitting groups that had been meeting before the pandemic, Crossen said the knit group she enjoys moved to online Zoom get-togethers. They then went to outdoor restaurants in warmer weather, where they could sit apart and knit but still talk. Now they are back to in-person Tuesday meetings at various locations around Terre Haute.
The friendships that develop through knitting groups are also interesting.
Crossen said that by gathering around the same activity, people who have different points of view and move in different social circles can still connect and enjoy time together.
"As a group, we've been together a long time," Crossen said. "We have people move in and out of the group, and some might not have otherwise been that kind of a friend to each other without knitting."
One knitter in the group had surgery, she said, and the other knitters were able to step up and support her in an important way.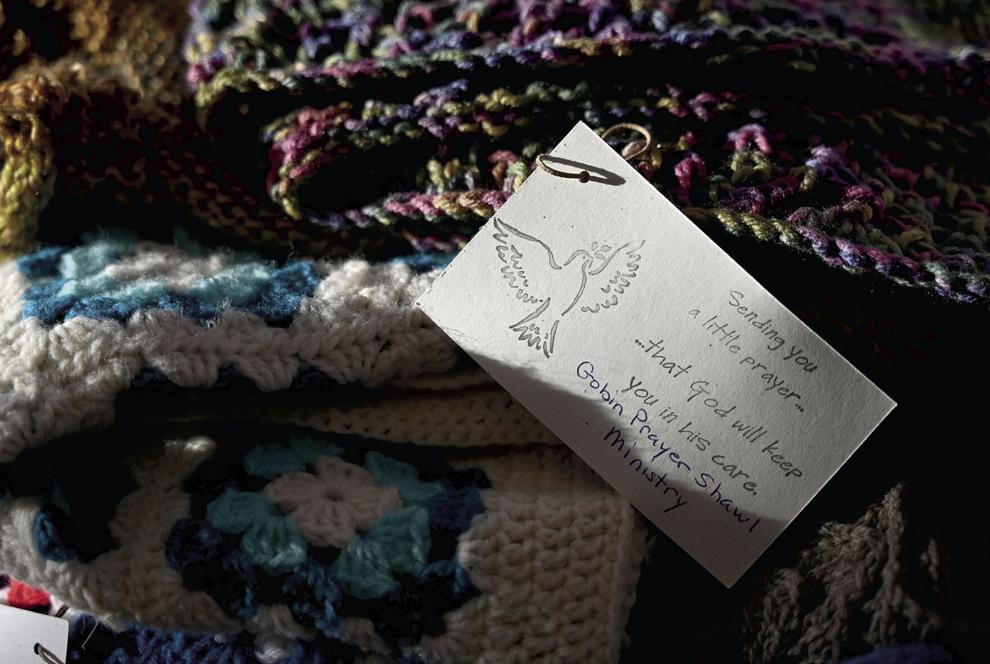 "She was someone many of us would not have known in any other way," she said, "but we had come together through this love of craft, so we were able to support her. And that was special."
Other groups that began at River Wools, which Crossen closed as she "aged out" of operating the business, are still actively meeting either in person or by Zoom.
Local, independent "yarn stores" can be hard to find, so River Wools was a jewel during its Terre Haute history. In fact, the effects of that knitting and crafting community has continued after the storefront is gone.
"It's been really interesting as stores have not been able to sustain themselves, and the pandemic took its toll on storefronts," Crossen said. "It's been interesting to me that people have found a way to stay connected, and to use this craft as a way to have a social outlet as well as keeping in touch with their craft. I think it's happening all around the United States."
Crossen was recently in England and saw some evidence of a knitted-together world there as well. "That retail surge that happened in the early 2000s with yarn, that kind of set the base for it," she said.
The growth of online yarn and craft retailers — such as Ravelry.com — was both a boon for knitters and a problem for the small independent retail stores.
But overall, online availability of fiber and yarn supplies have been a positive thing for the fiber community, Crossen said.
"I think if you ask any knitter in the universe if they would rather walk into the yarn store, they would," she said. "But if you are in a rural area that doesn't have much in the way of retail, it's good to have online sales."
Big calendar events for knitters are the numerous "fiber festivals" that crop up around the region throughout the years. A Google search for "fiber festival" will bring up events in Indiana, Ohio, Michigan and Wisconsin where hundreds of vendors bring a variety of yarns and supplies for fiber craft.
So from experience, becoming a knitter is a skill that is valuable not only in the items that you make, I believe, but also in the social and spiritual benefits that come from the community of knitting.
Beginning to knit is relatively easy — basic supplies are found at most stores, and free online videos and patterns are a good place to start. Finding social groups to join through social media is also easy.
And as always, happy knitting.